Bengals cornerback Dre Kirkpatrick is playing the role of spoiler when it comes to the role of spoiler with the 6-8 eliminated Bengals staring at the 6-7-1 Browns hanging in the AFC playoff chase by a decimal point when they meet Sunday (1 p.m.-Cincinnati's Channel 12) in Cleveland.
"I hate that (bleep). It gets on my nerves. I hate to be a spoiler," Kirkpatrick said before Wednesday's practice. "I want to make the playoffs and we didn't make it this year, and that's something I've got to go home with, another year without going to the playoffs. That's what it's about. I don't care about spoiling nobody, nothing, I don't care about it. Mean (s) nothing to me, it don't help me pay my bills. Winning does."
It will be recalled last year the 5-9 Bengals went into the last two games and knocked the Lions and Ravens out of the playoffs, but they're miffed about being in this spot for a third straight year after they went to the playoffs five straight from 2011-2015.
The bigger element is what this game means in the divisional balance of power. A Bengals loss would be their first season sweep at the hands of the Browns since the first year of the current division alignment in 2002. It would also secure Cleveland's first record above .500 since the birth of the AFC North in '02. The rookie year of Bengals sackmasters Geno Atkins and Carlos Dunlap in 2010 is the last year the Browns didn't finish in the division cellar.
"It would be lovely for us to go out there and finish the season against two division opponents," is all Dunlap would say. "We definitely don't want to finish last, yeah, but I can't say we have any extra motivation just because of that. Right now we're looking at the next opponent on the schedule and that's the Cleveland Browns and they are our rival. As a veteran, I don't think we need any extra motivation or bulletin board material than that."
Even though the Browns gave the Bengals enough bulletin-board material to fill an I-71 billboard when they strutted through last month's 35-20 victory at Paul Brown Stadium as if they were the Patriots and not the franchise that has occupied the AFC North basement in all but four years of the century. Safety Jabrill Peppers ran a victory lap during the game after saying earlier in the week he looked forward to kicking former Browns head coach Hue Jackson's (butt). The other safety, Damarious Randall, handed Jackson his interception on the Bengals' sideline. At least chatty quarterback Baker Mayfield waited until after the game to diss Jackson's move to Cincinnati, but he hasn't stopped talking since.
Just for old time's sake, Peppers said this week, "I have no ill-will towards (Jackson). I'm thankful for everything he taught me. Thankful that he brought me here - but still looking forward to kicking his (butt) again.''
(And there's no question Peppers is playing his butt off. He had the two center-piece defensive plays in last week's 17-16 win over Denver when he secured it with a sack and had an end-zone pick.)
But the Bengals aren't taking the bulletin-board bait.
"They rubbed it in our faces the last time they were here. We've got an opportunity to return the favor. That's the facts," Dunlap said. "They came in here and won the game. They got off to a great start. We adjusted at halftime and fought back into the game, but it was too late. They took advantage of their opportunities so we have to take advantage of ours and we've got an opportunity to go into their house and beat them."
And the histrionics didn't upset Kirkpatrick.
"I don't care about that. (Jackson) was their coach, there might have been something personal," Kirkpatrick said. "I don't know, I'm not going to get into it. Nobody did it to me. That's a question you'll have to ask Hue."
As tight end C.J. Uzomah said, to the victors go the spoils.
"We were looking at the film today and we were on play 18 and it was 28-0, so we shot ourselves in the foot," Uzomah said. "Really, I would expect that from any team in that situation. It makes you mad, but they beat us that day. It was a bad game and we're hoping to have a better outcome."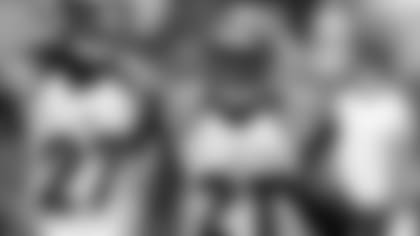 MARV RALLY: Kirkpatrick may be ignoring the bulletin board, but he also knows they're about to ring in 2019 and he had a few observations about two guys' future. One is a free agent in cornerback Darqueze Dennard and the other is 16-year head coach Marvin Lewis.
"He's not going anywhere," Kirkpatrick said. "We're down. We're hurt. Not his fault. As players we've got to take full responsibility and quit letting it run out to the coaches. As players, what can we do to be where we need to be, where we need to go. I'm not putting anything on that man. I feel like he's coaching his heart out, trying to do everything he can to get wins around here. As players we've got to execute for him."
The Bengals drafted Kirkpatrick No. 1 in 2012 and fellow corners Dennard and William Jackson No. 1 in 2014 and 2016, respectively. He'd love to keep them together and that starts with re-signing Dennard after they've really battened down the hatches since Mayfield lit them up for four touchdown passes Nov. 25.  
"Got to keep it going," Kirkpatrick said. "Got to sign up Quez. Make sure you tell them up top to bring him back."