If it's happened before, it has happened deep in the bowels of NFL history. On Sunday in Paul Brown Stadium (1 p.m.-Cincinnati's Channel 12), Hue Jackson, the special assistant to Bengals head coach Marvin Lewis, tees it up against the Cleveland team that fired him as head coach less than a month ago.
It's one of the NFL's big storylines this week, but the principals weren't exactly into telling the story Wednesday. At PBS, Lewis abruptly cut off Jacksonian questions ("I think I've answered enough Hue questions. We're done. Over.") while the man himself jogged past the media from the practice field and politely declined to stop and chat with, "You'll have to talk to Coach Lewis."
And up in Cleveland, Gregg Williams, the man Jackson hired as defensive coordinator last year and ended up replacing him, gave it the old soft shoe on a Wednesday conference call of Cincinnati media members. He says he's happy Jackson is back coaching and doesn't seem to fear any revealing Intel since, "There are no secrets in the league anymore."
"I have so much respect for Hue as a person, as a coach, as a father," Williams said. "I think that's what you're supposed to be doing. You're supposed to be coaching. I had contact with him for a season and a half and I treasure those moments and those times."
Williams noted that the Bengals coach that knows him best is offensive coordinator Bill Lazor after their four-year tenure in Washington on their respective sides of the ball from 2004-07.
But some of the Bengals think Jackson is going help give them an edge.
"We've played them twice a year every year so we know them pretty well," said left end Carlos Dunlap, who admits there are pros and cons of an embedded coach. "Then you have a guy who was in there and helped build it to what they are now, so you have your advantages there.
"There are plusses and minuses with that. He helped build the team to where they are now, minus the last three weeks. But in the last three weeks, they've got a new OC so they're probably doing things differently than when he left. But he obviously built up that personnel so he has an understanding of their mind-set and he's been in their prep meetings with them, so he has a lot of insight with that. But they're going to attack us differently, especially knowing he's here with all that insight."
Center Billy Price isn't benefitting first hand from that knowledge. First of all, Jackson is staying with the defense and secondly, well, he's a rookie. He'll defer to the dean of the offensive line, left guard Clint Boling.
"He's with the defense all the time. He goes over and deals with the defensive side of the ball," Price said. "I'm not on that level. Clint would go do that. I'm making sure I'm prepared for the looks, making sure my guys from left to right are on par. If I don't pick up my guys, then picking Hue's brain isn't going to help me … Me having one-on-one conversations is probably not appropriate. Being the rookie. No, Nah uh." 
But Price knows it's Intel that makes any kind of football. It just starts at the top with offensive line coach Frank Pollack.
"(Jackson has) kind of talked with Coach Pollack about that type of stuff. So that's where it's kind of shared through that. In that case, yeah, it'll help," Price said. "The staff meetings they had yesterday, they get through all the stuff he knows and kind of apply it where we can because again, they're going to change things. They're not going to come up and say this is the word Hue used for this defensive call. It's going to be changed."
The sense is that Jackson can help reveal the strengths and weaknesses of individual plays since the Browns are probably going to cleanse their audibles and calls knowing Jackson has the book. Special teams coordinator Darrin Simmons is all ears.
"I'm trying to win a game. He wants to win, too. Sure, it's helpful. Not very often you have somebody who comes over and has direct knowledge of those guys. So, yeah, I've asked questions about their players," Simmons said. "He's pretty immersed in what we are doing in other areas. If I have questions or something I try not to put him in a tough spot like that, too. I know his emotions are run with that too. His players have played their tails off for him. I know there is two sides to that coin. I try not to put him in too much of a difficult position."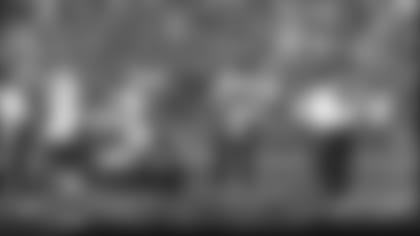 KEY OF AFC NORTH LIFE: Running back Joe Mixon hasn't been called on much lately with 23 carries in the last two games without A.J. Green in the lineup. But he's keeping the faith. Along with a message to his mates. He thinks in the past few weeks a sense of playing not to lose has seeped into the games.
"We all know A.J. is a great player but somebody has to be willing to do that role. I'm sure we have guys like that," Mixon said. "I have confidence in everyone in this building … I'm ready to do whatever with whomever. We're going to be fine. We just have to go out there to win. Stop playing not to lose. We have to go out there to win."
The Bengals hope Mixon plays it again Sunday. After he bulled over from the 1 to tie last Sunday's game in Baltimore, Mixon orchestrated quite an end zone celebration. While he sat on Price's back, he played an imaginary keyboard as right tackle Bobby Hart conducted. Mixon said he was channeling the great Ray Charles. It turned out that Price, down on all fours, was the second chair for this concert. The first choice was right guard Alex Redmond.
"Redmond was too tall, so I had to go in there," Price said. "It's like being the bottom person on the pyramid. It's never really fun. I just like 'OK. 3, 2, 1, get off me.' Anything for the team."
Price said there's something else planned for this Sunday, but they know it's a tough road. They know because that's all they're hearing after losing four of their last five.
"Everybody wants to count us out right now. Everybody wants to put us in the dumpster and light us on fire," Price said. "But we still have a lot to accomplish. We still have a lot of things going on. We have a lot of winnable games coming up here. This next six-game stretch is going to be crucial for the ending part of our season … As a whole as a team, it's about continuing to make strides and get better and let these six weeks be fun and shut some of the haters up."
MR. WILSON: Second-year safety Brandon Wilson had one of the more dominant games in Simmons' 16 years on the job when he had four of the five special teams tackles in Baltimore. It was the best of times and the worst of times. Wilson was a stud and they opened holes for returner Alex Erickson. But they also committed three critical illegal blocks above the waist on punts, had a punt deflected and Randy Bullock pushed a tying 52-yard field goal wide right with four minutes left.
Erickson's 49-yard punt return got pushed back to the Bengals 45 on safety Clayton Fejedelem's flag when they trailed 7-0 and the ensuing three-and-out wasted it. Late in the first half in a 7-7 game, Wilson, now with 12 teams tackles in 18 NFL games (a team-leading seven this year), was flagged to put the ball on the Bengals 44. A gift for Ravens kicker Justin Tucker and he cashed to make it 10-7. Then their last drive started at their own 10 with 2:45 left when rookie tight end Jordan Franks completed the hat trick in just his third NFL game.
Simmons, as always, impacted the most by the flood of injuries, admitted the frustration as he juggles lineups weekly with youth.
"Think about who committed those. It's young guys committing those errors," Simmons said. "Clayton, his third year. Jordan Franks is what he is. Brandon Wilson is a young guy. On the positive side, Alex Erickson creates a play. Gets a 50-something, the longest play they have given up the whole year. We make a tackle at the 7-yard line, 19-yard line on kickoff. There are positive plays to be gained by that. That's a good group we faced. Baltimore historically been a good special teams group. Those are the positives."
Simmons, the straight-shooting Kansan, is the guy that Lewis puts in charge of reporting questionable calls to the NFL office in New York, so he'll always be straight with you on what he thinks.
"I thought the one on Brandon Wilson certainly was, the one on Jordan Franks was close but I know what the guy saw. Was too close for it. I'd support that one as well," Simmons said. "I thought the one on Clayton was kind of a BS call. You see that happen any change of possession plays like that. The guy comes down he turns his back. Only thing Clayton could have done he starts to block him and at the last moment the guy turns his back is just throw his hands up, but he already committed to it. You see that happen 90 percent of the time on long plays like that."
Rookie linebacker Malik Jefferson has struggled at times in punt protection, but Simmons isn't pinning it all on him.
"We've been working hard on them now for several weeks. Like it is with anything, you may go by a week or two and you won't get the same pressures that you did before based on situations or field position so think problem has gone away but I know better than that. Opposing coaches are going to try to scratch it where it itches a little bit. We've had issues kind of in the same spots," Simmons said.
"It's not one guy. It's not always one guy. It's been a couple different guys. I hate to sound like a broken record, we've made different changes in the punt team based on who we had and didn't have – changes again – that's going to happen with injury. That's part of the NFL. There is a couple things we can work on this week I didn't pick up on before that I think will help potentially fix that."
But if there is frustration, there is also promise. The more comfortable they get, the faster they are and they are fast. Wilson is the prime example. The Bengals traded up for the fourth time in their history to get him in the sixth round in 2017 so they could take advantage of his 4.3 40 speed in the kicking game. It's starting to pay off. His blazing tackle on the Ravens 9 on a kickoff didn't come from a light jog.
"Just having a better understanding," said Simmons of Wilson's development. "He was an inexperienced guy coming in with obviously great natural ability, movement, quickness, instinct. He's missed four or five tackles that he should have had at the point of attack. But I think he's got a better understanding of what the team is trying to do to attack us the more he sees it. He was in position to make several plays and did. He did what was he was supposed to do."