Starting quarterback Jeff Driskel surfaced on the Bengals' injury report Wednesday and it wasn't the most important medical item of the day in Bengaldom.
Head coach Marvin Lewis said the surgery on wide receiver A.J. Green's big toe went well and that things are on track. On track here apparently means if it continues on track there's no reason he shouldn't be on the field in late May for the final phase of the off-season program.
As for Driskel, he was listed as full go with what appears to be some kind of slight soreness with his throwing shoulder.
Middle linebacker Vontaze Burfict is in concussion protocol for a second straight week as December continues to be a tough month for him. Since 2016 injuries have kept him out of six of 12 games. Right end Michael Johnson got a concussion last Sunday and is in the protocol. Cornerback Dre Kirkpatrick (ankle) also missed practice.
Left tackle Cordy Glenn (back) returned to practice limited after missing the last three games. So did special teams ace Tony McRae (concussion) after missing the last two games. Left guard Clint Boling (knee) was limited after playing left tackle on Sunday and back-up cornerback KeiVarae Russell (finger) was limited after playing a season-high 27 snaps on defense last Sunday.
_Former Bengals defensive coordinator Paul Guenther has the full confidence of the man that lured him to the Bay, Raiders head coach Jon Gruden. During Gruden's conference call with the Cincinnati media Wednesday he predicted Guenther has his own team someday.
"He came up in this business like I did. Small college. Worked his way through the ranks," Gruden said as he ticked through the reasons he hired him back in January. "Obviously my brother (Jay) was the offensive coordinator with the Bengals. I've got a lot of respect for the coaches that have come through Cincinnati. Marvin Lewis. (Mike) Zimmer. Guenther. A lot of offensive guys as well. I would spend a lot time with Jay studying football and got to know Guenther and got a chance to see him on the grass and got a chance to get to know him off the field. He's everything I'm looking for. I think he'll be a future head coach."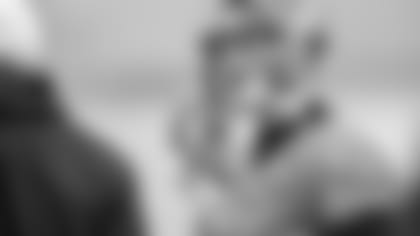 _Bengals running back Joe Mixon is on a roll. In the last six games he's got the sixth most carries in the NFL after last Sunday's career-high 26 in Los Angeles and he's looking for more. With 180 carries in the book (he's missed two games with a knee scope), he's 44 carries away from having the most carries in a Bengals season since BenJarvus Green-Ellis' 278 in 2012.
The Bengals have been getting hammered in time of possession for the last two years, when they've been out-snapped by 286 plays. When Mixon's effort helped them reach more than 32 minutes last Sunday, it marked only the fourth time they've hit that mark in the last two seasons and the first time since the Christmas Eve victory Detroit.
"It changes a lot because you've got time of possession and things like that. I felt we did a great job with time of possession the other day," said Mixon Wednesday of the big-carry day. "We've just got to keep on doing it and converting. Instead of going down and kicking for three, we've got to score seven. Its little things that we have to clean up, whether it's penalties, illegal procedures, and things like that. I'm sure we're going to keep on building. At this point of the season, you would think we'd be where we want to, but we're not. But we're going to keep building and getting better each week.
"The defense, by us staying on the field trying to score touchdowns, converting on third downs, they definitely feed off of that. Just going to try to keep on building week by week. We've got three weeks left and we're looking to go 1-0 each week."
As the Bengals grapple with the absences of Green and quarterback Andy Dalton, the one offensive constant has been a positive run game staying away from the blown-up big losses. In the last six games, Mixon is averaging five yards per carry and the team is at 4.7 for the season, which would be the highest average since the 2000 season when Corey Dillon might have had the best season ever by a running back given his yards per carry of 4.55 was nearly the same as the yards per attempt of his starting quarterback, Akili Smith's 4.69.
Mixon says Sunday's performance was a combination of cutting down on the penalties, big-time blocking and his focus on making sure he's going north and south.
"The opportunities that were given, taking full advantage, people making big blocks through the trenches and me trying to get five or seven yards, turning my legs, getting maybe for 11," Mixon said. "When you fall forward, you always get two and three yards, but eliminating negative plays, not playing behind the chains, that was big and coach stayed true to the run and I feel like that's how he wants to call the game and I feel that's probably how he will call the game, but by staying true and not getting negative gains, not playing behind the chains, the game could definitely be played like that and I feel like if we do that, we'll be successful."
He's been limited at various practices the last couple of weeks with a foot issue, but Wednesday he was no worse for the wear and was full go.
"Just my legs are a little tired, but other than that I feel great," he said.
Images from the Bengals' Wednesday practice. The team continues preparation for the matchup against the Oakland Raiders.