This is the kind of league it is. As back-up nose tackle Josh Tupou expounded on the skills of his locker mate Ryan Glasgow before Wednesday's practice, he motioned next door and saw that defensive tackle Adolphus Washington's name plate was already on Glasgow's locker. It doesn't take long. On Wednesday morning the Bengals signed Washington off the Cowboys practice squad as they were ending Glasgow's season on injured reserve with a torn ACL. Because the Falcons pound the ball, Tupou figures to play in his third NFL game Sunday. Even though he just got here, Washington most assuredly will play. His experience (32 NFL games, 22 starts) is why he's here.
Washington is no stranger to the Bengals locker room. He played with fellow Cincinnati high school products Sam Hubbard (at Ohio State) and Preston Brown (the Bills) during a run that began in the West End at Taft High School.
Brown, the Bills starting middle linebacker when Washington arrived as a third-rounder out of Ohio State in 2016, says he'll trash-talk and kid with Washington and he doesn't mind throwing around his seniority. For instance, he likes to bust Washington's chops about being an Ohio high school basketball player of the year.
"He thinks he can hoop. But that was what? He graduated in 2012? It's been a while," said Brown with a smile. "You've got to talk trash. Player of Year like LeBron, so he thinks he's in the same category."
Here's what former Ohio State pass rusher Joey Bosa once told Cleveland.com about Washington: "He has all the talent in the world, no 3-technique can pass rush like he can in college football … I don't believe there's anybody who's as quick and good with his hands."
Brown has seen it and he's hoping that Washington takes advantage of being on a talented defensive line stocked with veterans like perennial Pro Bowler Geno Atkins.
"It's always something when you get cut and he knows what it is. I don't know," Brown said. "He's got to make sure it doesn't happen again. Hopefully he comes back here to Cincinnati and plays his heart out … He definitely has the talent to be one of the best. He just has to do it … I know the talent he has and what he can bring. Hopefully being around Geno and those guys will help."
Hubbard, a freshman when Washington was a senior in Columbus, doesn't have the relationship Brown has with him. But he's also seen the talent.
"He was my superior. He's agile and strong, too," Hubbard said. "I think with what we'll be asking him to do he'll be able to be successful. He played a little bit of nose tackle at Ohio State and I'm sure he'll be able to do that, too. We do a lot of similar things in the 4-3 that we did at Ohio State and he was a great player there. That gives us a lot of depth at the 3-technique."
Bengals head coach Marvin Lewis has been aware of Washington since high school and he thought he'd like to have him after they played the Bills last month in the preseason if Buffalo did cut him. They did after the opener.
"Adolphus is a really good athlete; he's a big man with great length," Lewis said. "We feel like he's young in his NFL career and has a lot of upside. I was excited when he agreed to come join us."
The 350-pound Tupou took 20 snaps against Carolina in his season debut and second NFL game and he drew praise from defensive coordinator Teryl Austin. But Tupou, an undrafted rookie last season, couldn't say enough about Glasgow.
"What happened to him, I hate to see the way he went out," Tupou said. "He's such a good teammate and he was finishing out that game really well … He's the kind of guy that does everything right. I always watch him. He can also play nose and he's so technically sound and in tune to the little things."
After Tupou's NFL debut last season against Tennessee Nov. 12, he never played again until last Sunday. Such is life on the edge of the roster. With Tupou and starter Andrew Billings the only true nose tackles, you can tell which games they truly need to stop the run by seeing if Tupou is active or not. The next three weeks (Atlanta, Miami and Pittsburgh) would seem to beckon him.
"My role changes every week. If I play, I'm ready and if I don't play you still have to be ready," said Tupou, whose job description doesn't change:
"I like to be physical and take up space in there. Take blocks head on. Push the pocket."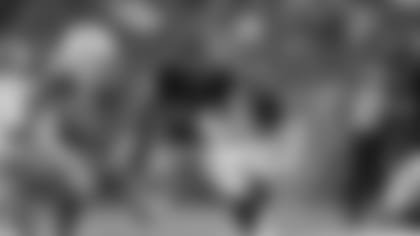 ROUGH MOMENT: Like everyone else with a say in the Bengals roster, special teams coordinator Darrin Simmons loves rookie right end Sam Hubbard, a guy in his brief career that has also played tackle, fullback, safety and special teams maven. Hubbard, a third-round pick out of Ohio State, didn't exactly arrive as a kicking game staple, but he's showing up for Simmons.
"He's everything you want. He's got a great work ethic for a young guy," Simmons said after Wednesday's practice. "He hasn't played it a lot, but he has great football knowledge. His football background is great."
Both Hubbard and Simmons die a little bit as they re-live the Panthers' punt Sunday from the Bengals 47 with 4:28 left in the game and the Bengals trailing, 28-21. Hubbard came in uncovered. Make that strolled in with no resistance. It's hard to remember a punt not being stuffed with so much open real estate.
Simmons knew he could free Hubbard up front. He told him be careful not to rough the punter. Hubbard was so careful, the only thing he got on the ball was his elbow and that didn't prevent a 30-yard punt.
"It's knowing the situation in the game," Simmons said. "If he roughs the punter, they're in field-goal range and they take another two minutes off the clock and the game is potentially over with a 10-point lead."
Hubbard, in his third NFL game, was kicking himself for not blocking it. Simmons, in his 243rd game coaching the Bengals teams, was kicking himself knowing he told Hubbard not to rough the kicker. But, if he's scot-free?
"If you come in wide open like that, you tackle the punter. Just make sure you get the ball. If you get the ball, it's OK.
"He's probably never been in that situation. I've got to know our guys know what the situations mean. I don't have a lot of skins on the wall with Sam in that situation."
He thinks they'll have plenty of chances to get another one.
"He's going to be a fantastic player in this league," Simmons said.