Despite not having a clutch of starters on the field for the first practice of mandatory minicamp Tuesday, the Bengals defense rose up again as it has for much of the spring drills.
Pro Bowl tackle Geno Atkins and safety Shawn Williams appeared to get days off while slot cornerback Darqueze Dennard (knee) continued to rehab, but Clayton Fejedelem stepped in for Williams and got his hand on an Andy Dalton pass that ended up in the arms of cornerback William Jackson III for an interception. That highlighted a 10-minute team period where the secondary didn't let the receivers catch a breath and saw another interception when back-up quarterback Jeff Driskel threw a ball right to back-up safety Demetrious Cox in the middle of the field. Rookie quarterback Ryan Finley also had a pass defensed during his turn.
Defense is always supposed to be ahead of the offense, especially a new offense, but it's been a dominant theme in new head coach Zac Taylor's first practices. The pundits have spent the offseason bashing the Bengals' last-in-the-league defense and its new staff, but first-year coordinator Lou Anarumo has got them playing tighter and faster and Taylor isn't going to call that a surprise.
"That's why we hired Lou, and that's why we have the players we've got on defense," Taylor said before Tuesday's practice.  "There's a lot of talent in that room and some good veteran leadership that's continued to step up every day. I feel like we hired a good staff, so this is the progress we expected to make to this point. It's shown up."
The Bengals' cornerbacks haven't had a pick in a year and 20 minutes, since Dennard went 89 yards on a pick-six in the 2017 finale in Baltimore, but they've been all over the field in the spring. And the safeties have, too, from Cox, a roster longshot, to starter Jessie Bates III's interception last week in the final OTA practice open to the media.
"I think Lou being a former secondary coach really shows up, because those guys do a really good job with the details and the fundamentals," Taylor said. "So I've been pleased with that group. And really the defense as a whole has really taken in this (scheme) and really bought in. You see it show up. They give (the offense) a difficult time every single day at practice. (The offense) has to be on our toes and be prepared. The defensive staff has really done a good job of teaching the techniques and the defensive plays. We've got a lot of players that have been here a long time and have bought in and made it their own, so we want to see that ownership continue to grow. But I've been pleased with where that side of the ball has been."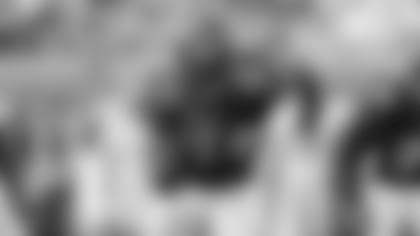 THROWBACK:  Brandon Johnson, the ultimate role player on a Bengals top five defense that was defined by role players, found himself in a familiar spot Tuesday. Next to special teams coordinator Darrin Simmons helping him through a kicking period. Johnson, who led the Bengals' 2009 AFC North champs with 11 special teams tackles (tied with fellow linebacker Abdul Hodge and safety Kyries Hebert), is learning under Simmons this week as one of two Bill Walsh NFL Minority Coaching Fellowship interns working the camp. Former cornerback Cortland Finnegan, who played under Anarumo in Miami during one of 11 NFL seasons, joins Johnson.
Named the head coach at Betty Fairfax High School in Laveen, Ariz., on the southern outskirts of Phoenix two months ago, Johnson, 36, is in his fifth season of coaching. A fifth-round pick of Arizona in 2006 out of Louisville, Johnson "never left," the area and broke in as a volunteer coach at Gilbert High School, "about three miles from my house," before becoming the defensive coordinator and assistant head coach. Then came the promotion.
"I like the coaching the high school level for right now," Johnson said before Tuesday's practice. "It allows me to be around my family and coach football. I like the impact you have on guys' lives. Making a difference and that type of thing. It's a good gig, it really is."
The 6-5, 245-pound Johnson certainly made a difference here. When the Cardinals discarded him after two seasons, he arrived with new defensive coordinator Mike Zimmer in 2008 and Zimmer found ways to use the speedy, savvy Johnson, particularly in the nickel package. As well as being a core special teamer, Johnson was a big part of some memorable defensive stands and still never missed a game in his four seasons as a Bengal. He finished his career in Pittsburgh in 2012, but he played both his post-season games for the Bengals and started the 2009 Wild Card Game against the Jets after a season the Bengals' fourth-ranked defense was the backbone of a 10-6 finish.
But this week is a two-way street. Late Tuesday afternoon Johnson and Simmons were running through some defensive tape.
"He's helping me watch players," said Simmons, still trusting Johnson's judgement.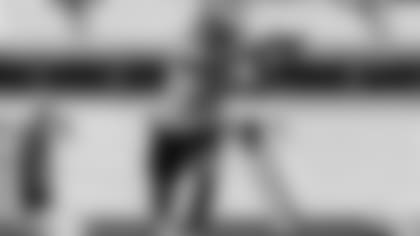 DALTON's DAY: Dalton was actually having a really good day until Fejedelem came around. Until then, only one of his passes touched the ground and that was on an incompletion over the middle on which wider receiver John Ross appeared to take his eye off it at the last instant. But Ross, too, had a good day until that play and made some nice catches against the linebackers in 7-on-7. Dalton didn't miss during his two seven-on-seven drills, when Ross and tight end C.J. Uzomah were his favorite targets.
ROCK AROUND THE CLOCK: The Bengals are practicing on the Paul Brown Stadium field this week and on Tuesday Taylor unveiled his commitment to managing situations. He's got his own clock for this sort of thing with three categories: running time, play clock and the number assigned to the period on his script and he ordered it to be put in the end zone next to the runway to the Bengals locker room.
Taylor uses it only during "competitive periods," when the offense is facing the defense and he doesn't always use the 40-second clock, such as Tuesday when the running time portion ran down from ten minutes. The idea is to get his players used to working with time instead of against it.
"It's important that the guys are aware of the time and how we're going to attack it," Taylor said.
ROLL CALL: Taylor said starting left tackle Jonah Williams is being evaluated for an undisclosed injury, which meant Cordy Glenn kicked back out to left tackle and Christian Westerman moved into left guard. Tight end Tyler Eifert (ankle) is OK, but they're keeping him out of the camp. Also continuing ACL rehab are defensive linemen Carl Lawson and Ryan Glasgow and safety Trayvon Henderson. Cornerback Darius Phillips (knee) also remained out. Running back Joe Mixon has been used sparingly this spring, but got a heavy work load Tuesday.