Chad Johnson has noticed the recent homage to the old end zone celebrations and he said Wednesday night it's nice that Bengals wide receiver Tyler Boyd has been scouting some of his greatest hits for possible use Sunday at Paul Brown Stadium (1 p.m.-Cincinnati's Channel 19, order tickets) against the Saints.
"I like it. I like it," said Johnson when told Boyd's favorites are the river dance and the golf putt with the pylon. "I'm just going to watch and see what happens. Now that they're allowed to have fun and express themselves in the end zone, it's pretty cool. I know he'll be dope. Let's see what he pulls off."
Back in the day, Johnson's histrionics were a factor in the league limiting celebrations. But what's old is new again. Last week Saints wide receiver Michael Thomas resurrected Joe Horn's cell phone bit that was one of the highlights in the Ocho Era of the Oughts. Boyd, who was ten when Johnson putted the ball with the pylon in a celebration T.J. Houshmandzadeh coined "Tiger Hood," says he remembers seeing it when it happened.
"I would turn the TV on hoping he'd do something spectacular so I would see what he'd do because he's got a great sense of humor, so I just want to do something to show my respect," Boyd said. "I've been trying to do an Ocho dance (since) the start of the season because I just wanted different celebrations and do a little fun stuff. Now I feel like it's the right time to do it."
In the true Ocho tradition, Boyd won't say what he'll attempt. He is watching a little bit of the Ocho on YouTube.com, but he's not going crazy. He's watching enough to get it right, but he's watching more of the Saints.
"The things he came up with, you don't need a lot of practice to do it," Boyd said. "But I'm not going to go out there and look dumb, so I'm going to practice it a little bit … I don't have to watch it too long. Just see how he does it and it will get done the same way."
Johnson says he watches every Sunday, so he knows A.J. Green isn't playing and that Boyd is having a career year. Boyd is having such a good year he's on pace for 98 catches, one more than Johnson's career high.
"He's having a really good year. That confidence he has right now will do wonders for them offensively. When you're confident and playing well, the sky's the limit," Johnson said. "This is the perfect scenario for Tyler to show his ability to be a No. 1 receiver. When someone goes down and you play like a No. 1, you get regarded as such. I hope he plays extremely well."
Before Boyd came to the NFL in 2016, he was always the main man as the headline guy in Western Pennsylvania prep annals and an All-American in college at Pittsburgh. He thinks if the Bengals stumble, the Saints will blanket him in coverage. But if the offense is clicking, he thinks they'll defend everybody.
"It's a challenge for me to maintain my focus while I'm getting double-teamed," Boyd said. "I've got to try and defeat double coverage and keep creating ways to get myself open."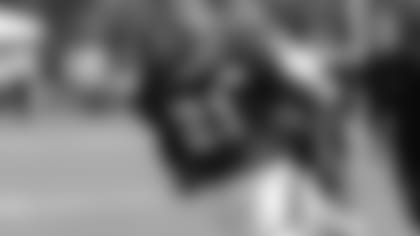 TOUGH PEOPLE: Bengals founder Paul Brown could be found musing often, "Football is a tough game played by tough people."
It will be recalled that Dennard, the Bengals' slot cornerback, hasn't played since he lost a jump ball to Steelers wide receiver JuJu Smith-Schuster late in the first half in the Oct. 14 game at PBS. For a brief instant before they hit the ground it appeared Dennard had made a marvelous interception. But when they hit the ground Smith-Schuster yanked the ball away and now we know why. (It was so close that Dennard says one of the officials did call it a pick and got overruled.) After Thursday's practice Dennard revealed that not only did he have the ball before he dislocated his sternoclavicular joint, he figures he lost it when it popped out.
"From my understanding," Dennard said, "if it popped the wrong way I would have had to have emergency surgery."
Dennard he didn't really know what the SC joint was until 25 days ago. It's where the collarbone connects with the breastbone at the bottom of the neck and it could have been dicey in what is just another reminder of how dangerous the game is.
This is how tough Dennard is. He's not thinking about how close he came to an emergency. He's thankful he's OK to play at some point this year.
"Things could be a lot worse, I'm sure. I wake up and pray every morning," Dennard said. "I'm just thankful that I have the opportunity to play this year."
There's no timetable on his return, but this week he did surface on the rehab field during practice and that could mean he's back in the next week or two.
"We've got a great team, I just want to contribute and get ready to go on this run we're about to go on for the playoffs," he said.
INJURY UPDATE: Right guard Alex Redmond (hamstring) was upgraded from out to limited. More receiver woes. Josh Malone, who has a history of hamstring issues, had one Thursday and went limited. John Ross (groin), who has been out, went full again. It doesn't look great for running back Giovani Bernard (knee). It's good he's been back to practice this week, but he's been limited both days. Dennard, linebackers Vontaze Burfict (hip) and Nick Vigil (knee) and tight end Tyler Kroft (foot) were on the rehab field.