Leave it to Pittsburgh native Tyler Boyd, who comes by the term "Stillers," naturally. His Bengals are one of five AFC teams at 5-5. And they've beaten three of them. But he knows what's going to come down in the end.
"We're still in good shape. We need to win these last three division games. It's going to come down to us having to beat the Stillers in the last game," Boyd said Monday of the Dec. 30 finale at Heinz Field. "We have to take care of the Browns first. If we complete that, then if we can beat the Stillers, that will put us where we need to be."
Fellow wide receiver John Ross says Sunday's game at Paul Brown Stadium that is the first of two against Cleveland, has a familiar feel.
"It's like the first game of the season," Ross said. "We've got to continue to prove ourselves and go out and win that game. Win the next game. Because every game from here on out is very pivotal for where we want to be. It's very serious how serious we take it and how hard we work to get to exactly where we want to be."
GRAB BAG: The Bengals thought the Ravens defense was pretty grabby all day Sunday. Right up to and including the final play of wide receiver Cody Core's drop on fourth-and-three. Usually head coach Marvin Lewis says something like you have to play through it, but not Monday.
"I'm going to figure it out," Lewis said. "I'm going to ask that question, because every week (it's happening). But we can't whine about it, we have to go be proactive."
"The refs aren't going to call it," he said. "You have to play through it."
Which was pretty much offensive coordinator Bill Lazor's view on it in his sit down with the beat scribes on Monday.
"I think the officials are letting them grab down the field. It's been the same all year; that's what you've got to play through," Lazor said. "They're going to grab your jersey and their judgment is whether it was enough to throw a flag and restrict you That's kind of how the officials are calling it this year. It looked a little more like college out there …That's how they've called the game this year so we're not making an excuse. We know how man teams play. We've played this same team before and we've gotten through a lot of those. So it's a good example for us of the difference between when you beat the man coverage and when you don't."
No matter how you slice it, the receivers had trouble getting open. Dalton connected on just 53 percent of his passes, a season-low and his lowest since the last time they were in Baltimore in last year's finale.
STATE OF TATE: Lewis was pretty blunt why Core was on the field for that last snap and not rookie wide receiver Auden Tate. Tate caught his first NFL ball in the first quarter Sunday but not, apparently, the fancy of his head coach.
"He's a guy that's been on the practice squad for a reason, OK? He's been a free agent for all 32 (teams) to take a look at. You see what I'm saying?" Lewis asked. "Not many times you're going to take a guy off the practice squad and go win an NFL game with him."
Tate made his catch on a third-down throw that was shy of the first but close enough that Lewis may have challenged it if the coaches' box got the replay in timely fashion.
"He didn't get the depth (on the route)," Lewis said. "(He ran) short of the design of the route. Last week, he dropped a ball in his one opportunity. We just have to keep going. Auden is a young player. He has some ability, and hopefully he will make some plays if he continues to get an opportunity down the stretch for us."
HALF CLOCKED: The stat is maddening. In nine of the ten games this season, the Bengals have given up points in the final two minutes before halftime. Even more maddening? Six of those times, including when they've scored points themselves, they've run a snap inside the two-minute warning.
"There's not a common thread," said Lewis when asked if the defense could be more aggressive.
In Baltimore, the Bengals knew Ravens Pro Bowl kicker Justin Tucker could bang a 65-yarder at the end of the half, so when the Bengals got the ball at their own 25 with 1:46 left, they had to try and score themselves. When they had to punt it away, they committed two huge gaffes in the final 33 seconds, a holding penalty by rookie linebacker Malik Jefferson on the punt and linebacker Jordan Evans got lost in coverage on a Lamar Jackson scramble that turned into a 23-yard pass and gave Tucker a chip-shot 56-yarder at the gun. Tough in a game decided by a field goal.
"We have to just do a better job executing. It couldn't have been easier yesterday — we can't come out of coverage, and we have to understand the situation," Lewis said. "We just have to understand it and do it. We know the effectiveness of Tucker and where they have to get to, and we have to be conscious of that. I made Bill Lazor aware of that on the other side of the ball. We took it down, but we couldn't take it down any further. Our attempt is to score as well, and that's what Bill's job is. We ran time off, we punted it down there, and we have to understand that."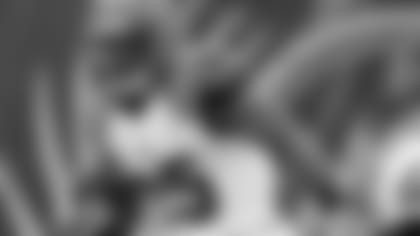 JOE-GIO: With A.J. Green and Tyler Eifert out and the tight end room cleaned out, Lazor started the game with both running backs on the field and deployed Joe Mixon with Giovani Bernard more than usual during the game.
"If you feel really good about the two running backs, well then do you always want to have one standing on the sideline?" Lazor asked. "So that's what we started the first play of the game with both of them in there. You can't ever guarantee when it's going to be thrown to ... I think we targeted the backs seven times and completed all seven to them. I think there were another handful of plays where they were actually the guy we were trying to get it to, and the coverage just dictated that it came away from them. We tried to use them in the passing game and did use them some, but obviously we didn't get enough. Gio can do a lot of things and I think over time those of you who have been here longer than me have seen him do a lot. He's pretty comfortable in a lot of different roles."
They combined for 58 yards in the passing game, which is a heck of a lot better than the 19 they got rushing. As usual, Bernard replaced Mixon for two-minute drills at the end of the half and games and that begged the question why take out of one of your best players and pass catchers off the field? Could they stay together for those plays as well?
"Joe can do it, too. Some of it is Joe takes most of the drives in the game and so when you're trying to look at the total number of plays, there is a little bit of strategy involved," Lazor said. "At the end of the game we don't want to be stuck and say ah, this guy didn't get enough plays or that guy didn't get enough plays. Again, we're in the 50s in the number of plays, so none of them got enough plays. But, that's just part of balancing out how the numbers go. Because if we balanced it out by giving Gio more inside run handoffs, then someone would ask why didn't Joe get more inside handoffs. They both want to play and we tried to get them on the field at the same time. It's just how we divvied it up this week."
Mixon got 34 of the 54 plays (62 percent) and Bernard 24 (47 percent), but the bottom line is that 54 plays isn't enough for anybody and that's been the story of the last two years. The Bengals have run the third fewest snaps this season and have the league's second lowest time of possession at 26:23. Much of that can be traced to the defense's historic problems on third down at 55.5 percent. But Lazor, understanding the frustration of lack of chances, wants to improve the offense's No. 16 standing in the middle of the third-down pack.
"Everyone is frustrated. That is just a fact. Everyone's nerves are a little bit frayed right now. Everyone is searching, but the answer is just to do it right. For the coaches start with the plan we went in with and just be open as you go," Lazor said. "We'll take the responsibility on ourselves, it's our job to make first downs. We can make it so that we keep the ball when we get it, that's number one. Number two is players and coaches both have to fight the urge to press or get out of your element, because you feel the pressure that if this drive doesn't score we've got problems. For players what does that mean? Just do your technique the right way every time no matter what."