Jim McNally, the godfather of NFL offensive line play, had an offer he couldn't refuse.
At the wonderfully ripe age of 74, he could be new Bengals offensive line coach Frank Pollack's father and center-guard Trey Hopkins' grandfather. But when Pollack wanted him to join him on the field this spring to help him implement his battery of techniques, McNally became the proverbial kid in the candy store.
"Absolutely. Absolutely," says McNally with his customary zeal. "All I do is watch film, so I'm updated on all the new techniques. They weren't calling me an old man, were they?"
Definitely not. Hopkins, 25, born the last year McNally coached Hall of Fame left tackle Anthony Munoz in the final days of his Bengals legendary offensive line, finds him 74 years young.
"He's hilarious," Hopkins said last week as the Bengals wrapped up their final workouts before summer vacation. "I love him. Even when he wasn't coaching as much, you'd see him around and knew who he was. He's obviously a great coach. He's coached a lot of great players and he's coached a lot of great coaches, too. He knows so many different techniques from all his experiences. Just a great guy to have as a resource."
McNally has been around Paul Brown Stadium since 2012 as a consultant, but mainly as a behind-the-scenes figure. Before this spring the players knew him mainly as the painstaking genius that crafted their weekly cutups of their opponents that they studied.
But when Pollack got the offensive line job back January, he knew he had a daunting stretch ahead of him in not only helping offensive coordinator Bill Lazor write a new playbook, but also getting his linemen comfortable with his style of blocking.
Help on the field during drills would be imperative. Pollack's thing is reps. He wants them to get as many reps as possible, so three guys running a drill is faster than two and McNally was an easy ask. He wasn't exactly a stranger. He mentored Pollack's mentor, current Washington offensive line coach Bill Callahan.
"Hey, you'll love this stuff," Pollack told him. "You invented it."
Plus, even though McNally's last NFL line job was 11 years ago in his hometown of Buffalo, he's never been out of the league and continues to do more camps, clinics and conferences than Mary Kay.
Get Pollack in a weak moment and he'll remember how when McNally was coaching the Bengals he was the one NFL line coach that found him at Northern Arizona and worked him out before that 1990 draft the 49ers took him in the sixth round.
"Yeah," Pollack says to McNally in mock disgust. "You didn't draft me but you signed the kid from Montana."
"Scraffy. Scrafford. Kirk Scrafford," says McNally of the Montana tackle that Pollack knows well since he played with him in Frisco.
"He's a walking bank of knowledge," Pollack says. "He's a legendary line coach. If there's a Hall of Fame for line coaches, he's first ballot. If I can get an ounce of knowledge of what he has, I'm going to take it."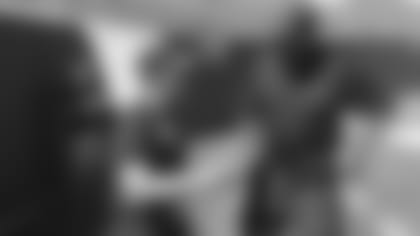 Check out last week's final Bengals' practice of the spring and it looked like an offensive lineman's version of Disney World where the Hall of Presidents were actually alive and in a three-point stance. If you wanted an idea of where the Bengals offensive line has been and where it's going, all you had to do is take a snapshot:
Over here is Dave Lapham, the civic treasure behind the radio mike who broke into the league in 1974 and could line up at all five spots on the Bengals offensive line.
Next to him is the man McNally still calls "The Greatest Who Ever Lived." Of course, McNally has been calling Munoz that for 38 years, ever since they came into the NFL together on the Bengals 1980 offensive line.
Next to "Anth," as McNally also calls him, is the big second-year man from UCLA that was waiting for them in Cincinnati.  Max Montoya. Once McNally arrived, Montoya went to four Pro Bowls and became the Bengals all-time right guard.
In fact, all three guys belong on the Bengals' all-time line if you put Lapham at left guard. McNally did on the 1981 line that cleared the path to the Bengals' first Super Bowl.
Munoz, Montoya and McNally were still there for the second one in 1988. By the time McNally left the Bengals after 15 seasons in 1994, his cutting edge zone blocking became a huge chunk of the legacy left by the 1980s Bengals offenses with eight top five finishes and the back-to-back rushing titles in 198 and 1989.
If you don't think that's relevant, you didn't see Pollack come over to greet them at the start of practice.
"Great players," Pollack said. "Those guys were special. I wouldn't say Munoz overshadowed Montoya. But, the greatest of all-time, people say, right? He had some really talented players with him. Montoya was a Pro Bowl player. He was a freaking stud."
As he watched Pollack, McNally, and assistant line coach Robert Couch deploy the linemen in various drills, Lapham recalled a Paul Brown line. Forget the era. The decade. The year.
"It all gets down to blocking and tackling," Lapham said.
Plus, a Lap-ism: "In any sport, it starts with the feet and ends with the hands.
Montoya watched them work their hands and arms he recalled the pad McNally used for his drills.
"The JimmyJammer," Montoya said. "Eye on the target. Jam it back."
That got Munoz thinking back to another McNally line when it came to using the hands and arms.
"Force and switch. Force and switch. He always used to say force and switch," Munoz said. "It makes it easier when you're using your hands and punching to switch off. You start grabbing and holding and it makes it easier for the defensive lineman. You see so many (D-linemen)  come off stunts because the O-linemen are mired in there instead of separating and seeing the next level."
McNally can't hear them reminisce because he's holding the pads and still teaching it to guys like Hopkins and rookie center Billy Price![](http://www.bengals.com/team/roster/billy-price/45b28042-c959-4e00-83e9-e2535d868f65/ "Billy Price"), a guy born the year before Munoz went into the Hall.
Think Back to the Future's Doc Brown meets Bill Gates.  But McNally makes it clear he's working for the 50-year-old Pollack. Pollack is the boss. It is clearly Pollack's show. McNally has been studying Pollack's verbiage and technique and waits for him to tell him what to do. After training camp McNally is going back home to Buffalo to continue to produce the weekly cutups.
McNally may have been born before D-Day, but he hasn't stopped living every day. He's still learning. He believes the biggest change in line play since Munoz went to the Hall is the use of martial arts and the emphasis on torqueing the upper body in order to try and lift defenders "out of their shoes," as opposed to shoving .
"The big thing is we get on the same page," McNally says. "Frank has worked with a lot of coaches, not just Callahan. He's been with some great coaches. He played for Bobb McKittrick. He worked with Alex Gibbs. So I'm learning. Yeah, he played for Callahan, but everything is so different now. The most recent guy he coached with was Callahan, and the most recent guy usually has the biggest influence."
It doesn't take long. McNally starts grabbing your arms and poking your chest in a sudden whirlwind attack.
"The big change is martial arts. Use of multiple hand strikes," McNally says. "Instead of just putting two hands on a guy. One arm is longer  than two. Punch a guy with one arm, pull that arm off and cut with the other one. Pow!!! Like a Mike Tyson uppercut."
Hopkins has been listening and noticing.
"He's definitely playing a bigger role," Hopkins says. "Especially with the techniques we have now. Especially   in pass protection. We're using our hands a lot more. Using a variety of kicks. Showing the defensive line different things as opposed to waiting to react to them. He's got techniques that I have never seen before and I think he was kind of holding off on some of that stuff."
If Pollack says it's OK, McNally goes ahead. Lapham, a big fan of Pollak's approach and intensity, likes the chemistry. He sees why they hit it off.
"When it comes to repetition breeds comfort level, Frank is cut from the same cloth," Lapham says. "Up tempo. Get as many reps as you can. The thing about Jimmy is the stuff we did the first day of training camp is the same thing we did Super Bowl week, right down to taking our stances. You wouldn't know you were in a game. You wouldn't think. The night before you closed your eyes and you knew exactly what you were doing in practice the next day. All the repetition they're doing here kind of reminds me what we did with Jimmy."
A few weeks ago McNally and Pollack were musing after a practice. Sometimes that consists of Pollack making him guess what tune is coming out of Pandora, but 99 percent of the time it is usually about line schematics. McNally recalled what Munoz once told him was the best coaching tip he ever gave him.
"First move. Whatever you do. Get the hands up quick. Quick as you can. Hands up," McNally recalled.
As usual, Pollack's wheels were grinding. McNally didn't have a name for the drill. Except maybe, "Get Your Hands Up Quick As Hell Drill."
"You never know," Pollack says. "Sometimes you have to invent drills."