So what if the so-called "They," of sports etiquette say you're not supposed to flip the bat after a homer or dunk in the face or, heaven forbid, run a fake punt in the pre-season? Not only that, in the pre-season opener.
After wiping six-year dust off fourth down fakery in Thursday night's 30-27 victory and then watching it all day Friday, Bengals special teams coordinator Darrin Simmons is glad he did it for a variety of reasons. At the very least, that's something else the Colts have to think about for the Sept. 9 opener in Indy.
For years Simmons had as quarterback of the punt team a running back in Cedric Peerman and ever since he pulled off a 48-yard dash off a fake punt to ignite a Sept. 30, 2012 win in Jacksonville, opposing punt teams have kept that in mind. Now that Peerman has been replaced by third-year safety Clayton Fejedelem as the personal punt protector, they'll have to think about it again after his 49-yard ramble on Thursday.
Why not? The Bears had only ten men on the field. As a man once said, "Life's tough after Little League." You ever wonder what Simmons is doing in the special teams periods when everyone else is taking a water break? Plays like that.
"We practice a lot of plays," Simmons said before Saturday's practice. "They were mis-aligned. That play wasn't called from the sideline. We checked. We were playing it straight. They were mis-aligned and I'm glad he did what he did because we all got it executed. That was the most important thing for me. Everybody was on the same page, we got the call and ran the play. It takes one guy not hearing the call or just not doing it and you look like village idiots.
"(Peerman) was a viable threat to run the ball. People took those looks away from us because they knew how viable he was," Simmons said. "It makes the other teams prepare for it."
And Simmons is just fine with Fejedelem making the call. Fejedelem could tell you about it, but then he'd have to dispose of you.
"That's my job as the protector," Fejedelem said. "To scan everything on the defense and make the calls based on alignments and formations."
The play is Fejedelem's first 49 yards of his pursuit of the Pro Bowl. He was a surprise second alternate for the all-star game last season to everyone but Simmons and his teammates. At the time of the selection, Simmons had been certain he never had a core special teamer do what Fejedelem was doing by playing more scrimmage snaps (357) than teams snaps (317). With the new kick-off alignment and if the other safeties stay healthy, he can have a lot more than the team-leading 15 tackles he had last season.
"He's been recognized by his peers, which is a great honor for him. But it's also because of the players around him," Simmons said. "He's exactly what we want in a player and we just have to continue to help him get better."
Fejedelem heads into his third season worrying about things other than the Pro Bowl. He's looking to get more snaps at safety and he's in the annual dance of trying to find a rhythm in the kicking game with the ever changing bottom of the roster. But last year's selection has him thinking about it.
"It's kind of ridiculous with the fan vote because it becomes a popularity contest," Fejedelem said. "There are great players out there who are very productive that get overlooked just by guys who have a name, that have been around the league for a while, or on a team that has been successful for many years and their name comes up because they have a great following even though they're not producing the same."
Then there is Patriots' seven-time Pro Bowler Matthew Slater, who is both a big-time producer and on a great team. He got the nod last season despite playing in just nine games.
"Nothing against Slater. He's a great player," Fejedelem said. "But last year he got hurt and played in only a handful of games and had a handful of tackles."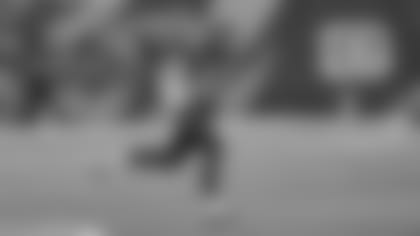 Fejedelem scouts the league for players who do what he does and he likes the unsung guys like himself. He notes another safety whom just happens to be Slater's teammate and is a Columbus, Ohio product in Nate Ebner. His season ended early last season when he injured his knee running a successful fake punt.
"I like how he plays," Fejedelem said. "He's a good athlete."
It sounds like Simmons may not be through with Thursday's game tape and Fejedelem. For years Lewis has put him in charge of putting together the week's questionable calls and sending them into the league office. He said the clip of Fejedelem getting called for violating the new helmet rule that prohibits using the head to initiate contact may make the list.
If it does it's because, "We just want clarification so we know how to handle it and how to coach our players."
Fejedelem said after the game he felt his tackle while playing safety was legit and the tape didn't change his mind.
"I saw my target. I put myself in an athletic position. There's no way for me to pull up from that without putting myself in danger," said Fejedelem, who had one called against the Bears at the end of his run. "This rule really puts defenders at a disadvantage and could be harmful to defenders. I have nothing against what happened to me. But he did lunge and that's going to get called. That doesn't bother me. Mine does bother me. I never lowered my head to make contact. My head may have gone down, but that's because two grown men are about to have a violent hit. That's the game. I don't understand how they want us to play."