It is a Tuesday, a Bengals' off day. But that is when Michael Johnson is always on top of his game. Then again, it's always been more than a game for Johnson whenever he ventures into the community.
Like this Tuesday on a dark street in Over-The-Rhine that the developers missed. Republic Street, to be exact. It is 48 hours after Johnson ended Sunday's game in Los Angeles on the injured list and he is at a shelter doling out chili-like spaghetti with a youth group wearing the orange "Be An Agent For Change," T-Shirt of his foundation.
"I'm not crippled," he shrugs.
Mike Johnson always comes to play whether it's Sunday or Tuesday. That's why he waves off any thoughts about this Sunday against the Raiders (1 p.m.-Cincinnati's Channel 12, **order tickets**) possibly being his last Paul Brown Stadium game. After all, his contract is up, he turns 32 the week of the Super Bowl …
All he's thinking about is winning Sunday, then winning the last two games and making the playoffs.
He's listed as questionable at right end with a concussion but there has never been any questions about Tuesdays. On this Tuesday he is reminding the Ladies of Leadership group from Avondale and Lincoln Heights to listen to the shelter staffers while they teach them how to serve the folks about to stream through the door.
Johnson seamlessly picks up on the staffers' point about dignity when he talks to the kids. Some of the people they'll serve are going to smell. Some are going to be muttering to themselves. But never, ever is anyone allowed to laugh at them. Johnson uses his spin move to put it back on them. How would you like it if you were in a position like that when you were older: "Laugh with them, not at them."
He's got an attentive audience. Johnson does as he says. One guy in a Browns ballcap takes a tray and says, "You're on the wrong team, Mike.' Another guy proudly wears a Steelers baseball hat: "Three games left, you never know," says Johnson cheerfully with the Browns and Steelers two of the three left.)
"We're a mentoring program for ladies 8-18," says LOL founder and CEO Kimberly Huckleby. "We meet the first three Wednesdays of every month for nine months since 2007. This is the first year we've incorporated the boys. Every month we do a community service. They must know it's better to give than receive. They're very excited. Michael Johnson. No. 90. Wow. He's very personable but they were looking at him in awe."
Maybe it was meant to be that one of the Raiders' starting defensive ends opposite Johnson Sunday is old friend Frostee Rucker, Johnson's backup in the last three seasons of his six-year career in Cincinnati that ended in 2011. No one knows whose last PBS game it is, but certainly a large part of Bengals head coach Marvin Lewis' legacy has been guys like Rucker and Johnson that not only contributed to the locker room, but to the city.
Chemistry guys. Glue guys. Community guys. They are the kinds of guys the Bengals didn't have much of when Lewis arrived in 2003. But he filled the locker room with them when he revamped the culture into NFL respectability and started by signing a highly-regard free-agent defensive tackle in John Thornton widely respected for his professionalism. Thornton passed it up and down the defense line and noting this week that Rucker is playing in his 155th NFL game, Lewis smiled and said he should give Thornton a pretty big cut.
"He showed him how to train. How to train right. And he's still playing," Lewis says.
Thornton's first year of retirement in 2009 coincided with Johnson's rookie year, but he stayed around town and helped the younger players when he could as the guys he mentored, like Rucker, Robert Geathers, and Domata Peko took over the locker room. Now Thornton is an agent representing Johnson and rookie end Sam Hubbard says he's gone to Johnson virtually every day to ask just about everything there is in a rookie's box.
As defensive line coach Jacob Burney says of his room, "They listen to (Johnson) more than they listen to me. That's just the way it is in the NFL. He's a competent guy to say the least that can lay it out there for you. He'll play hurt. He'll play anything. 'Coach, l'll do anything to help us win.' For an older guy to have that kind of mentality …that means a lot."
Hubbard has been leaning on him all year: "There isn't a situation on or off the field he hasn't seen. And he handled it good or bad and he'll tell you how."
Tuesdays' situations he always handles well. These kids are just at the age Johnson wants them. He feels like grades five through eight are the most decisive on the path to the finished product. It was for him, probably, thanks to his dad. And, in a not so small way, Sam Johnson is the reason he is here on this Tuesday.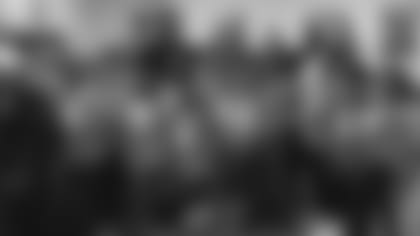 Sam Johnson stepped out of the segregation of Selma, Ala., in the early 1960s to fight in Vietnam and came back after he stepped on a mine. When the national anthem controversy flashed across the NFL last year, Mike Johnson had pretty good counsel. Sam advised he'd be proud whatever he chose, but he was looking for his son to take the conversation to the next level.
After all, he knew his son was adept at such things because a few years before he had been asked as one of Dallas County's young leaders to join civil rights icons and President Barak Obama for the walk across Selma's Edmund Pettus Bridge 50 years after Bloody Sunday.
So for Mike Johnson that meant going under the headlines and behind the cameras to bring police and kids together. That's why Eddie Hawkins is here on this Tuesday. Hawkins, a 20-year Cincinnati police officer, has helped Johnson so well in his efforts that Johnson gave him his two tickets to last year's Super Bowl as the Bengals' nominee for the NFL's Walter Payton Man of the Year.
"It was a surreal feeling," Hawkins is recalling, coming straight to the shelter from his job as the resource officer at his alma mater of Woodward High School. "If it was on your bucket list to check off, that's a heck of an item to mark off. Very rewarding. It goes to show you what kind of guy Michael is. I've worked with a lot of athletes. Very few come across as genuine as he does. He's not doing it because it's in his contract or because someone told him it looks good. He thinks he should do it."
Hawkins has known Johnson for five years and is one of his regulars. He's one of the policeman Johnson turns to at these events to humanize officers and the kids alike.
"All police aren't bad," Hawkins says. "What you see on TV doesn't mean that's how all police offers are."
Back in the day, Thornton hooked up Johnson with Most Valuable Kids, an organization that matches youth with sports. MVK is why the Ladies of Leadership are here Tuesday, one of six events that Johnson has done this season to tie in a community service project for while also incorporating a police presence for the kids to get to know.
While putting on the programs this year, Johnson has also developed a good relationship with Ryan Wynett of the National Underground Railroad Freedom Center. It seems to be fate. When they met at the museum the week of the opener, Wynett, manager of the exhibit Open Your Mind: Understanding Implicit Bias, had with him a 1930s sign from a segregated bathroom in Selma.
"You know where I'm from, right?" Johnson asked and Wynett didn't but soon did.
"You hear about what people call natural leaders," Wynett says. "You rarely see it, but he strikes me as one."
Wynett, a year younger than Johnson who grew up in New Richmond on the eastern fringe of Cincinnati a few miles from Selma, quickly became in tune him. It took just one presentation before Johnson was incorporating into his talks some of the ideas he heard Wynett bounce around in the pursuit of opening minds.
"You're going to have to have people who are more quietly behind the scenes," Wynett says. "He leads by example. It would literally be impossible not to physically be impressed by him. He's so big (6-7, 280 pounds). Especially with kids. But he's good with them."
In the tradition started by Lewis and Thornton all those years ago, he could have been talking about the Bengals locker room, too.