Defensive lineman Sam Hubbard, a Cincinnati guy and one of those cool kids Carlos Dunlap calls, "rookie veterans," has already been to a Bengals-Steelers game at Paul Brown Stadium. But, like much of the Bengals' current roster, it's not exactly at the forefront of memory. After all, he was only 11 the night Steelers defensive end Kimo von Oelhoffen fell into the knee of Bengals quarterback Carson Palmer on just the second snap of the game.
"I just remember how silent the crowd was after it happened. That's the only memory I have," Hubbard said Monday of that infamous 2005 Wild Card Game.
But with the help of young players like Hubbard, it's the memory of that Wild Card Game 10 years later that suddenly also seems to be fleeting in the Not For Long league as the Bengals prepare for Sunday's game (1 p.m.-Cincinnati's Channel 12; click here for tickets) at Paul Brown Stadium.
A total of 35 players from last Sunday's 53-man roster weren't here for the Brawl in the Paul when running back Jeremy Hill fumbled the ball on Jan. 9, 2016 with a one-point lead and 1:23 from a postseason victory. But not only that, they are a 4-1 team that has carved out three crazy-quilted fourth-quarter comebacks this season with 30 players that began their NFL career after that 2015 season.
"It's different," said Dunlap, the veteran left end a day after his sack-strip sealed the 27-17 win over the Dolphins to set up Hubbard's fumble-return touchdown.
"I think the world knows about Pittsburgh-Bengals football already. It's hard to neglect with all the stuff that's going on. But our focus in the locker room is guys have that single-minded focus. Next play. Next game. When we revamped the culture, that's what the coaches instilled in us. To build it better. If you didn't like the last play, make the next play the best play. That's been the mantra for this season."
Head coach Marvin Lewis has revamped hearts and minds with a new-look coaching staff and a band of youngsters. The Green-Dalton Bengals may be 1-7 against the Steelers at PBS, but offensive coordinator Bill Lazor's playbook is 0-0. Steelers quarterback Ben Roethlisberger may be 14-2 at PBS, but first-year Bengals defensive coordinator Teryl Austin's unit that has produced three touchdowns in his first five games is 0-0 against Big Ben. Steelers head coach Mike Tomlin may be 18-5 against Lewis, but he's talking about "a September stench" that has his team 2-2-1 and trying to go from worst to first in the AFC North.
"We're the team to beat right now. Not them," said cornerback Dre Kirkpatrick. "In previous years, OK, cool. I don't think there's a need for us to over-think this."
That's why Kirkpatrick, one of five defensive starters in the Wild Card Game who'll also start Sunday, likes the youthful makeup.
"I definitely feel they get it, they understand the history between us two," Kirkpatrick said. "But at the end of the day, it's kind of good that some of these guys haven't experienced it because we're trying to go in with clear minds, clear everything, just going out there and playing our game and not taking nothing that happened two or three years ago or last year and having that same mentality and taking that into the game.
"We've got to be focused. We can't have any dumb penalties, any outbursts, anything like that. We've got to stay focused. We'll definitely work hard this week. It's Pittsburgh week. Everybody's going to be hyped up, ramped up. Practice is going to be ramped up. But so far it's just been calm here. It's just another game. I feel we've got the tools to do special things around here and they're just a team in the way for us."
That's where Dunlap's rookie veterans come in. They don't have the baggage. They've tamed the fourth quarter so far. Like his guy Hubbard, a big-time college veteran of Ohio State that has shrugged his way into a key and versatile role as an offensive fullback, a right end in the base defense and a tackle in the nickel package.
Or Tyler Boyd, a third-year wide receiver who knows the rivalry but not as a regular now on pace to catch more than 1,200 yards.
Or rookie safety Jessie Bates, the 21-year-old second-round pick who sweats ice water. He's became a favorite of profootballfocus.com, a web site already bannering him as one of the top safeties in the league.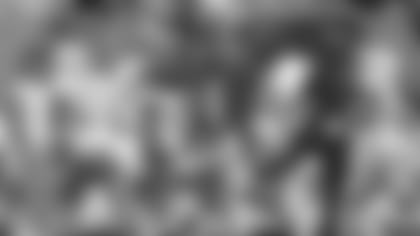 "He has accrued 27 total tackles (8th among safeties) and two interceptions (T-2nd) while allowing a passer rating of just 58.8 on throws into his primary coverage," PFF reported Monday. "Bates has been targeted five times, allowing four receptions for 38 yards, 36 of which came on one play, and among safeties who have been targeted at least five times, Bates' 0.17 yards per coverage snap ranks fourth. Bates' 83.9 grade for the season places him as the sixth highest-graded safety, and his coverage grade of 81.1 is good for fifth … It has only been five weeks, but Jessie Bates has looked like one of the top five safeties in the league when he is at the top of his game, impacting both the run game and passing game."
Austin isn't going to go that far but, believe him, he loves those two interceptions that Bates has snagged off the Ravens' Joe Flacco and the Dolphins' Ryan Tannehill. Remember, one of the first things Austin did on the job is meet with veteran free-agent centerfielders with a history of picks. Better yet, he got the top-rated one in the draft.
"For a young guy coming out playing basically playing every down from day one it's a pretty daunting task. So far, knock on wood he's done well," Austin said. "I expect he'll continue to get better as the year goes on. I'm happy where he is, he's got a lot of room for growth and improvement. But as long as he's tackling and getting better each week and intercepting the ball, we're OK."
Kirkpatrick loves how he's teamed with the veteran Shawn Williams, giving them the best of both worlds.
"The guy's so smart. He's got a bent for the ball," Kirkpatrick said. "He's not one to debate everything -- when somebody brings something to his attention, he checks it off and he tries to learn from it. I feel that's the most important thing. He's got a veteran in Shawn who's a leader in the secondary, and he's just learning from him the best he can."
That's pretty much what the defensive line is saying about Hubbard.
"The guy can block for a touchdown on offense or get that touchdown with a fumble and get it into the end zone," Dunlap said. "Young guys, but I would say not immature or inexperienced. They're ready."
If Hubbard hasn't seen it, he's heard it. Forget the PBS pall from early '06 and he still knows all about rivalries.
"Best rivalry in college football," said the former Buckeye, who still can't utter the word, "Michigan."
"The team from up north," is how he says it.
"Like everyone else in Cincinnati, I hate the Steelers," Hubbard said. "I respect them as well."