Aspiring architect Myles Murphy, who has designs on being the last brick in the Bengals' Super Bowl foundation, showed up comfortably at Paycor Stadium for Saturday's introductory news conference.
"I got into it because of stadiums," said Murphy of his architectural avocation. "That was the end goal. Be part of a stadium build."
But first, he's a major piece of the Bengals' touch-up project on defense as one of three defensive players taken in the first three rounds. The last time he was here was two weeks ago on a top 30 visit where the Bengals told him they loved him but they just didn't think he was going to be there at No. 28.
Thanks for coming, though.
But there he was, as impeccable as his resume in a 6-5, 268-pound three-piece suit. He moves easily and lightly in football. For one thing, despite his size, he's always been one of the fastest kids on his teams. He didn't run track in high school, but he ran the sprints at their practices. Even as recently as three weeks ago at his pro day when he bulged eyeballs even though he sprinted through a meandering 40-yard dash.
"My first 15 yards I had my eyes closed. When I opened my eyes, I almost stepped on a cone," Murphy recalled.
The scouts wanted him to run it again, where they thought if he ran straight he could hit 4.47. But Clemson head coach Dabo Swinney trotted up to him and told him to forget it. The stopwatches were still showing anywhere from 4.49 to 4.52 and 4.53 seconds.
"That's a good number," Murphy said.
Another reason he moves so easily around the game is he grew up with it. His father Willard Murphy was recruited out of tiny Hamilton, Ga., and played outside linebacker at Tennessee-Chattanooga before the Birmingham Stallions of the old USFL drafted him in the 10th round.
He already had two surgeries on his knee and one on his shoulder, so when he pulled his hamstring just before the last cuts, he went back to get his degree in business management.
"Time to move on with life," said Willard Murphy, a State Farm insurance agent who along with wife Breyone did exactly that raising two football players in Marietta, Ga., with Falcons' season tickets for the past 15 years. Myles says he took bits and pieces from what Willard relayed to him and that's how constructed his frame of reference.
Maxwell, 25, played defensive tackle and defensive end at Division III at Worcester Poly while getting his degree in electrical engineering. He didn't get his younger brother's height but got the passion.
"I still wanted to play. I enjoyed playing and I got to meet a lot of people," said Maxwell, who get very little financial aid playing the game he loved.
Myles Murphy never knew where he got his height until he met his mother's Uncle Joe. He went 6-7 and then he knew.
He comes from a tight family and community. When the Bengals sent a charter plane for the trip to Cincinnati, it was Breyone, Willard, Maxwell and Lauren Jackson, his girlfriend he has known since seventh grade at Lovinggood Middle School.
They started dating as sophomores at Hillgrove High School and when they were watching the second round Friday night, his new team picked Michigan cornerback DJ Turner. When Murphy went to nudge her with his elbow he ended up accidentally drilling Jackson in the head as he flew upstairs.
It sounds crazy, but Murphy and Turner have known each other for years One of Breyone Murphy's first and best friends was Turner's father, JuanDrago, when they were growing up in Decatur, Ga.
"We were friends in kindergarten and have been friends since," said Breyone, a realtor who also works in State Farm operations.
"I represented him in high school on the Homecoming Court. He was a football player and he didn't have a girlfriend at the time, so DJ's grandad escorted me to the field. We had a group of four friends and we went off to college, but we introduced them to our spouses and stayed friends. We'd get together and have birthday parties with our kids."
The Turners settled in nearby Suwanee, Ga., close enough that DJ and Myles sometimes crossed paths during football camps. A picture surfaced Friday night with DJ standing in front of the towering Myles at a long-ago birthday party.
"Hard to believe," Breyone Murphy said. "The families know each other. I was trying to call Drago and it turned out we were trying to call each other."
The stuff of movies and Myles Murphy admits he's a film junkie. Enough that Jackson tells him from time to time that he's watching his iPad too much.
It probably goes back to his decision to give up baseball for football when he was a sophomore. A big decision since he could throw a baseball 90 miles per hour.
"I outgrew my mechanics," Murphy said. "I couldn't control my two-seam fastball."
But he could control the analysis and the designer was immediately drawn to the strategy.
"I always thought with a passer, it's a mind game as the game progresses," Murphy said. "Setting up one thing to set up something else. It plays a big part in the way I watch film. Being able to see the backfield sets. What are their tendencies? What is the offensive tackle's tendencies? Is it a vertical overset? Any sign that gives something away."
Trey Hendrickson and Sam Hubbard, the two veteran edgers he's backing up, have texted and getting him set up in the different message groups. Quarterback Joe Burrow has checked in and Maxwell Murphy stopped to gaze at No. 9's locker.
"(Myles) has been beating me all the time with the Bengals," Maxwell said of their latest Madden matches. "I'd say he's been using them for the last couple of months. Ever since the draft stuff started."
"Great team to play with. High-powered offense. High-powered defense," he said. "They've got the guys to get the job done. Playing them in Madden, it's a coincidence I'm an added piece on them. It's easy (to use) when you've got Joe Burrow and Ja'Marr Chase and Tee Higgins. I'm going to use them a little more since I'm on the team now."
Myles Murphy insists if he's got the Clemson playbook down, he thinks he won't have much of a hard time with this one. He dropped. He blitzed. He played inside. There were packages called everything from "LeBron," to "Cyclone."
"We would do literally every type of front, 4-3, 3-4, odd where I'd be in a three," Murphy said. "I remember my sophomore year against Louisville, we called it a 'LeBron' front. I'd be in a zero. I was all over the place, really from a zero all the way out to a nine, so really just rushing all those gaps."
Don't look for the Bengals to use him in all those places. He figures he played about a quarter of the time inside. But there is clearly one package that is his favorite. And it doesn't need a name.
"Any package where I'm on the edge and it's third down," said Murphy of his grand design.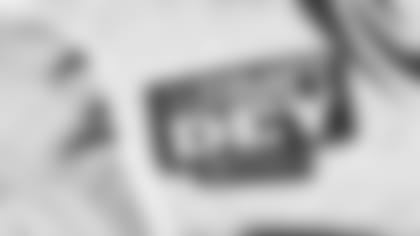 2023 Draft Dey Center
The official sources of news, photos, interviews and more of Draft Dey 2023, presented by Integrity Express Logistics.