Trey Hopkins, better known as "Mr. Hopkins," in the Southwest Ohio Prep math and science classes he served as a sub a few months ago, has a knack for coming off the bench in the same role when the Bengals offensive line gets in a jam. When he briefly reported to work this week a year after his line underwent extensive renovations, he noticed it is now the Paul Brown Stadium work space under construction.
"A lot of lights. A lot brighter, which is definitely a good thing," Hopkins said. "A lot of stuff is under construction. There's a lot of little changes. I've been here five years, so it's stuff you don't really think about it (until you see it). Today, a lot of lights."
When the Bengals open their off-season program Tuesday, they're banking on a new scheme, a new coach and late-season chemistry to light up their much-maligned offensive line. And brains, symbolized by Hopkins' patience and versatility. After signing his one-year tender in the neighborhood of $3 million, the man whose career was in peril when he broke his leg so early on realized it was "a pretty significant reward," for stick-to-itiveness.
"There were some dark moments," Hopkins said. "If you keep persevering typically things work out. Keep your head up and keep working and I guess this is an example of that."
The darkest moment came in the preseason of a rookie year in 2014 that had started so brightly for him despite being undrafted out of Texas. With Clint Boling coming back from an ACL, Hopkins started the pre-season opener at left guard and played so well the buzz was he would make the Opening Day roster. Until two weeks later in Arizona when he snapped his tibia for the second time in two years.
The leg had a tough time bouncing back and it took more than a year to get right. He scraped through the next two seasons on the practice squad and had played just one NFL game by the time he won the starting job at right guard in the 2017 training camp.
When a new line coach came in last year, Hopkins adjusted to the sixth man role and continually saved them. He made his debut at center for injured rookie Billy Price in five straight starts, started one game at right guard for the injured Alex Redmond and two at left guard when Boling had to kick out to left tackle.
Hopkins, who has been on a Stephen King binge with his off-season reading, is now engulfed in "The Stand," after making one of his own.
"You can't say enough about what Trey did last year. It speaks volumes," Price said. "Any franchise would be glad to have him."
Hopkins had no idea if they were glad or mad when the season ended in a coaching change. The tender solved that question and it hooked him up again with the new line coach Jim Turner, the guy that tried to recruit Hopkins to Texas A&M 11 years ago before he decided on Austin. There was a brief re-introduction before the tender was offered and they talked a bit about all things Texas football. But as far as scheme and what Turner has planned, well, it's not college anymore and the CBA prohibits it.
"I had to think back to when I was being recruited and he reminded me of what you'd expect a college line coach to be," Hopkins said. "Pretty intense. I remember watching film with him and some other recruits and it was nose to the grindstone and 'Let's work.' Other than that, I haven't talked to anybody, so I'm just waiting for the introductions on Tuesday."
Initially, Hopkins can see some of the same intensity possessed by last year's line coach, Frank Pollack, a guy he credits transforming the line's approach into down-hill aggressiveness.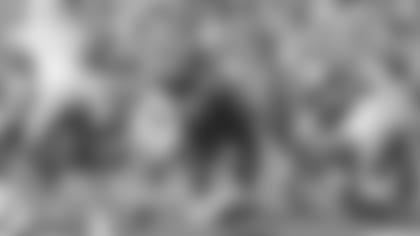 "We started to put together some good stuff," Hopkins said. "That camaraderie and just that change of mentality that we went through last year, I think that's a great stepping stone to build on with the new coaching staff."
And the brains. There is Hopkins, who nearly went pre-med at Texas. There is Boling, who has played more games on the Bengals offense than anybody but quarterback Andy Dalton. And Price, last year's first-rounder. Hopkins doesn't see the line having a problem picking up the new playbook.  
"He's healthy. He's got that first year out of the way," Hopkins said of Price. "He got his first couple of shots in the real world. He's got those under his belt now. It does make a difference. The game doesn't show up so fast after the first couple of snaps are out of the way. You have to learn quickly and move on. We've got smart guys in the room. I feel like we've always had a group of smart guys. I don't think that will be an issue."
Hopkins' turn in front of a classroom came by accident about a week after the season when he stumbled into a conversation about continuing education. After getting his degree in biology, he had never really put medicine on the shelf but he has been wondering if teaching is the way to go. It turned out he was talking to a person looking for substitute teachers at Southwest Ohio Preparatory School, a K-eighth grade charter school in Cincinnati's Mount Airy neighborhood.
He taught math and science in grades 5-8 for about a month and enjoyed it. If he takes it up, he'd prefer the seventh and eighth graders and maybe older, but everybody was cool when they figured out he wasn't joking about playing for the Bengals.
"My basketball players started to come up and talk to me about sports and someone found a picture of me on the internet," Hopkins said.
It turns out his major trait that led to this week's signing is the biggest thing he got out of teaching.
 "Realizing a lot of times the reward you get from a putting in work for a long time are small, they're big at the same time. If that makes sense," said Hopkins of helping the kids' solve problems. "It might feel like it's a long time. What feels like is simple to you, it can be difficult to somebody else and when they finally get it, it makes a big impact on you and you're excited for them. You have to teach it to them in their world and the way it makes sense. A lot of people look at a book and say, 'OK this is a rule and you just follow the rule.' Sometimes you have to bring it to them in real life and explain the different scenarios."
Sounds like what his line starts doing Tuesday under a new light.