It was O.K. to mention left tackle. But when John Jerry was asked before Monday's practice if he can play center, he put an immediate stop to the proceedings.
"Don't even put that out there," Jerry said with a laugh.
What is out there is the latest update on the Bengals churning offensive line and there is really no update after head coach Zac Taylor and offensive line coach Jim Turner briefed the media following Monday's practice. Because no matter where they line up in this Thursday's game (7 p.m.-Cincinnati's Local 12) at Paul Brown Stadium against the Giants, otherwise known as the dress rehearsal, they'll evaluate left guard again so they can come up with a final alignment by next week. That way that gives them two weeks of practice as a unit before the Sept. 8 regular-season opener in Seattle.
Even though rookie Michael Jordan has been repping at first-team left guard this week next to center Billy Price, Taylor wouldn't say if he'd get his second straight there. Or if anybody else would start for that matter. All he said is that left tackle Cordy Glenn is out with a concussion.
"We are not naming any starters yet. Tomorrow we will still continue to work through guys at all those positions upfront with Cordy out," Taylor said. "We will see more. What you see Thursday night is not necessarily who is starting against Seattle."
Turner has been more magician than line coach this training camp. He's about to turn the first offensive line into its third straight different starting combo if Price starts next to Jordan, still feeling the aftershocks of the retirement of left guard Clint Boling and the injury to left tackle Jonah Williams. With basically one game left, Turner said no one has the edge at left guard. And for good measure, Price worked there Tuesday.
"It's all even between every one of them, so anybody can pop out of this thing and I mean that," Turner said. "We're just looking for chemistry. When you start the season you go in with your front five and this happens on every team when one of the goes down it's a different chemistry, it's not the best thing, so we want to find the best chemistry, the best five to line up against the Seahawks and we'll find out Thursday night a lot more about these five guys.
"Just read the tea leaves so whoever is playing the most at left guard there's a good chance he's going to be the left guard, but they've got to play well now. It's an everyday process, so this game we evaluate every game. How they play against the Giants will have a great effect on who is going to play. If the guy that's in there now struggles, be goes down and the other one pops up ahead of him, it's that simple. This is the biggest evaluation game out of all four of them and so it will be a big night for us. "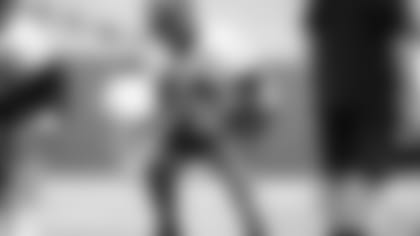 So all eyes are going to be glued to the left side Thursday. Turner is convinced Andre Smith can play left tackle even though only one of his 93 NFL starts have come there and he'll get an idea since it sounds like he'll start Smith. After that, you're guess is as good as anyone because Turner is banking on versatility being the tiebreaker for the roster.
Jordan is the left guard of the future. But is that three weeks into the future or three months?
"Mike's as smart as they come. Very smart," Turner said. "He's really powerful. He's smart. He knows where to go. He's fast enough. He's got all the tools. If he dedicates to the game and he just falls in love with it, he'll be a great player. He has that capacity. Will that happen right now? I don't know that. So we've got to wait to see. We're still battling up there at the left guard position to see who's going to play between him and Trey Hopkins and John Jerry and all the different pieces you see going in there."
You figure these guys make it: Glenn, Smith and Bobby Hart at the tackles. Jordan, the fourth-round pick, a guard who might be able to play center. Center-guard Trey Hopkins, the line's most versatile player. Price, last-year's first-round pick. John Miller, the starting right guard.
 That's seven. Then there's Jerry, the nine-year vet Turner covets and has played at both guards and right tackle and who can get them through a game at left tackle. So you figure his versatility is going to make it eight. Alex Redmond, last year's starting right guard, makes his 2019 debut Thursday after an offseason rehabbing shoulder surgery, but he's suspended for the first game of the regular by the NFL's drug policy, so he won't be on the Opening Day roster. And there's no news on Christian Westerman and his status after he left the team reportedly mulling retirement.
So will they go with just eight with versatility carrying the day? Or does rookie free agent O'Shea Dugas out of Louisiana Tech make it after a surprising turn at left tackle? But Turner has only worked him at one spot and that may not be enough.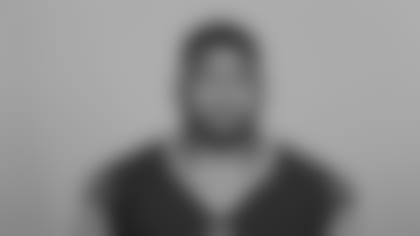 "There's a good chance, OK," Turner said of keeping Dugas in order to have another left tackle. "If you watch him play the other night, he's playing against a good player there, (Washington's Cassanova McKinzy). He's a good player and (Dugas) did a good job against him. So it was a great test. We were very excited about the way he played. We're very excited about the way he's developed throughout this camp. He's getting a hard look as well."
Price looks to be back at the front of the line at center and Turner isn't saying the foot injury that knocked Price out of the first half week of training camp is the reason for the center derby.
"As long you're on the field, then you're playing," Turner said. "His injury means nothing to him or me. As long as he's lining up — if he can't play well, he needs to tell somebody and get out. But it's not the case with him. He'll play well."
Jerry can't recall another training camp he's moved around so much. But he knows that bodes well for him and his two seasons with Turner in Miami have helped him even though that was back in 2012 and 2013 and he sat out last season.
"For sure, it's helped. A lot of these techniques I've done before. I'm kind of like brushing it off right now," Jerry said.
He clicks with Turner. That's probably a big reason why it doesn't look like he's struggling to come back after a year layoff.
"His personality," Jerry said of Turner's strength. "He gets along great. An awesome guy. Fun to work for. Easy to work for. This is the NFL. He expects you to go out there and do your job every day. He's not going to be a rah-rah guy to get you going like in college. He's not going to do that. Just go out and get it done. I know what he expects."
And Turner knows what to expect from Jerry.
"He's as tough a kid as you'll ever meet and he's enormous and he's in a great shape," Turner said. "And you can't hurt him. He's never been really hurt. He's never had his knees blown out. He's got no major injuries that way. He's had upper body injuries. So that being said, right, a lot of these older guys… Like, even Andre's in this position. Andre's been around a long time but they've never been hurt in the lower body, so there's no knee blowouts. So that being said, as long as they're in great shape, these guys can still play."
HOW IS ROSS?: Wide receiver John Ross has yet to practice this preseason and even though it looks like he won't play in any pre-season games, the Bengals except him to play in Seattle with the target date to return to practice this Sunday, two weeks before the opener.
"If we can get two good weeks of practice out of John I feel confident he'll be able to play in that game," said Taylor, who outlined what he has to work on. "It's not only … the routes. It's the run blocking. He pays attention in the meetings. He's a smart kid. He knows it. But it's a matter of getting out there and processing in the huddle, getting to the line of scrimmage, quickly processing what my job is, so you just need the live walk-through reps, game reps, it doesn't really matter. Sooner he gets back the better. I don't think it will be this week. But we think he will be back early next week."
NOT WORKING: The group that didn't practice Tuesday probably won't play Thursday and that appears to include wide receiver Cody Core and cornerback Darius Phillips, as well as Glenn and Ross, and injured players that haven't worked all camp, such as cornerback Darqueze Dennard, or most of camp, such as cornerback KeiVarae Russell.
Also not working is rookie tight end Drew Sample with a hamstring issue that Taylor says won't keep him out of the opener in his hometown, but we won't see him until then. It sounds like he's going to play a lot.
"He's a gritty player. He really just has a knack in all three phases, the protection, the run game, the receiver play," Taylor said. "His first game was kind of his welcome to the NFL moment. Thought he played much better last week, he's only going to improve with every single game he plays against a different defensive line. Different linebackers he's got to block, we are only going to see him improve from a guy that has that mindset and attacks each day like he does. I'm very pleased with the direction he's headed."
BACK TO SCHOOL: Middle linebacker Preston Brown had to work Monday, but that didn't stop him from welcoming students back to Taft Elementary School with a celebration. Brown's foundation made sure each student was given a backpack filled with school supplies upon arrival in their classrooms. They saw Brown in a short video while teachers and staff were treated to coffee and donuts.