USA Football's Andy Ryland has seen a lot of coaching clinics in his role as senior manager of education and training. The Marvin Lewis Community Fund Coaching Clinic is his favorite.
"There's nowhere I've ever been where the entire staff from strength and conditioning to special teams to individual position coaches spends time with the local community coaches," said Ryland.
More than 100 area youth, junior high and high school football coaches spent Saturday at Paul Brown Stadium learning football fundamentals from Lewis and his staff.
"It's exciting to be able to continue to promote the game of football. That's why we do it," said Lewis. "These coaches are the future. The better teachers they are, the more kids we're going to have involved and the game continues to prosper."
Throughout the day attendees got to hear from Lewis on proper tackling technique and spend time with individual position coaches going over drills and teaching strategies.
"Not every place does it like this where you get direct instruction from an NFL assistant coach," said Bengals running backs coach Kyle Caskey. "When you take it to the fundamental level, we're able to help them out and tell them this is what we look for in our professional athletes and they are able to take that back to their junior high and high school athletes to help make them better."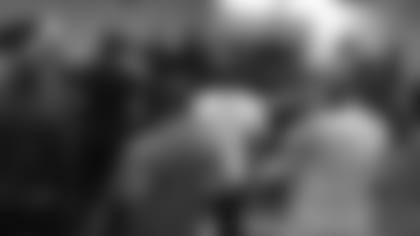 The goal is for the clinic to be interactive where coaches can ask questions and leave with a few nuggets that help them become better teachers of the game.
"From someone who is invested in the development of youth football, I can't thank the Bengals and specifically Coach Lewis enough for what they do," said Ryland. "At this time of year with the draft coming up, to have your entire staff dedicate a day to reach out to the local community is what is really going to grow the game of football. It's what is going to protect the game of football. It's what is going to make sure the game is being taught better and safer than it ever has before."