It was a special morning for a group of teens who were surprised with a back-to-school shopping spree at Liberty Center on Sunday. Joe Mixon hosted the shopping spree, which included new shoes, hats, backpacks and gift cards for the teens.
"It's definitely a special experience for them, but also for me," said Mixon. "It makes me happy that I'm able to make other people happy. It means a lot and I'm just excited to do this."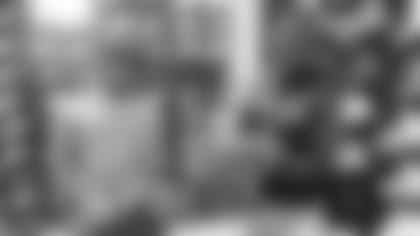 The teens are involved with Back2Back Cincinnati, a Christian non-profit organization dedicated to being a voice for vulnerable children, and Villedge, an organization focused on launching teens from hard places beyond the edge of their potential.
"It means a great deal to the guys to see that where you are doesn't have to be where you're going to be. And that's really inspirational to each one of them," said Back2Back Cincinnati Director Chris Cox. "It's impressive to me that Joe would share his story, his resources and his relationship with them. They're going to remember that they matter and that they have value. And that there's a community of people looking out for them."
Mixon remembers the people who helped make a difference in his life and is glad he has the opportunity to pay it forward now.
"It's really important," Mixon said. "The stuff we do right now, the kids will never forget. I'm sure one day the kids will be able to do something for somebody else. That's what it's all about."
Joe Mixon treated teens to a back-to-school shopping spree, including new shoes, hats, backpacks and gift cards.