The first post-NFL scouting combine edition of the Bengals.com Media Mock Draft is as muddled as Kyler Murray's height.
That's because, among other things, Murray, Oklahoma's Heisman quarterback, has yet to reach the heights of the top ten for our cautious panel of scribes. That's not going to happen for real on April 25. Not only that, the only quarterback that is gone before the Bengals pick at No. 11 is Ohio State's Dwayne Haskins to Jacksonville at No. 7. That doesn't figure to happen, either, with Nick Foles expected to John Hancock it with the Jaguars in free agency. Not only that, although the combine means absolutely nothing when it comes to playing football, it seems to have moved the needle for guys like Mississippi wide receiver DK Metcalf, Washington State tackle Andre Dillard and Missouri quarterback Drew Lock. But not enough to get into the top ten it appears, if you go off the Scouts Inc. big board on ESPN.com. Or, in the case of Lock and Metcalf, those positions wouldn't appear to be on the Bengals' radar in the first round.
But the combine did appear to solidify top ten spots for LSU linebacker Devin White and Mississippi State edge rusher Montez Sweat. You don't hear anyone talking any more about how the Bengals have a shot at White with No. 11.
1.CARDINALS: DE Nick Bosa Ohio, State; Kent Somers, Arizona Republic
Somers just isn't buying in on the Murray stuff yet. Not the year after taking UCLA quarterback Josh Rosen 10th overall. He sees Bosa or Josh Allen as the perfect pass-rush tag-team partner for Chandler Jones in a defense that was ranked 27th in sacks per throw.
2.49ERS: OLB Josh Allen, Kentucky; Matt Maiocco, NBC Sports Bay Area
No worries for the Niners with Jimmy G. They'll take who the Cards don't to rush the passer. But Maiocco is buying the Cards picking Murray first. Which means at three …
3.JETS: DT Quinnen Williams, Alabama; Rich Cimini, ESPN.com
The Jets have had the For Sale on this pick for a year, ever since they gave up all those second-round picks to go up and get Sam Darnold. In a perfect world, the Jets would prefer an edger rusher like Allen. Well, this would be the Jets' Nirvana. But they'll gladly take Williams and team him with Leonard Williams in the middle for new defensive coordinator Gregg Williams on a unit Cimini has already dubbed "Three Willie."
4.RAIDERS: DE Rashan Gary, Michigan; Jerry McDonald, Oakland Tribune/Bay Area Newspaper
Edge rusher all the way in the Khalil Mack Memorial Pick, but McDonald could also see them trading back.
5. BUCCANEERS: ILB Devin White, LSU; Rick Stroud, Tampa Bay Times
Hard not to fall in love with this guy as they switch to more of a 3-4 look. Before Kwon Alexander bolted to the 49ers in free agency, the Bucs were dreaming of pairing the two in the middle of the field. Now they can fill his void.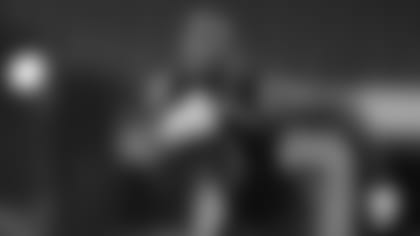 6. GIANTS: DE Ed Oliver, Houston; Mike Eisen, Giants.com
Eisen is another guy refusing to believe the Giants are using this draft to replace quarterback Eli Manning and remains focused on defense, where they finished 24th last season. And they've lost their two defensive Pro Bowlers, end Olivier Vernon and safety Landon Collins. Oliver has the same type of versatility that Vernon gave them up and down the line.
7.JAGUARS: QB Dwayne Haskins, Ohio State; Michael DiRocco, ESPN.com
Until the Jags make the Foles deal official Wednesday, DiRocco is playing it straight and drafting the QB as he should. But look for his next Mock pick to be Metcalf or Florida tackle Jawaan Taylor.
8.LIONS: DE Montez Sweat, Mississippi State; Mike O'Hara, DetroitLions.com
Here's the guy that may be able to say the combine got him into the top ten. He led the defensive line with 4.41 seconds in the 40-yard dash and had the fifth best vertical jump and fourth best broad jump among edge rushers. The Lions finished 10th in defense, but O'Hara thinks they'll stick with their board here and, like everyone else's, its top heavy with defenders. If that fell apart, the best tight end on the board, Iowa's T.J. Hockenson, could be an option.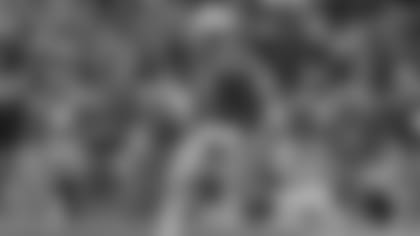 9.BILLS: OT Jawaan Taylor, Florida; Mark Gaughan, The Buffalo News
Taylor fits what the Bills have desperately needed since Cordy Glenn got injured for them during the 2017 season. Consistency at tackle and they need it more than ever for second-year quarterback Josh Allen facing new, aggressive defenses in the AFC East in Brian Flores' Dolphins and Gregg Williams' Jets.  
10. BRONCOS: CB Deandre Baker, Georgia; Mike Klis, Denver's 9News
Too high for Baker? He ran only 4.52 at the combine. Glacial compared to the 4.37 of LSU's Greedy Williams. But the guy has great tape as a cover corner in the fastest conference in America and he's a long 5-11, 193 pounds. The Broncos need to get someone opposite Chris Harris and he doesn't look to be there in free agency.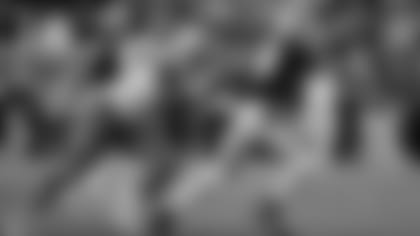 11. BENGALS: DT Christian Wilkins, Clemson _ We're taking the Bengals at their word. They're all in on Andy Dalton. So if Murray is somehow still on the board (and Haskins) after the Cards and Giants pick, there is a For Sale hanging out of Paul Brown Stadium for the 11th pick. This is actually the best case scenario for the Bengals. They can trade back in the first round and maybe squeeze out a second-rounder for it. If not, a third-rounder. This draft is deep enough in tackles, linebackers and tight ends that they could conceivably pick up two starters with one move. (And if Murray and Haskins are gone, maybe Missouri quarterback Drew Lock can draw some interest from other teams.)
If there's no trade, let's take a look at the universe of remaining players that would fit the Bengals' needs other than Wilkins:
Tackles Jonah Williams of Alabama and Washington State's Dillard. Michigan linebacker Devin Bush. Iowa's T.J. Hockenson, the draft's best all-around tight end. A pair of Clemson defensive linemen in tackle Dexter Lawrence and edge rusher Clelin Ferrell.
We'll have no idea how these guys rate on the Bengals' board until they pick, but if you go by the Scouts Inc. rankings, Wilkins is clearly the best player left and is ranked No. 6 on the board. Look for Jonah Williams (rated No. 14) to get snapped up by either Jacksonville or Buffalo and Taylor ending up in the other place. Lawrence and Ferrell had big roles on a national champion, but Scouts has them rated at the bottom of the round. Hockenson (rated No. 12) is the best tight end in the draft, but a tight end at No. 11 when you can get some good ones later? Not over a starting lineman.
So for the second time in three Media Mocks we're going with the 6-3, 312-pound Wilkins knowing that there'll probably end up being a comparably rated player available once the quarterbacks get parceled out. But it would be hard to find a guy that brings as much value, starting with his position. Yes, Bush (rated No. 16) is a hell of a player and the Bengals need linebackers.
But to me, D-Tackles that disrupt and penetrate in the pass game like Wilkins are more valued than fast linebackers. It's close. Bush is going to play three downs and never come off the field. But an inside pass rusher who can also stop the run, even if he plays 70 percent of the time, is a rarer commodity. Certainly you can make an argument for Bush here. A great pick, but for a Bengals defense that struggled so against the run and has a Pro Bowl three technique that needs some complementing, Wilkins checks a lot of boxes.
Wilkins is a guy that played in more than 50 college games and came up big in the national title game. Not only that, his intangibles are priceless. He got his degree in two and a half years and won the academic Heisman. And, he was a media hit of the combine when he gave an answer like this in discussing his pursuit of a master's in leadership.
"After the game, whenever my time comes to hang it up, I want to stay around the game because I love it. It's given me so much and I want to at least be some type of analyst, be in front of the camera, use this million-dollar smile I've been told I got," Wilkins said. "Be a personality in front of the camera. Even coaching or something, being able to impact lives of young men."
And when he talked about the influences in his life, we're guessing his stock rose in the teams' 15-minute interview sessions if he gave a similar answer.
"I've had a lot of people – coaches, family, whoever – that emphasized it's important to be more than just an athlete. You've got to be a well-rounded human being, a well-rounded person," Wilkins said. "That was something that was always very important to me. It always kind of stuck me. For that reason, I never found it challenging or hard to do what I had to do. My motivation in all that was, through this game, being able to use this platform to impact and influence people's live. I feel it's awesome to defy the odds. [Not] a typical dumb jock. I'm able to be successful on the field and also have great success in the classroom."  
It's all about value. And, in this exercise, in one scribe's opinion, Wilkins is the most valuable on the board.