In the next two weeks on the road the Bengals pit their crown jewels of the 2011 NFL Draft against the talent that the Panthers and Falcons pulled from the same cauldron to stay competitive in the play-off charged NFC South.
It starts Sunday in Carolina (1 p.m.-Cincinnati's Channel 12) with a duel between quarterbacks Andy Dalton and Cam Newton before next week's steel cage match in Atlanta featuring wide receivers A.J. Green of the Bengals and Julio Jones of the Falcons.
The Bengals.com Media Roundtable envisions a rough start of the trip for a Bengals team dealing with injuries to running back Joe Mixon and center Billy Price. Laurel Pfahler of The Dayton Daily News gives the Panthers' offense the edge in that one. Long-time Panthers beat reporter Joe Person, one of the talented, high-priced free agents lured by The Athletic, thinks Newton at home is going to be too much for the Bengals in what he sees as a pick-'em.
With a vat of almost certain Pro Football Hall-of-Famers filling Charlotte's Bank of America Stadium (Green and Newton with defensive linemen Geno Atkins of Cincinnati and Julius Peppers of Carolina), we went to Clark Judge of talkoffamenetwork.com and he sees a tight one with Newton's new-found accuracy and running mate Christian McCaffrey providing the difference for the hosts.
Wayne "Box," Miller, bidding for rookie of the year honors as the pre-game and post-game host on the Bengals Radio Network, believes the way in which the Bengals secured victories in the fourth quarter, along with their talented front four, gives them enough confidence to out-point Newton.
Let's go around The Table. As always, ladies and visitors first:
I think Andy Dalton will need to have a big game to offset the concerns with the running game this week for the Bengals. It seems as though running back Giovani Bernard's knee is fine after being limited Wednesday and he is certainly capable of keeping the offense moving like Joe Mixon has. But it just feels like a week the running game could struggle, especially with middle linebacker Luke Kuechly playing so well for Carolina and Bengals rookie center Billy Price out.
I could see Bengals wide receiver John Ross having more of an impact this week, whether just by opening things up for A.J. Green or having a break-out game himself. Panthers quarterback Cam Newton will test a young Bengals defense, but I think the fact his line is without both its starting tackles helps.
THE EDGE: The Panthers have been good at home. They've won six straight there and their last loss was by one score to the Eagles, 28-23. I'm concerned about the state of the Bengals running game with Mixon out and the offensive line banged up. PANTHERS, 21-17
I was surprised last week in Atlanta it was the Panthers defensive line that struggled and not their offensive line, which has been hit very hard by injuries. They had three starters who are out, including their two tackles and Pro Bowl guard. All will be out this week. And yet the guys they plugged and played did OK, especially left tackle Chris Clark. He was on his couch Wednesday and protecting Cam Newton's blind side on Sunday and played remarkably well. But they're going to be tested like they were not last week.
On the flip side the Falcons defensive line struggled against Atlanta's wide zone blocking scheme. They got gashed in the running game and as a result the Falcons' play-action slowed down the Panthers' pass rush and ended up getting zero sacks on Matt Ryan after getting six sacks of Cowboys quarterback Dak Prescott in week one. The Panthers have a pretty good front seven and you would think Panthers first-year defensive coordinator Eric Washington would kind of get things turned around. When you start with middle linebacker Luke Kuechly, defensive tackle Kawann Short and defensive end Julius Peppers they've got a lot of pieces. If the defensive line becomes an Achilles' heel then that would be very unexpected and a big-time trouble spot in this defense.
The cornerbacks haven't been a strength. James Bradberry has quietly turned himself into a very good cover corner. He doesn't get his hand on a lot of balls with four picks in his first two years, but he's seldom out of position and did a nice job on Julio Jones last week. More than likely he will not follow A.J. Green into the slot, so when A.J. goes inside that will fall on 5-9 Captain Munnerlyn and he'll be giving up a number of inches (seven) in a big size disadvantage with Green.
They haven't stretched the field yet even though they've got guys. They think when safeties and linebackers start getting in the box they will. Running back Christian McCaffrey has 20 catches. Their rookie first-rounder, wide receiver DJ Moore, opened up some eyes last week. On his first NFL target he caught an intermediate route, made a guy miss and took off for a 51-yard touchdown. They've said this week they have to get DJ Moore involved.
THE EDGE: I think that Cam matchup might be the difference. Their offense showed last week they have the ability to be pretty explosive. The key is protecting Newton against that vaunted pass rush. It's a toss-up game. PANTHERS, 27-24.
I think the Bengals are a team that believes they can play with anybody. The resiliency they showed coming back in the Indianapolis game and then withstanding Baltimore's surge at the end shows they have the ability to close out games.
What may decide the game is how they handle the versatility of Cam Newton. If the defensive line gets pressure on him and is able to contain him in the pocket and restrict what he's able to do when the play breaks down is going to serve them well. Any time you play a freak like that, a guy you just don't see every Sunday, that's the matchup.
But he doesn't see two book-end defensive ends like Carlos Dunlap and Michael Johnson, either, or Dunlap and an inside pass rusher like Geno Atkins, so I'm interested to see how he responds.
THE EDGE: I think the Bengals can win this one. They've proven they can put points on the board. This is on the road, it's a little different crowd than Indianapolis and Carolina is coming off a loss. But I think this team not only knows they can put points on the board, but they can make plays when it counts with this defense. BENGALS, 24-21.
I like Carolina here. They're at home and they get after the quarterback. It used to be if you stopped Newton you stopped the Panthers, but McCaffrey gives them a dual threat. He can run, he can catch. He caught 14 passes last week to tie a team record. At home he's scored five touchdowns in the last seven games. They've got something going there.
Norv Turner is the offensive coordinator there now and he said, 'I'm going to make Cam Newton a 65-percent completion passer.' I'm saying you've got to be kidding me, but he completed over 70 percent of his passes against Atlanta last week. At home it's going to be very difficult for Cincinnati to beat them.
Carolina is pretty good defensively. They didn't look so good against Atlanta. But I think they'll pressure Dalton and Carolina is a tough team to beat at home.
THE EDGE: The Bengals are already better than I thought they were going to be. The win last week didn't surprise me. For whatever reason Baltimore struggles with them whether it's in Baltimore or up there. Let's just see what happens here. To me, this is a real test for them because Carolina is in a very competitive division top to bottom and they've got a quarterback that can run and throw. He's a better runner than passer, but all of a sudden it's looking like he's a more accurate passer and he's got a legitimate dual threat behind him. That's going to make them a tough nut to crack. Newton, McCaffrey and the pass rush are the difference. PANTHERS, 24-20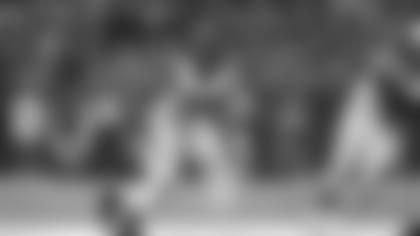 Yes, the Bengals are banged up on the offensive line and have just one running back that has more than a training camp in the offense and they're playing a veteran front seven that includes a top-flight tackle in Kawann Short and a Pro Bowl middle linebacker in Luke Kuechly.
Yes, they're playing a QB in Cam Newton that tied them up in knots, 37-37, the last time they met at Paul Brown Stadium four years ago with 107 yards rushing on 17 searing carries.
Yes, the Panthers are beasts at home with six straight wins, seven of their last nine and 35-20 under Newton.
But there are a couple of huge matchups in the Bengals' favor. The Panthers have only two of their starting offensive linemen available and even though Bengals right end Michael Johnson is hobbled with a sprained MCL and may not play, the Bengals can still unleash those bevvy of pass rushers that have been giving people fits since the pre-season games started. Against back-up tackles, this is the kind of game Carlos Dunlap, Carl Lawson, Jordan Willis and company can dominate on the edge.
And this is also a chance for the Bengals' young, fast and athletic linebackers to get on the radar. You can argue the Panthers are a lot sleeker than they were in '14 with the addition of a match-up nightmare in running back Christian McCaffrey and nifty veteran running back C.J. Anderson. But the Bengals are also much faster in the middle of the field than they were four years ago with linebackers Nick Vigil and Jordan Evans. They only have two defensive starters that worked that 37-37 game in Atkins and Dunlap. It all starts up front and the Bengals have the edge there. Plus, they are faster everywhere else.
And even though they've got a guy making his first NFL start at center in Trey Hopkins facing Kuechly and just one running back with any kind of experience in this offense, the Bengals have to love the matchup with Carolina's secondary. One of the starting safeties is out, rookie starting cornerback Donte Jackson is questionable with a groin injury and the 6-4 Green is leering at a matchup in the slot with the 5-9 Captain Munnerlyn that may have to get a promotion.
And despite the problems at running back, the Bengals have to take note of how the Falcons hurt the Panthers with 170 rushing yards last week. Atlanta went with their wide zone stretch plays that can be cut back, just the kind of technique new Bengals offensive line coach Frank Pollack has been trying to implement and just the kind of runs on which Giovani Bernard has excelled.
At 5-9, 205 pounds, Bernard has had plenty of games he's been the Bell Cow. The Bengals are 13-3-1 in games he carries at least 14 times. That's not the question. The question is how big of a gap there is when rookie Mark Walton or the freshly-signed Thomas Rawls relieves him. They won't have to be out there much because Gio can handle it.
The injury report says the Bengals should struggle. But they should win two of the biggest matchups in what looks like is going to be another one of those one-score games. And it's even there, too, with the Bengals' Randy Bullock and the Panthers' Graham Gano two of the league's most consistent kickers the past two seasons.
The Bengals also have plenty of incentive. They need to come out of this southern swing with a split and Matty Ice is waiting in Atlanta.