BENGALS LG XAVIER SU'A-FILO VS. TEXANS DE J.J. WATT
Things have settled down on the Bengals offensive line, where head coach Zac Taylor hopes to start the same group in back-to-back games for the first time since Oct. 25 when they try to bust a Hall-of-Famer for the second time in six days Sunday (1 p.m.-Cincinnati's Fox 19) in Houston.
On Monday it was Steelers quarterback Ben Roethlisberger. This Sunday it is Watt, a guy Su'a-Filo often practiced against during his first four seasons in the NFL. Watt figures to be lined up on the outside most of the day, frequently against right tackle Bobby Hart and occasionally against left tackle Fred Johnson. But Su'a-Filo won't be surprised if he looks up and sees No. 99 pawing the ground in front of him a few times.
"He's been all up and down that line his whole career," Su'a-Filo says. "He's one of those guys, the first thing you have to do is to make sure you find out where he is."
If the Bengals look a little more steady and a little more stout up front it is because of Su'-a-Filo and right guard Quinton Spain. Smart and rugged maulers, they have started the last two weeks together and have marshalled their 156 combined NFL games calmly into a unit that has been racked by injury and inconsistency and given it some physical, no-nonsense pop.
They come from different demographics across the NFL map. Su'a-Filo returns to Houston, where he was the first pick in the 2014 second round. Spain, undrafted in 2015, has started 72 games for three different teams and started at three different positions in his first three Bengals starts last month.
"Q has played a lot of football in this league, too. He gets it," Su'a-Filo says. "We know what's required. Especially in the NFL now. If you're an inside guy, you're supposed to know how to play all three. If you're a tackle, you're supposed to be able to play both. With the mixing and matching that we've had to do this year because of injury, that's been important. I've always been told, the old coach's saying, the more you can do, right?"
On Sunday, that means helping Fred Johnson, in his third NFL start at left tackle, block Watt. At 31, Watt isn't the same guy that skimmed Bengals quarterback Andy Dalton's pass off the line of scrimmage and ran it in for a back-breaking touchdown in a Houston playoff game nine years ago as a rookie. There have been too many injuries and snaps for that.
But Watt is still a force. Listen to Bengals head coach Zac Taylor after going against T.J. Watt on Monday night.
"I'm tired of seeing that name on the back the jersey every week we play. He's a tremendous football player," Taylor says. "The first time I faced him was my first game in the NFL coaching for the Dolphins we opened at Houston and I think he deflected five passes, three of them got picked off. That was my first, 'Welcome to the NFL' coaching moment. He's a tremendous player and you have to be aware of him at all times."
He has just five sacks, but he's behind only Terrell Suggs and Von Miller on the active list. He has just seven batted passes (a great number but not a Watt prime number), yet he's got a 19-yard interception for a touchdown. The Texans have a lower percentage than the Bengals knocking down quarterbacks per pass, but Watt has 13 hurries, still 15th in the league. He's always a threat to break open a game with one play for a defensive line that misses D.J. Reader. But the defense is 13th in sacks per pass by blitzing 35 percent of the time.
"J.J. is a great player and he's been a great player in this league for a long time," Su'a-Filo says. "They get after it up front and no doubt all five of us have to have success together. He's been doing it at a high level for a long time, so you have to respect that."
Respect is a big word for the 29-year-old Su'a-Filo. When he became available on the market back in March, the Bengals were early, eager suitors and they signed him to a three-year deal. Yes, he's an experienced masher they covet inside. And they love his size and toughness. But since Bengals director of pro scouting Steven Radicevic has extensive ties to their alma mater of UCLA, the club was also well aware of his intangibles.
And they surfaced early. After grinding in training camp to complete his rehab from last season's broken leg, Su'a-Filo broke the ankle on the same leg in the opener. He tried to get back in a few weeks but they had to slow him down and he has an interesting reaction to the injury.
"It bothered me," he says.
Not the ankle. But not playing.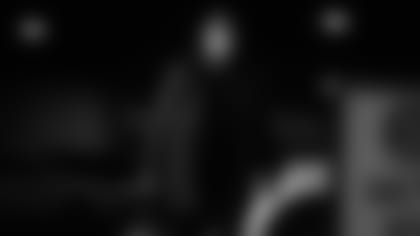 "It was important to get back to show my teammates I can be dependable. I'm big on respect and earning the respect of my teammates," Su'a-Filo says. "You put in all the work in training camp to earn their respect and then you get hurt. The big thing is to win games, so I wanted to get back and help."
And there was something else, too. They could see that when he recently finished a game with a grotesque dislocated finger. But he was wordlessly off to practice the next week.
"That's why they brought me here, right?" Su'a-Filo says. "Be a leader."
Taylor saw that Wednesday night after practice.
"He loves talking the game. He was texting me last night about a play that we had in. It was on his mind," Taylor says. "I like the way he approaches work every day."
Much of what Su'a-Filo brings to the room is perspective. A lot has been made of the kaleidoscopic lineups, but this isn't exactly ground-breaking stuff for a guy that's been around a bit.
"I always have a mixed opinion of that," Su'a-Filo says. "Sure, it's great to be able to line up every week at the same spot every snap. But at the same time, man, it's the NFL. Injuries are inevitable. It's not if, it's when. I've been in that position before. You have to be ready at the drop of a dime.
"It's nice to be able to be told when and where you're going to start and that you're going to get the reps. But it's not reality all the time. As hard as it is on everybody, it's part of the job."
Another day at the office. Another Hall-of-Famer.
"It takes all five of us," Su'a-Filo says.