BENGALS LT CLINT BOLING VS. CHARGERS DE MELVIN INGRAM
Imagine if American League MVP Mookie Betts had moved from right field to second base, as had been speculated a couple of months ago when the World Series moved to Los Angeles and robbed the Red Sox of the designated hitter. Well, Boling makes a similarly difficult move, albeit less profile, when the Bengals play in L.A. Sunday (1 p.m.-Cincinnati's Channel 12) and for the second straight week he moves a few steps from left guard to left tackle.
"You've got different techniques, different rushers," Boling says. "Even though it's just one spot removed, it's kind of a different game out there sometimes."
In his 108th NFL game, Boling, 29, in his eighth season, moves to left tackle for just the fourth time in his career and the universal acclaim of his coaches. No rest for the wicked. A week after Boling and right tackle Bobby Hart took on the NFL's most prolific sack duo in Denver's Von Miller and Bradley Chubb, they may be looking at the most dangerous. Joey Bosa, with seven multi-sack efforts in 29 games, plays his fourth game since missing all year with a foot problem. He's already got three sacks and that makes the quicksilver Ingram (5.5 sacks) even faster. Boling gets the bull-rushing freak Bosa on occasion, but mostly he sees the seven-year vet Ingram.
Offensive coordinator Bill Lazor: "To play guard all the time and go out to play at tackle, I think that's really hard. I can't imagine another guard in the league doing it (like he did last Sunday).
Offensive line coach Frank Pollack: "Nothing we ask these guys to do is easy, especially going from guard to tackle on short notice. He's a pro. He didn't bat an eye and did what he needed to do."
Of course, they were apparently the guys that decided to make the move the Monday before last Sunday's game, effectively ending the Bengals' career of Cedric Ogbuehi, the 2015 first-rounder drafted to replace two-time Pro Bowl left tackle Andrew Whitworth. After Ogbuehi was the second option to replace Cordy Glenn (back) against the Browns on Nov. 25 and allowed a sack and three hurries on 54 snaps (according to profootballfocus.com), to double-digit sacker Myles Garrett, they opted to make the double move for Denver. When Boling stepped out and Trey Hopkins stepped in to make his first start at left guard in front of quarterback Jeff Driskel making his first NFL start, they felt like they could lean on Boling's professionalism.
"He's a leader in the room, he's a leader on the field," Pollack says. "He's a smart guy. He's a veteran. He asks great questions in the meetings and he kind of knows some of the answers helping the young guys so they get fuller explanations."
The re-shuffle resulted in a ragged show with six offensive line penalties, but head coach Marvin Lewis isn't so sure about that and an illegal block on Boling appeared to be flimsy at best.
"There were a couple of pretty ticky-tack calls," Boling says diplomatically. "I think there were multiple penalties that would get called in some games that aren't getting called in others. I think that's one of the problems. There's not enough consistency. Each crew is different."
Lazor raves about his block on the second play of the game when he pulled and dug out a block on a tackle that allowed running back Joe Mixon to stay front side for an eight-yard run. And, according to PFF, Boling held up pretty well against Chubb, a Defensive Rookie of the Year candidate, allowing a hurry, a hit and a sack on 68 snaps for three pressures. The sack, with just under three minutes left, resulted in a Driskel fumble and a Denver field goal and put Boling in the dumps. Even though Lazor took the blame for not giving him the same help he gave on the other side of the play.
"It's hard to be positive after giving up a sack fumble to end the game," Boling says. "That's a tough situation. Any time give up big plays like that one, those are the things that have to get cleaned up."
What's nice is that Boling can commiserate with Whitworth himself, the guy that he teamed with on the Bengals' left side for two AFC North titles and four post-season berths once Boling won the left guard job in 2012. And it works out quite nicely in Boling's first three games in his return to tackle that Whitworth's Rams have already played Ingram, Chubb and Oakland's Bruce Irvin. But when the Raiders come to Paul Brown Stadium next week, Boling gets someone other than Irvin on passing downs since Irvin has since been cut. But he can get a scouting report on old friend Frostee Rucker, the Raiders end on run downs.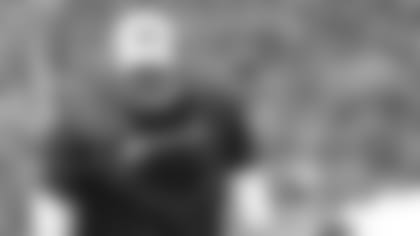 "I talk to Whit about a lot of things," says Boling, the typical lineman adamant about not giving up secrets about secrets.
All kinds of tackles seem to talk to Whitworth. Young guys. Or guys like Glenn, who shared an agent with him and called to pick his brain. Or top veterans that shocked Whitworth by somehow getting his number during the offseason and giving him a call to get some info. It seems as if he's a pied piper for tackles.
"I don't know about that," Whitworth says. "I love that opportunity. You play this position, left or right, it doesn't matter, you play tackle in this day and age of the NFL with all this offense, you've got a hell of a task each week. You feel for those guys. I want them to succeed. You always have a lot of respect for guys that go out and do the job."
So maybe they talk shop. Maybe they don't. Anyway, here is Whitworth's scouting report on Boling:
"You're going to be playing guys that are completely different. Clint's a very cerebral guy that understands that and he's able to evaluate and have a plan to block his guy. He's got a game plan every week."
A big factor, he says, is the new, young quarterback.
"Most people just don't realize how important it is to get a feel for the guy in the pocket," Whitworth says. "All that stuff is a huge adjustment. From the outside it's hard to imagine. But just where the quarterback is in the pocket and if he's going to hold it or not, or how he operates in the pocket, whether he moves up or stays where he is. All those things are factors in whether he plays well or not. That's why all 11 are the key."
The irony of it all is that the last time the Bengals played the Chargers on the road (nearly five years to the day on Dec. 1, 2013 in San Diego), Boling tore his ACL on the fifth play and Whitworth replaced him going from left tackle to left guard. The Bengals ended up running for 164 yards by running 15 more times than passing it and preserved a 17-10 win when they ran the ball the last seven plays of the game.
But this Sunday is a bigger task.
"Moving inside," says Whitworth when asked what is the easiest move. "Not even close."
The Bengals don't see it as such a leap because of the guy making the jump.
"Clint's a pro's pro," Pollack says. "It's the highest compliment I can give a guy."