BENGALS CB DARQUEZE DENNARD VS. FALCONS WR JULIO JONES, CALVIN RIDLEY AND MOHAMED SANU
This one on Sunday (1 p.m.-Cincinnati's Channel 12) is that five-star-Pro-Bowl-Hall-of-Fame matchup between wide receivers A.J. Green of the Bengals and Julio Jones of the Falcons. But the key player of all just may be Dennard, Michigan State's after-thought recruit from the dusty hamlet of Dry Branch, Ga., shoved about an hour away from the game in Atlanta's Mercedes-Benz Stadium.
"No stoplights," Dennard says. "One caution light."
But in this season's first three games, Dennard is again showing why the Bengals thought he was big time enough to take in the first round four years ago as he seems to be in the process of stacking another solid season. Maybe they had to sell him on playing slot cornerback, but in his fifth season he's playing the most important of positions quietly and forcefully. Which in this league means well.
"He's very smart with his awareness and communication," says cornerbacks coach Daronte Jones. "You have to be in that spot. You're involved in both the run game and the pass game. You help keep together the back end. He's a great film study … He's very valuable. You're talking about a guy that has the ability to start on the outside and the inside. Very valuable."
Dennard has never been one to shy away from his belief that he's an every-down corner. While Bengals' starters, William Jackson (231) and Dre Kirkpatrick (217) have played the first and fourth most snaps at NFL corner, respectively this season, Dennard has logged just 155.  But last week's slugfest in Carolina was an outlier. Even with his secondary under fire for helping allow the NFL's worst third-down percentage, Bengals defensive coordinator Teryl Austin isn't prepared to move Dennard out of the slot at any point in the series.
"I think the way most games are going now, and I know last week was a little bit different because I think he only played about 38 snaps, but he's usually going to be up over 50, 60 snaps because of the amount of three-wide football we're playing," Austin says. "I like him in there because that is a unique area and you need the reps because you're really a hybrid. You're part linebacker, part corner and so he does it really well. So I don't see any situation, I mean he's obviously our next corner if something were to happen to a guy outside, he'd move outside probably and we'd find somebody else inside. But I like where he is right there."
In fact, Austin isn't moving anyone. In his last season as Bengals defensive coordinator last year, Paul Guenther kept his cornerbacks on the same side 94 percent of the time, according to football outsiders.com, while as coordinator of the Lions Austin was at the opposite pole at 59 percent. Yet Austin is sticking with what the Bengals know.
"Not at this particular time, no," says Austin about moving corners into matchups.  I haven't thought about it, in terms of matching and doing different things that way. If I feel at some point that's necessary then obviously we'll do it if we think it's in the best interest of our team. "
This is where Dennard is coming from. Asked if he likes playing the slot, Dennard says exactly what you think he would politely and honestly.
"What's ever best for the team, I'm going to do," he says.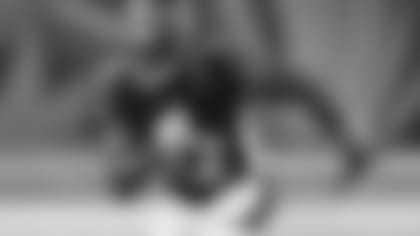 But Dennard knows on Sunday it will be quite clear why the position is so important. The Falcons have three terrific wide receivers they put in the slot at various times, ranging from the monstrous Jones (14 percent of the time according to profootballfocus.com) to a first-round pick in Ridley (a tad more than 25 percent) to savvy old friend Sanu (nearly 60 percent). Austin really wants him in there Sunday even when the 6-3, 220-pound Jones is in there. At 5-11, 200, Dennard isn't the ideal flyweight slot guy, but his intangibles are ideal.
"He'll be right there on him," Austin says. "That's it. That's how we'll play. I do like the fact that Quez has some size, he's got toughness, he's got all the stuff to play really good football. He's a little bit bigger, in terms of (a slot corner).  Sometimes you have those guys that are a little bit smaller. But I like them just like that, physical."
If anyone can compare Green and Jones, it's Dennard since he's practiced against Green for years and been scouring tape of Jones.
"Julio is a rare breed," Dennard says. He runs like a little guy. He's physical, quick, he's got hands to make contested catches … It helps knowing what to expect from a No.1receiver from how great (Green) plays in practice. He's just slimmer (than Jones). A.J.'s a big guy, but Julio has maybe 10, 15 more pounds and they pretty much do the same thing. Very similar."
You won't have any problem recognizing Sanu. Same 6-2, 210-pound reliable presence in the slot from when he caught 152 balls for 11 touchdowns as a Bengal from 2012-2015. Dennard caught him for his last two seasons and he thinks those practice sessions are going to help, too.
(If you want to know how much the Bengals are trying to free up Green by putting him in the slot, when did you think you'd see this? Green has one more catch than Sanu in the slot (7-6) and his four TDs from the slot lead everyone.)
"Mo is big, he's strong," Dennard says. "He's a tough guy."
Another guy that Dennard caught at the end, cornerback Leon Hall, proved to be an important player in his career. Dennard still bristling at the tag of "slot corner," is reminiscent of the prideful Hall miffed at being moved from the outside into the slot on a more permanent basis. Hall shot into the elite category with his ability to play the first two downs outside and then moving inside on third.
At 34, Hall is still doing his thing for Guenther in Oakland. It's funny how it all works. When Vikings head coach Mike Zimmer was in his first draft in 2014 and watching the Bengals make their first pick since he left after six seasons, he congratulated his friends in the Bengals draft room for taking Dennard with a text that basically said, "Another Leon Hall."  
"The only corner I ever really watched in the slot was Leon," Dennard says. "He helped me with a lot of things. Knowing certain plays, knowing certain releases. He definitely helped my game."
Here's how hard the position is through the eyes of Dennard:
"They can run pretty much run any route," Dennard says of the slot. "On the outside they're limited because of how the spacing is.  In the slot you can have four different releases and still get the same route. On the outside you pretty much have to go this way to run this route.
"A lot of people have stack options (in the slot)," Dennard says. "From the offense's view they can't be wrong running a route because it's all off our leverage. It's difficult."
Austin has seen the position evolve during the last decade and a half he's coached NFL secondaries.
"When I first got into the league it was outrageous to pay a third corner any money. You weren't paying them very much money and what you started finding out is, hey, he's playing more snaps than your third linebacker," Austin says. "And so what happens is, that guy is basically your starter so you're really going with three corners as starters and I know they don't all make the top tier money but that's what you've got to pay them like because they're on the field so much."
"I think in the last four or five years, the least amount of sub-defense we've played is about 68 percent. I think the first year in Detroit we played 74 or 75 percent sub defense because there was always three wideouts on the field. That's just the way the game's moved."
It's why Dennard is in the slot Sunday and Austin's not moving him. No caution light at the intersection of Ryan, Jones, Sanu and Ridley.