BENGALS HEAD COACH MARVIN LEWIS VS. RAVENS QUARTERBACKS
Bengals middle linebacker Preston Brown joked that during Wednesday's meeting to install the defense for Sunday's game in Baltimore (1 p.m.-Cincinnati's Channel 12) the font of Lewis' power point presentation was too small and the players had to pull out their iPads. But it's pretty clear that Lewis has put his formidable defensive reputation on the line by taking over the DC job for the first time in a move that has energized him to no end.
One coaching staffer said Wednesday that the 60-year-old Lewis looked five years younger Wednesday than he did during Sunday's implosion against the Saints. Another assistant observed that while Lewis hated firing Teryl Austin and is saddened by the move, he's also happy to be doing a job that once took him to the top of the league. In the middle of his rounds Wednesday that veered from a team meeting to defensive install to media obligations, Lewis hinted he was on a seafood diet. Except he only had time to see the food and not eat it.
"But it looks like you're having fun," someone told him.
He regaled the media with how he scripted the Ravens' personnel Monday night and didn't leave the office until around 11:20 p.m., just about the time Eli Manning was winning it late for the Giants.
"That's the fun of it, and its part of what I used to do," Lewis said.
That's because he's getting back to his roots. This is a throwback week with the only thing missing Lewis' turn-of-the-century Ravens' ball cap and Ray Lewis. He's preaching physicality and fundamentals and the thinking is he's got to go back to 2000 simple to give his shell-shocked defense confidence. Maybe press. Maybe blitz. Maybe count the number of coverages on one hand. Make sure each of the option men are covered and make the quarterback pays if he's a runner. If there's any gray area, color it on the power point.
"I think that's what we're focusing on. I don't want to say 'simplify' but (coaches) would probably say simplify," says safety Shawn Williams. "I don't know. It's everybody just making sure they know their assignment and how everything works together, so that you know you're playing a technique and you know why you're doing it and where your help is, rather than playing this just because."
Just get them lined up. Back-to-basics.
"I don't think they've lost confidence," Lewis says. "We just have to make sure we play sound, play defense and have guys do their jobs. I feel good about that."
It's a feel-good week after one of the worst losses in franchise history. The kids want to see what their old-school coach can do.
"I'm excited, I think it will be cool. He was a D coordinator for a long time. He did a really good job. I think it will be cool to see how the defense evolves with him calling play," says SAM linebacker Nick Vigil. "We all have a relationship with Marvin so you're not meeting someone who is brand new. We know what we're going to get. We know what kind of guy he is, what kind of coach he is. I think it's just exciting for us to have him calling plays."
It really should be a tough week. The two quarterback options for the Ravens are a James Carville and Mary Matalin pair of contrasts. Joe Flacco is the classic veteran drop-back passer and rookie Lamar Jackson is the latest in a vintage of breath-taking athletes quarterbacking these days. The perimeter, stupid. How good of a runner is Jackson? One guy that saw him play for Louisville said, "He's got three hamstrings." But he's not known as an accurate passer in the pocket has thrown just one touchdown and 12 passes this season.
The conventional wisdom is that Flacco won't play because of a hip injury and at 4-5 in what quite possibly could be the final spasms of coach John Harbaugh's underrated decade in Baltimore, it is time to see what the first-round pick Jackson can do.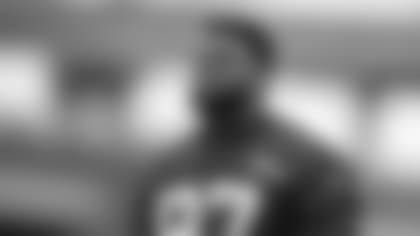 But maybe Flacco can go and he's having his best season in a while with 12 TDs, six picks, an 84 passer rating and the Ravens aren't exactly chopped liver. It may seem that way since in the last 30 days the Bengals have played the No. 4 (Pittsburgh), No. 3 (Kansas City), No. 1 (Tampa Bay) and No. 5 (New Orleans) offenses in the league, but Baltimore is solid at No. 15.
How can a new defensive coordinator who also is a head coach get his team ready to play a pivotal division game on the road prepare for both quarterbacks? Lewis' answer is you don't. In fact, that seems to be Lewis' driving message to a unit trying to unburden itself of the worst month of defensive football in the Super Bowl era. Lewis is trying to make what could be a trying week a little more free-wheeling.
"Joe Flacco, as we know, is an outstanding quarterback. And Lamar is going to be a good, young player in the NFL," Lewis said before Wednesday's practice. "We spent a lot of time with Lamar (before the draft), but right now it's about us, and that's important."
Us. Not them. That's Lewis' line. Worry about us. Not them. Faced with the potential of playing a dangerous zone-read quarterback stocked with run-pass options similar to what Panthers quarterback Cam Newton used to start them on their slide by generating 230 rushing yards back Lewis' birthday on Sept. 23, Williams bristles at the comparison.
"That's been a problem in the past. You try to play for things that you might not get. Or things that you're thinking too much," Williams says. "Just go out and play the defense. You have rules and you have guidelines and you have assignments. If you do that, everything will take care of itself. You can't go play plays. That's been the problem. You're playing plays."
Maybe Williams and the guys were squinting at the font, but they heard Lewis loud and clear.
"Just go play the defense. You don't have to play plays or worry about this and that and what other people have done. Worry about what you do," Williams says. "I think that's the best defense you can do, is run your defense. You don't adjust to other people. You make them adjust to you.
"I just don't think that we have to go out and do things outside of our assignments. If you've got 11 guys doing their assignment, it doesn't mean if they run zone read, a Hail Mary, a forced wrong pass to the back side. It doesn't matter. Rules and assignments take care of everything."
As much as some people want to insist there wasn't much difference between what Austin ran and what the Bengals ran the previous 10 seasons under Mike Zimmer and Paul Guenther, the results and what some of the players were saying Wednesday would beg to differ.
"(Lewis has) known all the defenses, with Zimmer and Paulie, he knows all those guys well. So he can call plays from 10 years ago that he can dial up, so it's pretty cool to have a guy like that calling plays," Brown says. "A lot of guys out there playing have run these plays before. It's like another week when you install a system blitz or a weak blitz that you just have to learn that week."
If it's not tough enough, it looks like Brown (knee) won't play Sunday since he didn't practice Wednesday. It looks like Vigil (knee) won't either. The other starter, WILL backer Vontaze Burfict, out with a hip injury since Oct. 21, came back limited Wednesday. There's a very real possibility they don't have any of those three out there against Jackson on the perimeter
But that gets back to worrying about them. Not you. A no-no this week that is reserved for fundamentals.
"Not huge blown coverages, but it's a leverage here on a coverage, it's communication with a corner and a safety here and a guy runs open," Vigil says. "Just paying attention to the detail."
That's how Lewis built his career, spiced with smash-mouth and turnovers and his guys believing they would grind down the other guy.
"He's excited. He came in here with energy," says left end Carlos Dunlap. "He wants to get back to what we do and play to our strengths. These same players have been around as long as the defense. He'll give out some old dogs (plays). We're not going back to what we were doing (last year). We're not doing an overhaul. It's the same thing. He's just calling it from his point of view."
Lewis can view, just fine thank you, defense 20 years later. He objects to the out-to-pasture narrative. So do his players. It's not like he just stepped off turnip truck on Tuesday.
"He's always been involved," Williams says. "It's not like he's just been in the shadows of the night. He's always been around during defensive walk-throughs. That's even been since OTAs. It's not like something new. Ask (linebacker) Jordan (Evans). He's been on him for like eight weeks straight. It's nothing different."