A first-ballot Pro Football Hall-of-Famer is coming to Paul Brown Stadium Sunday in the person of Saints quarterback Drew Brees (1 p.m.-Cincinnati's Channel 19, order tickets here), but Bengals cornerbacks coach Daronte Jones is telling his kids to move away from the ropes. And no pictures.
"Don't look at Drew," Jones warns. "He's going to pump fake you."
It means the Bengals' youthful band of cover players have to eye Brees' cupboard of weapons instead of the man himself and what a complementary bunch they are. Saints offensive guru Sean Payton has brought enough toys out of the attic to blister to seven straight wins scoring 35 points per game. If 41-year-old Tom Brady is the AFC's Ponce de Leon then the 39-year-old Brees is the NFC's Ruth Bader Ginsburg. Michael Thomas, the NFL's second-leading receiver, is coming off a career game of 211 yards on a Sunday running back Alvin Kamara ran and caught it for 116 yards with his second three-TD game of the year.
Brees' ability to find Kamara in the middle of a field teeming with bad matchups mirrors the daunting challenge facing a Bengals defense that is giving up the most yards and third most points in the league. At the beginning of the season, the Bengals' quicksilver and experienced nickel package would have matched up well. If there was ever a game for SAM linebacker Nick Vigil and slot cornerback Darqueze Dennard, this was it.
But Vigil (knee), their fastest linebacker, and Dennard (neck), their surest tackler in the back end, both went down a month ago against the Steelers and there's no telling when they'll be back. The injuries are tough because it robs them of a slew of seasoning. But it also showcases the speed and athleticism they've pulled out of the last couple of drafts.
Three weeks after the Chiefs carved them in the middle of the field with 18 missed tackles, the Saints figure to take dead aim with Payton's endless stream of picks, screens and bubble passes. And no one bothers him. Brees has thrown just one pick and been sacked nine times in a season long series of seven-on-sevens. Safety Jessie Bates says it's imperative the Bengals try to make sure their linebackers don't end up in isolated one-on-ones with Kamara. The 5-10, 215-pound Kamara has 427 receiving yards, 380 of them after the catch.
Brees is leering at guys like the promising Phillips, a 23-year-old rookie playing his first season of slot corner, and outside linebacker Jordan Evans, a 23-year-old sophomore making his eighth NFL start. Throw in Bates, a 22-year-old making his ninth start in a distinguished rookie season, and Brees is going to be running a camp complete with junior counselors.
"I was too little (to watch him), but I remember my parents raving about him," says Bates of his toddler days in Fort Wayne, Ind., when Brees was putting nearby Purdue on the map. "He was like this underdog guy."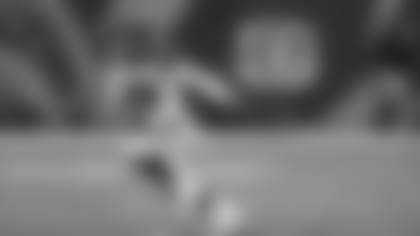 Back in April of 2001 when the Bengals were hoping to catch the 6'0" Brees falling out of the first round of the draft before the Chargers plucked him four picks away, Bates was all of four years old.
When Brees stood tall to lead the Saints to the Super Bowl title during the 2009 season he broke Bengals' all-time passing leader Ken Anderson's completion percentage for a season at 70.62, Evans was just beginning his career at North High School in Norman, Okla. His six return touchdowns for the Timberwolves (four on kicks and two on punts) were still in the future.
When Brees fired up the fifth of his 5,000-yard passing seasons (there have only been nine in history) in 2016, Phillips was a junior at Western Michigan racking up five return TDs (three on interceptions, one on a punt, one on a kick) on his way to an FBS-record 12 career return TDs.
"Half of my life, right? At least," Phillips says of the length of Brees' career. "The most passing yards in the NFL."
And counting with 72,781 after passing Peyton Manning and Brett Favre earlier this season. Dennard, who broke up a pass against Brees in 2014 when he was a rookie, has been working closely with Phillips to help his transition into the slot and can tell you how Brees has done it.
"Smart. Gets the ball out fast. Finds matchups. Accurate. Throws people open," Dennard says. "It's discouraging. I'm a little down (not to be playing against Brees). I understand the game a little bit more. It's slowed down. It (would be) kind of like a chess match."
Instead, Brees is moving pieces against Phillips, a fifth-rounder that has the Bengals excited the way he's replaced Dennard. The kid hasn't backed down.
"I said at the start of the season we were loaded back there," Dennard says. "We've got a lot of guys that can play. He's a hell of a player."
Daronte Jones: "He's very confident. He made some big plays with the ball in his hands in college. It's not too big for him. He needs to keep studying the scheme and the playbook, but he'll only get better with this experience."
Bates: "He's got a good feel for what he's doing. He's a football player. He's got those instincts. A big part of why he's helping us is because of Darqueze always being around him. Darqueze and Shawn (Williams) are always all over me and DP."
Wide receiver John Ross and his 4.22 40 speed have gone up against Phillips daily and offers this eye-opening scouting report:
"He's a guy that has deceptive speed. Suddenly, he gets past you … Crafty. Quick. Smart. Scrappy …He's got a lot of ball skills."
That's fast. Dennard says he's tried to take Phillips under his wing just like Leon Hall and Terence Newman did him when he arrived in the first round in 2014 and it brings back memories. Like Phillips, Dennard never played the slot until his rookie year, but he learned from some of the best.
"The biggest adjustment is the speed of the slot," Phillips says. "It's not like on the outside. They've got a lot more room to work in there in the inside."
Exhibit A is Kamara. Brees puts him all over the place and he's thrown to him 11 times in the slot.
"He's a great back, but runs routes like a receiver," Phillips says. "You have to treat him like a receiver."
You have to treat everybody like a receiver. Brees is pulling a record 76.3 completion percentage in a magic act in which Thomas is the only wide receiver to have more than 12 catches.
"He doesn't throw to the receiver. He throws to spots," Phillips says.
The kids want to make sure Brees doesn't turn this into a passing camp.
"We have to be disciplined with our eyes and alignments," says Phillips, who sounds as grown-up as the assignment.