BENGALS CB'S VS. BROWNS WR'S ANTONIO CALLAWAY AND BRESHAD PERRIMAN
In the three games since Browns quarterback Baker Mayfield came into Paul Brown Stadium and unleashed fear and pestilence hitting 17 of his first 20 passes for 245 yards, Bengals head coach Marvin Lewis has settled down his shell-shocked defense with calm and common sense and hopes for more in Sunday's rematch (1 p.m.-Cincinnati's Channel 12) in Cleveland.
After Mayfield retired from the PBS greensward on Nov. 25 with torches and taunts, the Bengals were giving up an average of 32 points, 440 yards and 55 percent of their third downs. In the last three games it is 22, 315 and 33. In the five games since he stunned even himself and fired first-year defensive coordinator Teryl Austin and put himself in charge of the defense, Lewis isn't making them forget his 2000 Ravens. But he is wiping away the bad taste that transpired in this season's historically disastrous transition from the Zimmer-Guenther decade.
Raiders defensive coordinator Paul Guenther, who called Lewis' defenses the previous four seasons and learned the trade as Mike Zimmer's third down guru in the six years before that, saw the differences before they arrived to lose last week's PBS finale. Make that had seen the similarities.
Lewis had gone back to last year's template, although with his own spin, Guenther observed. No one wants to say what that is, but it appears to be a more streamlined game plan covering more with less. More one-safety-high rather than the two-deep zone. More dropping eight and seven and making the quarterback hit a tight window.
"We went back to doing (that)," says left end Carlos Dunlap of last season. "He just calls it from his point of view. You can see he is naturally a defensive-minded guy. You can see his passion. You can see the way he comes to work, knowing he's got the defense and he's calling the defense. It all displays and it's rubbed off on the young guys and us as veterans start backing him because obviously to fire somebody during the season tells you the urgency that the ownership was trying to send a message down and everybody's getting behind it."
The cornerbacks have been at the center of the renaissance. Starters Dre Kirkpatrick (13) and William Jackson (16) have shot up the profootballfocus.com grades when it comes to snaps per reception and are the highest ranked tandem with the most snaps. Last Sunday against the Raiders slot cornerback Darqueze Dennard led the down-hill charge in the run game that squeezed quarterback Derek Carr with a sloppy 55 percent completion rate on a game-high eight tackles.
(That's another thing. After Mayfield sliced them on 19 of 26, the Bengals were allowing a 67 completion rate. Since then, it is 59 percent and that's after two games against guys in the high 60s, Carr and the Chargers' Philip Rivers.)
None of the three have an interception, but they've gotten their hands on 25 balls and Jackson has 12 of those passes defensed.
"Everything got more simplified. I feel like early on we were doing too much," Kirkpatrick says. "You can't play every route. You can't stop every pass. You can't stop every run. You just have to put guys in position to make the best plays. I feel like he's been boiling everything down."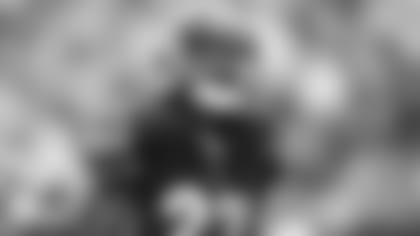 The Bengals are saying they're still playing the same amount of man defense, but it sure looks like more. And that's often what you get with that one safety high look instead of both back in a zone. Out of a one-safety-high, you usually play man or almost something like it with three deep. The reason they drafted Kirkpatrick, Dennard and Jackson No. 1 in the '12, '14 and '16 drafts, respectively, are because they thrive in press, tight man-to-man coverage. They weren't advertised as zone corners and they've been as advertised.
"Guys (are not) catching balls on us," Kirkpatrick says. "We're not making the turnovers that we should. We had opportunities, I know I dropped two balls for sure this year, but I don't like to make excuses, I never have, never will. But nobody's catching balls on us."
Kirkpatrick likes to good-naturedly tweak the media about some of the criticism revolving around not playing enough man because he says they have played man. But they sure do seem to be playing it tighter.
"It's in their comfort zone," cornerbacks coach Daronte Jones says. "We're still playing just as much shell (zone) as we were. Nothing has changed schematically. It could be the presentation. I'm just glad they're playing with confidence. They're playing fast. There's some comfort level … They're being aggressive. They're taking pride in everything. When you shake up a staff, sometimes you get re-focused."
Lewis is chuckling off any suggestions that he'll now call the plays next season. There's just too much involved he says. But the players have responded. Maybe they were supposed to be playing man, but now they are.
"We're more single high (safety). To me, that's the only difference," Kirkpatrick says. "That's what we're used to around here. Go back to the Paulie days. We just kind of went back to what we normally do."
They can't always play man. They have to mix it, especially with the new wave of offensive schemes that counter man-to-man with picks, screens and bunch formations. But, as they say, at the end of the day, they have to cover down the field and Mayfield likes to go there with the speed of Callaway and Perriman.
They didn't cover anybody in the first half of last month's Cleveland game and were down 28-0 by the time they ran 18 plays without Kirkpatrick. Callaway, the 5-11, 200-pound fourth-rounder out of Florida, was a problem with four catches for 62 yards and a 13-yard touchdown catch.
PFF matched it up like it was a zone since the web site charted the corners covered Callaway on only one of his five targets and that was KeiVarae Russell playing in place of the injured Kirkpatrick on a 21-yarder. Safety Shawn Williams had Callaway on the touchdown and the two other safeties, Jessie Bates and Brandon Wilson, and a linebacker, Vontaze Burfict, had him on the other three targets.
They also now have to worry about Perriman, the first-round bust in Baltimore who has turned into a dangerous veteran speed merchant in Cleveland. In the last month he's emerged with 12 catches and is averaging 20 yards per with a long of 66.
"I remember him at Baltimore, I haven't played him since he's been at Cleveland," Kirkpatrick says. "Callaway, he is an up-and-coming guy, he's definitely one of those guys that's going to be good and successful in this league … They all look like they got a breath of fresh air. I don't know whatever's gone on over there, it's going good for them."
Maybe scheme has nothing to do with it. Maybe it's what Jones is talking about. Same scheme, but different mindset. Maybe it's what Kirkpatrick says has to be different against the Browns this time. Not just play man. But be the man
"First off, we've got to have more energy," Kirkpatrick says. "First off, we've got to go out there like we're ready to play. I feel like we didn't have any energy, weren't running to the ball, weren't really doing a lot of things we should have been doing. But we've got to turn it around this time. Guys got to be awoke, guys got to be alert. It's going to be one of my jobs to make sure we're ready to go."
It looks like Lewis is getting them to the gate.