BENGALS O-LINE VS. RAMS DT AARON DONALD
As one Bengals coach observed a few days ago on how to block this traveling Hall of Fame exhibit making an international stop Sunday (1 p.m.-Cincinnati's Local 12) at Wembley Stadium, "It takes a village."
Forget the Rams' dizzying array of pass routes, motions and bottomless well of targets for Jared Goff. There are those at Paul Brown Stadium that believe this is the best defense they'll face all year, at least until they play the Patriots Dec. 15, and still maybe after that.
It all runs through the 6-1, 280-pound Donald with 63.5 sacks in 85 games, the defending two-time defensive player of the year coming off a 20.5 sack season and the best player Bengals head coach Zac Taylor says he's seen on tape. Ever. When it comes to defensive linemen, offensive line coach Jim Turner seconds the emotion.
It was the disruptive Pro Bowl play of Bengals defensive tackle Geno Atkins that helped convince the Rams that 6-1 was no longer too short when the speed and power was that breathtaking when they took Donald in the first round of the 2014 draft. The thing is, Donald is flanked by two other first-rounders on the edge in Michael Brockers and Dante Fowler. That is, when Donald doesn't flank himself out there. He fancies himself a three technique inside next to the nose tackle, but he mixes it up enough to keep offenses on edge. Sometimes on the nose. Sometimes at end. Mainly at tackle. But …
Just ask Bengals left tackle John Jerry, a nine-year vet who played Donald several times in his previous life as a guard.
"He could be anywhere. He looks up and down the line and sees what's best for him," Jerry says. "You better find him and you better know where your help is and try and funnel him where the help is. If you don't, he wrecks games."
In 2010, Jerry came out with a pretty good draft class of pass-rushing tackles. Make that great. Atkins. Suh. McCoy. Everyone is different, he says. "Can't compare apples and oranges." But he's not sure he's ever seen something like Donald, a guy he calls "a different breed."
But Jerry says working against Atkins is as good as you'll get to simulate what you'll face. It's the only time Donald faces an inside player with more sacks than Atkins' 74 after he tortured Jacksonville for two last week. Donald has taken off from everybody the last two seasons and half seasons with 35.5 sacks in 37 games since Sean McVay became his head coach. Atkins has 22 sacks over the same stretch and here's what could be the main reason why:
While the Bengals offense has struggled to score points since 2017, the Rams have been one or two in NFL scoring. Through the first two weeks of the 2019 season they've led for more than 47 quarters and in 14 NFC West games they've led the entire way in half of them. In 15 McVay games they've never trailed. Atkins certainly hasn't those chances and Donald certainly hasn't whiffed on many of those chances.
There is power and there is speed and Jerry isn't going to pick what Donald has more of in his tank.
"You can't differentiate it," Jerry says. "He keeps coming at you. Yeah, the guy is defensive player of the year. That tells you about his motor."
If the O-line doesn't shuffle Sunday and Alex Redmond remains at right guard (they've had three straight different combos in the last three weeks), everybody but Jerry is getting Donald for the first time. But he's not exactly a mystery as a walking double team.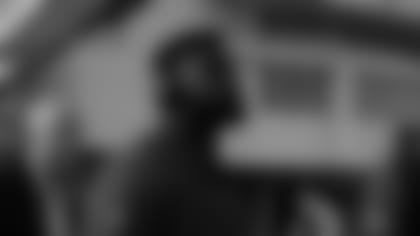 Redmond: "I didn't know about the dude until last year. I don't follow guys like that. But I've seen him now, though, I've heard about him. The guy's very athletic. Really good athlete. Nothing really changes for me. I have to block him like any other tough three technique."
Center Trey Hopkins: "He's a quick twitch guy with natural leverage. Explosive off the ball. You have to respect the kind of player he is and show him that respect."
Left guard Billy Price: "It helps that Geno gives you a realistic look. I mean, what more can be said? The guy's going to the Hall of Fame."
You would think Atkins is, too. He's got seven Pro Bowls and Donald has five. Redmond says those battles with Atkins when he was on the practice squad a few years back help him not only prepare for this Sunday, but every Sunday. After coming off the bench two weeks ago in Baltimore, Redmond continued to play last week against Jacksonville with more confidence than he displayed all last season, his first as a starter. 
"They're similar guys with what they do," Redmond says. "Good at leverage. Explosive guys.
"I know what to do now. There's no second guessing that I have to do. When you don't pull the trigger, when you play tentative, you're going to end up looking bad anyway, so you might as well allow yourself the courtesy and do your best. Put your best foot forward."
That's a good motto for a beleaguered offensive line that is lugging the NFL's last-ranked run offense into Wembley against a dangerous defense that just added one of those man-to-man corners in Jalen Ramsey that's going to allow Rams defensive coordinator Wade Phillips to unveil those blitzes he last had with the Super Bowl champion Broncos.
Tough matchup on paper. But Hopkins, who has become the heart and soul of this line with his weekly, soft-spoken cerebral approach, is saying the thing he said in the wake of Sunday's 33 yards rushing after dissecting the tape.
"Consistency," Hopkins said. "Same thing. Consistency among 11 guys on the field where there are more plays where all 11 are right than where there are plays where one (player) is wrong."
 No offensive line and no other O-line coach may have a more daunting task in the NFL this week. But Turner thinks his guys won't back away from it.
"They know. They respect it. They're looking forward to it," Turner says. "They want to see what it's all about."