BENGALS DT GENO ATKINS VS. COLTS LG QUENTON NELSON
In an opener where two re-built offensive lines are looking to pave the way for their teams, there is only one place to look when the Bengals meet the Colts Sunday (1 p.m.-Cincinnati's Channel 12) at Lucas Oil Stadium.
Atkins, fresh off a four-year extension and a sixth Pro Bowl season, is leading a ferocious Bengals front that dominated their preseason. Nelson, a specimen so unique he was the first offensive lineman taken in the draft even though he's a guard, is the great hope for an unsettled Colts line needing to protect quarterback Andrew Luck.
Luck returns for the first time in a year after surgery to repair a shoulder damaged by years of playing behind Indy's porous front. Before he went under the knife, Luck had been hit more than any quarterback since 2012, the year the Colts took him No. 1.
That's a lot of pressure on the 6-5, 330-pound Nelson, especially since left tackle Anthony Castonzo
(hamstring) didn't play in the preseason and looks to be questionable for Sunday, right tackle Joe Haeg got the job because Austin Howard didn't and right guard Matt Slauson starts for his third team in four years. Center Ryan Kelly, the Cincinnati product, is healthy after last year's tough season and they're better than last year.
But how much and in time for Atkins and Co.? The sledding wasn't too good in the third pre-season game, when they rushed for five yards on 11 carries. And Luck's unit generated just one touchdown all preseason while he was sacked four times on 36 snaps and twice on 23 plays against the Ravens.
"After the preseason, everybody is saying these guys are rushing," says Bengals left end Carlos Dunlap, who won't be surprised if the Colts max protect Luck. "They're going to do something to address that. It's Andrew Luck's first game in two years. They have to have something for him. We feel like the tone is set from the guys up front on both sides of the ball. That's what we want to do early."
What new head coach Frank Reich probably has for Luck is an up-tempo scheme designed to get the ball out early so the Bengals don't have a chance to get after him in the pocket. During the preseason Luck didn't have a lot of time to get the ball down field with his longest passes a 19-yarder and a 17-yard run-and-catch by a back.
The reason Atkins is so valuable is because his pressure from the inside almost always makes O-lines double team him, opening the outside for Dunlap and his relentless band of ends that include youngsters that had terrific preseasons in sophomores Carl Lawson and Jordan Willis and rookie Sam Hubbard.
And a quiet factor in all this is Ryan Glasgow, Atkins' backup at the three technique and a frequent tag-team partner on passing downs. The rest he gives Atkins and the knowledge they give each other is going to be crucial late in games.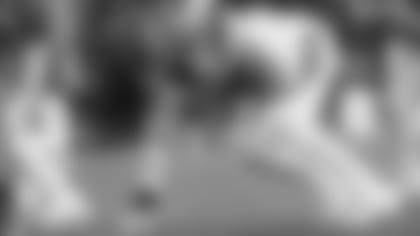 "When he's on the sidelines, he's watching and I think that says something about him," Glasgow says. "He'll give me tips when I come to the side. Very constructive criticism. Not hurting my feelings. He's always watching, which I really appreciate. I try to do the same thing for him, but he usually doesn't make a lot of mistakes. If he asks, I tell him what happened or what play they ran, or what the protection was or something. He usually has it all under control."
"To the D-line and Georgia guys," Glasgow says with a laugh.
Atkins is rather notorious for the unfriendly things he's done to rookies in the past, but the Bengals know Nelson is no other rookie. The sixth pick in the draft out of Notre Dame, Nelson played for the Irish after Glasgow played at Michigan and they missed each other.
But Glasgow has been doing his due diligence on film. He says Nelson is the real thing.
"To be the first offensive lineman drafted as a guard, that's unbelievably impressive and I think it shows in his pre-season tape," Glasgow says. "For a rookie, he's already got all-around ability. A lot of these guys coming into the league are a really good run blocker, or pass protector, or they're labelled the athletic finesse guy who can run with these guys but they don't have the power. I think he's a good mixture of both while also being a really big guy."
Glasgow has been hearing it. Everybody is looking to his defensive line.
"We accept that with open arms this year as a defensive line," Glasgow says. "I think this year we have a lot of guys who definitely developed and matured over the offseason. And our top edge older, veteran guys haven t lost a step and are coming in even stronger this year. I think we're a good group."
And he's got Atkins playing in front of him.
"Obviously Geno is one of the best D-tackles in football," Glasgow says. "When he's going in before you, he kind of sets the tone. Cracks the cement."
Just what the Bengals want their lines to do Sunday.