BENGALS INTERIOR O-LINE VS. BILLS INTERIOR D-LINE
The Bengals offense, buffeted by change (new system new play-caller, New Dey), racked by injury (A.J. Green, Jonah Williams, Cordy Glenn) and subdued by last Sunday's 25 rushing yards, heads to the Dept. of It Just Doesn't Get Any Easier for Sunday's game (1 p.m.-Cincinnati's Local 12) in Buffalo.
The Bills, who have all but one starter back from the NFL's No. 2 defense, are currently No. 6, 2-0 and primed for their home opener, the second one this season the Bengals are playing the straight men. Yet the Bengals are playing with a bit of a chip up front against a Bills D-line that is getting brilliant play from that new arrival, top 10 pick Ed Oliver in the middle, and vet steady strength everywhere else.
It's more than just a game for the Bengals' starting guards. John Miller, on the right, is going back to the town where he broke into the league as a Bills' third-round pick four years ago. Billy Price, on the left, is back in the starting lineup for the first time since the former first-rounder suddenly lost the starting center job two weeks before the opener.
Miller is the strong, silent type, a guy that has impressed the Bengals with a stoic work effort. He also must be impressing someone else because profootballfocus.com has him quietly rated the 11th best guard in the league. He left Buffalo with barely a ripple even though the man started 47 games that included the club's first playoff run since the turn-of-the-century.
Not so surprisingly, the no-nonsense Miller views Sunday like a shift in the weight room rather than a reunion.
"The only thing I'm thinking about is taking it like another game. It's a tough environment," Miller said before Wednesday's practice. "I don't really think about that. That journey took its course and I'm thankful to be here for the opportunity. I think it played out pretty well."
Price is the gregarious, high-energy Ohio State great that has had a tough start as a pro, starting with his lifting injury at the 2018 NFL scouting combine, winding through a foot injury in his second NFL start and another foot issue that sidelined him early in this training camp. He's also honest and reflective and when the Bengals announced they were going with Trey Hopkins at center before the opener, he admitted it hurt.
With rookie left guard Michael Jordan battling a sore knee, Price fills in for his old Buckeye buddy and he knows it's a chance to get back in the mix.
"It's a great learning opportunity. I went to Ohio State, an elite program, got drafted in the first round, come in to Cincinnati as the starter when you come in," Price patiently outlined a couple of times Wednesday for various waves of reporters.
"Have a couple of setbacks, now you're coming back into the ranks. You're working your tail off. You have to do your job to continue to build trust and make sure these coaches know you're that guy. It's tough. A mental roller-coaster. It's not fun. It scares you sometimes. Because you're an elite level person. An elite level in every aspect of your life and something like this takes you down for a second. You climb back up."
Price is grateful to his bride, Taylor, ("She's a rock through the storm.") and his two silver labs (Cora and Colby) that have become Instagram stars for getting him through.
But Price also has a big fan in the guy that made the move, offensive line coach Jim Turner. Yet as he proved a few weeks ago, he's not handing out starting jobs looking at past draft lists.
"He's responded very well. He battles every day, works hard. He's a mature kid. He knows what's at stake," Turner said after Wednesday's practice. "He lost his job and he's fighting to get it back and there should be an inspiration to come off the bench and play as hard as he possibly could to show everybody what he's about. Mike Jordan is playing very well. So in order to oust anybody out of there you're going to have to play really well. We expect Billy to play really well. Obviously if he does well, we love that dilemma. And we believe that he's going to. But we'll cross that bridge when we come to it."
Hopkins is the guy in the middle of Miller and Price Sunday as they negotiate the speed of Oliver and the strength of Star Lotulelei and Jordan Phillips and he's been everything Turner seeks in stability and smarts. The ultimate compliment may be that Turner compares Hopkins' instincts to telepathic company clerk Radar O'Reilly of M*A*S*H fame.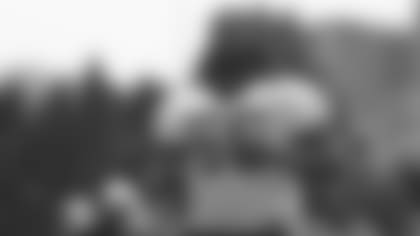 "He's the whole package to me. He's smart, he plays hard, you going into a meeting, he's a professional," Turner said. "And he knows. You tell him one time. The most frustrating thing in the world is when somebody doesn't know. But he'll beat me to the punch a lot of the time on stuff. He'll know it before I can say it. It's a little frustrating for me, but when my head hits the pillow at night it makes me feel comfortable."
And there it is. Even though they've got fewer than 60 yards rushing for the season and they're banged up, Turner is all in on these guys. It's just not Hopkins. He says he loves how Miller and tackle Bobby Hart are playing on the right side.
"The chemistry he and Bobby have, those are the least of the issues here. They're doing a good job. Been very happy with their play. Very happy," Turner said.
 And since Price and Hopkins have been interchangeable at both center and guard, he sees seamless communication in the middle on Sunday.
"We don't have a problem getting targeted," Turner said. "Our guys know who they're blocking. I don't know if we were mis-targeted one time in the last game. I don't know if one guy was not in position to block the guy that he's supposed to block. So they're getting targeted. This offense is simple. Very simple. Lots of base rules and very simple. So they know where they're going. They're getting targeted."
When they re-convened Wednesday coaches and players felt inopportune penalties and mistakes early in drives have killed the running game more than lack of blocking. Head coach Zac Taylor looked at the first quarter of a first-down sack, a second-down fumble and a holding call on left tackle Andre Smith that wiped out Joe Mixon's 12-yard run and the argument is, "We can't get behind the chains."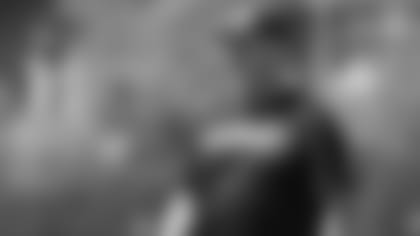 And, by the way, nobody was buying that holding call. Especially Turner. He also isn't a big fan of the hold on Jordan that negated Mixon's 12-yard screen pass.
"Now you're forced into throwing situations. You have to have some patience, but you can't have too much patience," Turner said. "This holding thing is out of control, by the way. If you watch Andre, I watched the clip, and I struggle to see a hold. Whatever. His hand wasn't on the guy's body. His hands aren't clenched on any cloth. Maybe I've got to look it up, but I have to find out what holding is. They had Mike Jordan on a hold. If you watch the TV copy, he pushes the guy with an open hand. He's so frigging strong he knocks the guy down. The guy's foot flies out."
When Price had to come off the bench for the last 15 snaps last Sunday after Jordan got hurt, he was called for a hold that wiped out wide receiver Tyler Boyd's 16-yard touchdown catch. Price has broken it down coldly and clinically. Six reps a week as the backup. Coming in cold. He knows he has to adjust.
"Sitting for three-and-a-half quarters and then getting out there you just have to re-stretch and get things going. After the first couple of plays and getting a rhythm in how the game is actually being played vs. what we were seeing just get into a good rhythm and do what you can," Price said.
"Just watch the film and see my feet, my feet went out from underneath me," Price said. "The kid lay wood, no doubt. It was something we didn't see in film prep, either. They shifted over with our motion taking the linebacker all the way out there instead of having the safety drop down. its football, you have to be prepared for anything and go out there and give it your best."
That's the kind of week it's been. A lot of re-winding.
They insist the running game is close to taking off. Turner points to four down-hill zone runs last Sunday that popped, one the 12-yard negation. Both he and Hopkins are talking about getting into a groove.
"As long as we stay on schedule and stay ahead of the chains and actually have the opportunity to run the ball and not get down 21 points, we have a great opportunity to run the ball," Hopkins said.
Turner knows once Taylor is freed from the lousy down and distances, he'll hand off like mad.
"We've got to get in situations where we hand the ball to our tailback 28 times. Now you're talking," Turner said. "Now you're running the ball. Now you're pounding people in the fourth quarter. Now we've only played two games. We'll be all right. Things have to gel a little bit."
You figure quarterback Andy Dalton is all in on that. In his 52 career games the Bengals have rushed it at least 30 times, his record is 45-5-2. But it hasn't exactly been a trend since his first injury late in the 2015 season. Since then he's been in just 12 games they've rushed it at least 30 (none last year) and they're 9-2-1.
"We didn't get off the B block on the one run. So all of a sudden we got off on a B block, and it's another seven or nine yard with Joe Mixon in the backfield," Price said. "So we're close. We've just got to continue to work on the details … Those are the kind of things coach Taylor has really talked about, and I know you guys have really spoke with a lot about those things. Starting off with first down efficiency, I think that's one of the key topics for us to focus on this week. And then go from there."
"I know those guys pretty well," Miller said. "That front seven is pretty good with some first-round picks. The thing that's made the Buffalo defense good is they got sound and the coach prides himself on its discipline."
Hopkins says they simply don't make any "errors," and Oliver flips sides and "plays in the backfield." Price has been studying linebackers like the veteran outside guy Lorenzo Alexander (the guy he remembers that "lit him up," on a toss sweep last preseason) and the budding star in the middle in Tremaine Edwards.
"I was watching a little bit of their pre-season games against Indy and Detroit (a Tuesday day-off), a lot of their stuff their linebackers played real quick," Price said. "They're three and a half, four yards off the ball at most. And they trigger quick, and now. That's something that takes guys off of double teams, so you've got to really hone in on those details, the angles, the hand placement, all those different types of elements so you can go out there and execute and make sure you don't get a 12-yard run that gets pulled back because of a holding call."
Turn knows what has to be the next step: