Feast your eyes on the NFL defensive stats before Monday night's games and when you do, tip your hat to Lou Anarumo, the Bengals' first-time defensive coordinator.
They were not only ranked No. 4 in allowing 233 yards in Sunday's opener, but after two seasons of being on the field more than any defense with more than 2,100 snaps, they took just 49 in the 21-20 loss in Seattle. That was only behind the 47 the Ravens played in the blowout of Miami. The defense that last year gave up more than 300 yards in the first half of losses to Kansas City and New Orleans before allowing their most rushing in 17 years to the Ravens' 267, stoned Seattle's defending NFL rushing champions on 2.9 yards per carry Sunday while holding the third-down machine of Russell Wilson-to-Tyler Lockett to 33 percent on the big down.
That's after allowing a league-last 48.9 percent on third down last year.
"He's very confident in what he does with his play-calling and it makes us feel confident in how we play," said safety Jessie Bates III during Monday's reflection. "The biggest difference is we were getting off the field on third down. We put it all together. Our D-line was getting after them, our DBs were covering very well. It sucks we came up short. You can tell we're laying a foundation that can take us a long way."
This may have been Anarumo's first opener calling a game after being put in charge of a defense at the beginning of the offseason. But it's not his first rodeo. It was his eighth NFL opener with his third team and Bengals head coach Zac Taylor watched him call plays when they were interim coordinators together four years ago with the Dolphins.
"We knew what Lou had in store for these guys. He got them to respond and play well, play with energy and be a connected defense," Taylor said. "I was really pleased with the outcome. It was really a four-point play there at the end of the half — it was third-and-seven, and we had to make a stop there so they kick a field goal. That's a four-point (swing). At the end of the game, we're counting on them to get a stop on third-and-one so we get that ball back. Otherwise, those guys played their tails off. If they play like that consistently over the course of the season, they're going to put us in a position to win a lot of games."
Anarumo, the 53-year-old Staten Island native, has won over his players with the bluntness of a New York City cabbie and they're in for the ride. On Sunday he led them on a Coney Island venture that featured creative packages with five defensive linemen while using safety Shawn Williams for about a dozen snaps as his only linebacker.
"I really like Lou as our D-coordinator," said right end Sam Hubbard, who would have got a game ball if they won. "He's really direct and will tell you exactly when you're wrong, exactly when you're right and treat everyone the same, keep everyone accountable and that's how you be a successful defense. Us going out on the field Sunday and everyone doing their job and playing sound was why we were successful. That's all a credit to him and how he wants to run the defense."
What we saw on defense last Sunday might not be what we see in this Sunday's Paul Brown Stadium opener (1 p.m.-Cincinnati's Channel 19) against the 49ers. But Anarumo is going to keep them guessing, anyway. Like, will Williams continue to wear the communicator helmet or will he bequeath it to a linebacker for the more multiple Niners?
"Based on who we are playing," Anarumo said of his next scheme. "This week's opponent will give us a whole different bag of stuff compared to last week. Seattle was here we are, line up and stop us. That's not going to be the way the 49ers will attack you. We'll see how it all fits together this week. If there is some carryover great, if not we'll do some different things."
Certainly count on seeing plenty of linemen. Six played at least 20 snaps on Sunday. Keep an eye on Hubbard. Except don't look for him in the same spot. Last year's homegrown third-rounder out of Cincinnati's Moeller High School and Ohio State looks like he's on the verge of becoming a star with his 6-5, 265-pound versatility. Inside and outside on the line. Or dropping into space as one of these hybrid backers Anarumo seems to be developing.
"Every game plan is going to be different based on who we are playing, but by that token the strength of our team is up front," Anarumo said. "Those guys showed that way yesterday. Based on what the offense is doing we'll be using the personnel we have to fit what they are doing to try to attack us so it could be different each week. Yesterday's plan was to get some big guys out there because if you didn't notice, Seattle has some big guys up front. Our plan was to stop the run. That will be our plan every week is to stop the run and the rest will take care of itself."
So maybe we better get used to mountainous back-up defensive tackles Josh Tupou and Renell Wren, and didn't starting nose man Andrew Billings offer one of his more active games?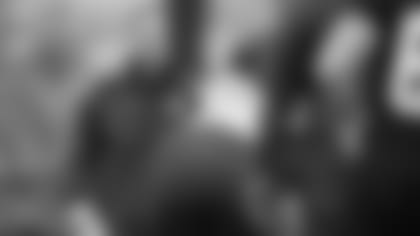 "That's why me, Carlos and Carl, Kerry, were making so many plays," Hubbard said of his fellow ends Dunlap, Lawson and Wynn. "They were eating up double teams, knocking 800 pounds of offensive linemen back. I got my second sack because Billings and Josh were caving in the middle and there's no room for (Wilson) to step up, so it's stuff like that that people don't give credit to them for."
Funny how that works. When the tackles play well, nobody complains about the linebackers. They only used two backers Sunday, but Nick Vigil (one of his seven tackles went for a loss) and Preston Brown (he forced a huge fumble) drew only praise.
"They were flowing over freely because our D tackles were playing the doubles and scoops so well, they couldn't climb up," Hubbard translated.
But it was not only Hubbard's explosion off the edge in the pass rush that made him such a factor Sunday. It was his strength setting the edge against the run. Anarumo came back to how big of a factor Hubbard was in holding Seattle to less than half of last season's 160 yards per game.
"Play in and play out how he played against the tight end, because that is their number one run, trying to run the ball at him," Anarumo said. "They were the best in the league at doing it last year. When they ran their favorite run they didn't do anything. He was one of the big reasons why, playing the tight end, playing the six technique."
Estimable Bengals chronicler Paul Dehner Jr., of The Athletic thinks Hubbard may becoming a weapon like the Steelers' T.J. Watt. His two sacks, four QB hits and ten tackles indicate he may also be a modern Justin Smith, although he played less Sunday (81 percent) than Smith would since he regularly played 95 percent or better back in a different game. They play with similar tireless relentlessness, and while Smith hardly ever had that kind of a stat line (who does?), Smith was good for about seven sacks and 70 tackles a year. He was so good against both the run and pass that the 49ers turned him into a 3-4 tackle and he went to five Pro Bowls.
Now Anarumo has a big chess piece he can put anywhere on the board.
"Being multiple is really a big part of what he wants to do, and to just be able to be a moving piece and whatever job he tells me to do, to be able to do it, it kind of helps me stay on the field more and that's where I want to be," Hubbard said.
And Hubbard likes where this defense is, too. He can't even think about the implosions of last season.
"There's a lot of things that go into it, from a culture perspective, Xs and Os, all that stuff," Hubbard said. "I think we just never panicked, never got away from what we were doing. I can't even speak to those games. I don't even want to go back to those games. I like where we're at now."