Derrick Deese, the 49ers' starting right guard backed up by Frank Pollack the night they won it all when Steve Young threw six touchdown passes, can glimpse another moment in San Fran lore.
This one is when the Niners were fresh out of long snappers and there was Pollack, the late legendary line coach Bobb McKittrick's handy-dandy- plug-and-play guy drafted in the sixth round, raising his hand and volunteering without hesitation.
"Frankie P.," Deese recalled this week, undrafted and unheralded himself but developed by McKittrick to play in 152 NFL games. "Good guy. Worked hard. He learned every position. He did what he had to do and went above and beyond … We all played with a chip. We were undersized and Bobb knew we all had things to prove. He was looking for athletic guys that could move and that's where Frank came in."
It turns out that Frankie P., the coach, isn't all that different than Frankie P., the player, and the Bengals are banking on it as they revamp their offensive line and rehab their running game. What better moment to hone in on this home improvement project than Saturday night's second pre-season game (7 p.m.-Cincinnati's Channel 12) in Dallas?
It was there the past three seasons where Pollack, by most accounts, molded the best offensive line in the game blessed by No. 1 picks at nearly every position as they rolled to No. 2 the last two seasons in the rush. When Pollack became one of six changes in Cowboys head coach Jason Garrett's staff purge at the end of last season, the Bengals didn't let him out of their Paul Brown Stadium offices after his interviews and signed him on in the wake of the Bengals' worst rushing season in franchise history.
Spicing the matchup at Jerry World is that line Pollack crafted for the Cowboys with the help of mentor Bill Callahan is now coached by Paul Alexander, the man that held the Bengals O-line job since that month in 1995 Pollack and Deese celebrated winning the Super Bowl 23 years ago.
Neither man has been anxious this week to re-live history and given the challenges each face in this preseason they probably figure the future is daunting enough. Pollack may have a completely new right side to go with a rookie center while Alexander inherits a Pro Bowl-laden line
"Unique," is what the dean of the Bengals offensive line, left guard Clint Boling, says about Saturday. "There's no right way or wrong way. They're two different coaches. It's been a big change, but I think guys are buying into it."
Alexander, 58, had huge success with the Bengals in emerging as an NFL O-line guru recognized a few years ago by Sports Illustrated when the magazine picked its all-star coaching staff. Pollack, 50, has had rave reviews since he began learning at the altar of other gurus, such as Callahan in Dallas and John Benton and Alex Gibbs in Houston.
Not better. Just different. And maybe not all that different.
Alexander became well-known in Cincinnati for his passion for conducting and classical music. Pollack also has some musical talents, has wide-ranging tastes and has been known to fire up the end of a long day of football by rapping on his keyboard to summon Pandora and start dashing out trivia questions. In rapid succession he'll conjure up Johnny Cash ("Whose this?"), Burt Bacharach's "Raindrops Keep Falling on My Head," ("Who wrote this?") and "El Paso," (What was Marty Robbins' biggest hit?). He likes the old country western stuff and maybe that figures as a product of the desert (Phoenix) but you could also see him playing the Eagles' "Tequila Sunrise." to get through a third-and-long package.
Just different. Maybe not all that different.
Like the running game these days in Bengaldom. Maybe not all that different. Every team has the same runs. But with tweaks. The pass protection is a little different, too, with Pollack's quick sets instead of vertical drops. But since the Bengals have really struggled the past two seasons running the ball (their big backs averaged 3.6 yards per carry) and the Cowboys have dominated and it's a big part of Pollack's pedigree, it's a rush to look at the rush.
"Frank is one of those guys that's going to get in your face if you do it wrong and he expects you to do it right," said running back Giovani Bernard. "At the end of the day he's brought in something really nice from Dallas and we're just trying to implement that. I think the biggest thing is the urgency of the offensive line. When they pick up speed or it goes a little bit faster, it forces the running backs to go a little bit faster as well. So we're all just playing with a little more urgency."
H-back Ryan Hewitt doesn't see much of a scheme change at all, either.
"I would just say the mentality up front and way we're trying to move people," said Hewitt of the biggest differences. "I love it."
It's hard not to see Pollack's in-your-face-move-the-pile mentality. It's usually on full boil. Bengals director of operations Jeff Brickner saw it almost immediately when Pollack ordered the field equipment he uses for practice and it ended up looking like a playground for the biggest elementary school in three counties. During the spring, one vet openly wondered if he'd survive if practice was going to be this intense every day. The line sees it every day in practice, where he has no compunction at demanding they start a drill over if somebody has their foot three inches from where it should be in the technique.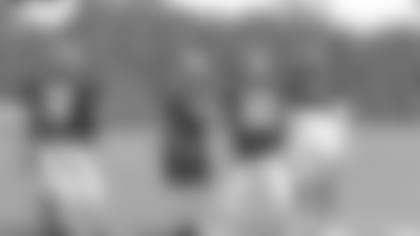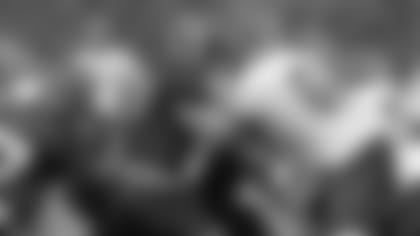 There's no down time with the O-line in practice," Hewitt said. "That's just more time for them to work on technique."
More for Brickner's equipment.
So it's hard for the defense not to feel the intensity, too.
"Oh yeah, we go back and forth," said left end Carlos Dunlap. "When you're a competitor and you've got a coach with a personality like he has, you're going to cross paths. Spanking each other on the butt, or if he coaches something a specific way and you get 'em, just rub it in. But he's very serious in between those lines.
"He's very technical. I've noticed that in practice. You can tell that he's coaching something because all of them are doing it the same way."
Jim McNally, the long-time Bengals offensive line coach who preceded Alexander, has been a consultant with the club for six years and can see the intensity.
"He's aggressive. That's how he wants them to play," McNally said. "He has their attention when he wants them to do something. His preparation is excellent. He's so enthusiastic and players hear him when he says he expects them to be at the top of your profession."
McNally began his rise to NFL pioneer when new Bengals head coach Forrest Gregg, a Pro Football Hall of Fame offensive lineman, hired him in 1980 to coach his offensive line. Nearly 40 years later it's time to re-introduce that wide zone play that is believed to have started with McNally's Cincinnati's lines in the early '80s. The play is designed basically to trick the defense into flowing outside in order to run inside with cut-backs and one or two quick reads by the back. Running backs coach Kyle Caskey has been emphasizing the no-think-cut-and-go runs this camp.
That's not exactly privileged information. Everyone knows that's the play Cowboys' running back Ezekiel Elliott ran for Dallas' bread-and-butter. Back in the day when McNally deepened the positon of the full back to match the depth of the running back, it opened up a bunch of possibilities. When Alex Gibbs coached Denver's offensive line to glory in the '90s, he told McNally he lifted that wide zone from the Bengals, the one that took Terrell Davis into the Hall of Fame in just 78 games.
"Alex Gibbs perfected the wide zone," McNally said.
And it was Gibbs that Pollack studied under in Houston with a wide zone that gave the play-off Bengals of '09 and '11 fits.
"He's good at emphasizing what we need to focus on," Hewitt said. "A lot of the stuff they did in Dallas were his ideas and his concepts and we're definitely trying to do that so we can open bigger holes and bigger lanes."
It's early, but the one thing offensive coordinator Bill Lazor wanted to see in last week' pre-season opener, he saw. They came off the ball.
"I thought they did, the No. 1 thing. They did what asked them to do and that was to come off the ball. We asked them to run off the ball," Lazor said. "Let's get the run game going at a high rate of speed. I thought they did that. If that was the No. 1 emphasis then I thought they checked that box off, but it wasn't perfect."
If anyone knows it wasn't perfect, it was the perfectionist Pollack. When Deese watched him coach a practice in Dallas not too long ago, he saw some McKittrick.
"When you're a guy like Frank, a guy that did so much so he could play, you coach a little harder," Deese said. "I mean, in the sense you know how much you had to do and you want to pull that out of your own players.
"Bobb didn't pull any punches with you. He wouldn't sugar-coat anything. You had to be thick-skinned. He was always going to be honest with you."
Now Pollack goes back to Dallas so soon in the rehab project.
"I know one thing," Deese said. "His players will be prepared."