The Bengals got a B-12 shot Tuesday for the stretch run when Hue Jackson blew back into the building with his signature rampaging enthusiasm. Jackson, just two weeks removed from his ouster as head coach of the Cleveland Browns, returned to the stadium named after the first coach fired by the Cleveland Browns and settled into his fifth Paul Brown Stadium office.
There aren't many homecomings in the nomadic NFL, but this one is pretty close.
"You go back to a place three times, that's a pretty special place for you," said John Thornton, Jackson's agent and a Marvin Lewis Bengals' original. "He and Marvin are great friends and that's the only way this could have happened. The head coach isn't intimidated and, obviously, ownership was on board and Hue has great feelings about the Brown family."
A win-win for Thornton's client and Mike Brown's Bengals. Even as Thornton sent Jackson to explore potential TV gigs, both knew he had to get back into coaching or he'd froth at the mouth. And it allows Lewis to turn to Jackson, his closest confidant in the business as he faces the biggest challenge of his Bengals career and takes on the coordinator responsibilities of a shell-shocked defense.
Not only does Lewis get a trusted friend, he gets a guy that's been a head coach twice and instinctively knows what administrative duties he can take over in the vacuum of Lewis immersed in Xs and Os.
Not only that, Lewis also gets a head coach from his own AFC North and the Bengals play four division games against teams Jackson knows intimately in the final make-or-break seven games.
Not only that, two of those games are against a Browns team no one knows better than Jackson. That was the final, convincing pitch for management.
"And he knows the Bengals players," Thornton said. "He's coached a lot of these guys or he knows them or prepared to play against them. He'll walk in there and the leaders will hug him."
Jackson has been hugging back since Thornton can remember. His first Bengals stint ran from 2004-06 as the position coach who quelled the combustible receiving corps of Chad Johnson, T.J. Houshmandzadeh and Chris Henry long enough for four 1,000-yard seasons and 60 touchdowns in some of the most explosive seasons in franchise history.
But he was more than that.
"That's how I first met him," said Thornton, a starting defensive tackle on Lewis' first six teams. "He would get on our defense and make sure the scout team was giving us good looks. He'd go around the locker room. He had a relationship with everybody and he'd talk to you about more than football. Life. It'd be the craziest thing. We'd be sitting in Cleveland and he'd get a call or text from all kinds of guys. He lights up a room."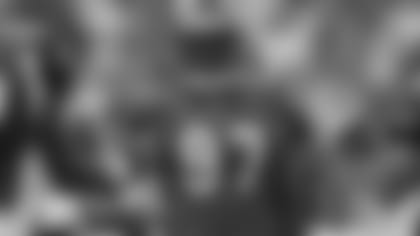 Now the room Jackson is lighting up is the defensive coordinator's office. It's one of the only offices he hasn't had on the mezzanine level. Only Thornton knows how close Jackson came to never leaving The Mez during those 48 excruciating hours after the 2015 season his Bengals offense came within an eyelash of a playoff-stunner behind back-up quarterback AJ McCarron.
While Thornton was negotiating Jackson's deal in Cleveland, Jackson was having an emotional meeting with Lewis and Brown in Mike Brown's office. There was talk of a succession plan and the past and the future and Thornton sensed he was losing his man.
"He almost backed out. I was working two phones. I had (then Browns general manager) Sashi (Brown) on one phone and Hue on the other," Thornton said. "I told him it was time to leave Paul Brown Stadium. I had a feeling his relationship with Marvin and Mike would keep him there. He hired me to get him a head coaching job. I told him to meet me at his house in 15 minutes and I would show him what he was walking away from."
The run in Cleveland came to an ugly end, but, regrets? Browns owner Jimmy Haslam offered a head coaching job in the National Football League. There are only 32 of those. Enough said.
"It worked out," Thornton said. "He had a great relationship with Jimmy and Dee Haslam. That worked. He just didn't win enough."
Lewis is trying to win enough to get back to the postseason in the most improbable script one could have imagined in the offseason. As the head ball coach/DC. It's only fitting Hue J is at his side.
"In a way it has to be a home for him," Thornton said. "The relationship never ended."