As the Bengals.com media staked out Tuesday's $110 million line stunt at Paul Brown Stadium, the gag became taking out a wallet and handing it over to Bengals officials.
But during a preseason the NFL chatter riveted on the contract talks for Odell Beckham, Aaron Donald and Le'Veon Bell, no one was laughing at the Bengals. The husband and wife front office team of executive vice president and salary cap maven Katie Blackburn (Atkins) and vice president Troy Blackburn (Dunlap) quietly spent the summer putting together a blockbuster brick-by-brick. Nary a word uttered publicly as the Bengals made sure they kept together the tag-team destined to be their top 1-2 all-time sackers in six-time Pro Bowl defensive tackle Geno Atkins and play-making left end Carlos Dunlap.
How important is the defensive line? In 2013 when they first extended Atkins in a $55 million deal and Dunlap in a $40 million deal, they also franchise tagged right end Michael Johnson for $11 million that AFC North title season they hope to replicate. On Tuesday, the combined money they committed in one day was on a par with re-upping franchise quarterbacks Carson Palmer in 2006 and Andy Dalton in 2014.
Atkins, 30, on pace to become the second most prolific interior pass rusher of all-time when his deal ends in 2022 with 99 sacks, is on the fast track to a first ballot Pro Football Hall of Fame election. With 64.5 career sacks, Dunlap, 29, looks ready to claim Eddie Edwards' franchise sack record of 83.5 by the time his deal ends in 2021.
"The Bengals work on their own terms. They're not going to be influenced by things going around the league. Clearly they one-upped the league," Dunlap said. "Nobody else is doing what we were able do today. Having two career leaders continue their career here when they have more life in them? We have the opportunity to finish our careers here."
Reports put Atkins' extension at $65.3 million with ESPN reporting the annual average of $16.3 million a record for a non-quarterback older than 30. It's believed Dunlap got in at $15 million per year on his extension through 2021. How do the Bengals do it? They reportedly put nearly 40 percent of the Atkins deal ($25.5 million) into this year in an effort to avoid dead money and keep next year clear for a man named A.J. Green.
Since they both came out of the 2010 draft, no team has had a sack duo as consistent or prolific as Atkins and Dunlap. According to Elias, the current leading duo is Baltimore's Terrell Suggs and Matthew Judon with 137.5, but Suggs, an '03 draft pick, has a career total of 125.5 that matches Dunlap and Atkins combined. No. 2 on the list is the Panthers' Julius Peppers and Mario Addison with 128.5, of which Peppers, an '02 pick, has 92 of them. Then comes Atkins and Dunlap at 125.5, followed by the 121 of Minnesota's Everson Griffen and Brian Robison. Houston's J.J. Watt and Whitney Mercilus? A total of 114.5 since they arrived in '11 and '12, respectively.
But in the Elias top five, they're the only end-tackle punch, underscoring just how valuable Atkins' inside push makes everyone else. That was on display Sunday in Buffalo against a rookie quarterback. The Bengals sacked Josh Allen five times with the No. 1 line rotation and even though Atkins had only .5 his bull rush opened up other avenues.
"Having both of us secured here in Cincinnati for the rest of our careers and to go forth there is unbelievable," Dunlap said. "Those are single guys on different teams in different markets, but having two guys that started here in the 2010 class that are older than these young guys and renewing new deals and finishing ours here in Cincinnati is an unbelievable opportunity."
Sophomore end Carl Lawson had 2.5 sacks Sunday while third-year nose tackle Andrew Billings had 1.5. Sophomore end-tackle Jordan Willis has 2.5 sacks his preseason. Right end Michael Johnson, at 31 the only D-lineman older than Atkins and Dunlap, looks like he's going nowhere as a savvy end and nickel tackle.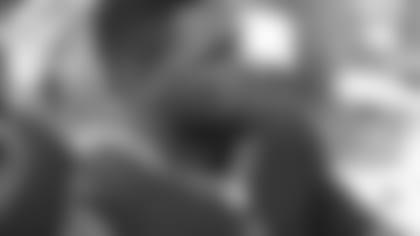 "We've got a lot of young guys who believe in hunting the way we (did) in our younger years and we've still got plenty of juice in the competition to get the quarterback," Dunlap said. "It's going to be fun and an amazing race, every play on third down, third and long, first and second. They see the potential they have and the rewards they can get for doing that. We'll be getting after the quarterback."
The kids are also seeing the fruits of labor. The third contract for players approaching 30 may be a rarity, but it's become a reward-your-own trend in Cincinnati for the last decade. They've given similar third deals to Andrew Whitworth, Domata Peko, Robert Geathers and Adam Jones. And, Michael Johnson, counting that franchise tag in 2013.
"A big burden has been lifted off both our shoulders," Dunlap said. "During camp we focused on simply football. We let our agents handle the work. But now that the business is done, it lifts that burden. It's all ball."
It's about a little bit more than ball, too. Dunlap found himself talking about something greater as he took stock of the careers of both of them.
"A lot of guys we've seen lately, they have a legacy and tried to go someplace else and bounced around," Dunlap said. "Now they're known as journeymen and that's something I wasn't really interested in. Me and Geno get to continue to build on that together."