OK. OK. The last time the Bengals played in Los Angeles, Paul Brown was alive, the Browns were in Cleveland, Marvin Lewis was the linebackers coach at Pitt, Bill Belichick was the Giants defensive coordinator and Jeff Driskel, Joe Mixon, Tyler Boyd and the Baltimore Ravens weren't alive.
But Eric Thomas remembers Jan. 13, 1991 frame by frame in an AFC divisional play-off game his Bengals had no right to be in but were until two Los Angeles Raiders Hall-of-Famers extinguished their upset bid at The Coliseum.
It was 10-10 early in the fourth quarter after the flu-ridden Boomer Esiason hit Stanford Jennings on another big post-season play for the Furman running back. Two years before it was his 93-yard kick return that gave the Bengals the lead in Super Bowl XXIII heading into the fourth quarter before two 49ers Hall-of-Famers took over. This time it was an eight-yard touchdown before wide receiver Tim Brown and running back Marcus Allen, a tandem now in the Hall, took over after Bo Jackson limped to the sidelines with a career-ending hip injury.
But the game also was the unofficial end of the Boomer-Sam Era that brought them two AFC Central titles, a Super Bowl berth, a 3-0 record in home play-off games,  and high-powered offenses that dominated the NFL  rankings.
"They didn't have the players we had across the board," Thomas recalled this week of those L.A. Raiders. "But they had two Hall-of-Famers and that's what they do. They make plays and when you throw in a superstar like Bo Jackson softening us up …"
The Bengals got beat by the stars in Hollywood that day, but that same season they posted their last win in L.A. when Jim Breech lifted his overtime perfection to 7-for-7 with a 44-yard field goal just outside the Big A's dirt infield in Oct. 7, 1990's 34-31 classic over the Rams that ended the most tumultuous week in Bengals history.
Breech also has a photographic memory and can remember head coach Sam Wyche wading into his post-game news conference with a towel wrapped around his waist. It was the first game since Wyche sent shock waves through the NFL when he broke league rules and social norms by banning a female reporter from the locker room in order to protect his players' privacy.
"Everybody thought he was going to whip off his towel with nothing on underneath but he had on a pair of shorts," Breech said. "And he said, 'Just think how embarrassing it could have been.' I saw him not too long ago and I said, 'It's a good thing we won,' and he said, 'Oh yeah.' He didn't think he was going to be able to be on the sidelines for that game."
Indeed, the Bengals were national news after Wyche pulled off his coup following a Monday night game in Seattle and with the Bengals staying there to get ready for the game in Los Angeles the networks knew right where to find them. With hotel guests negotiating cable wires in the lobby, the Bengals were told in a team meeting Wyche was being called to New York on Friday (the day before they left for L.A.) to go on commissioner Paul Tagliabue's carpet and that tight ends coach Tiger Johnson would reprise the role of head coach he had for 33 games in the late '70s.
"But Sam ended up staying," said Breech and that was because Paul Brown informed the commissioner he couldn't take away his head coach and offensive play-called like that so close to a game.
But the cutting edge Wyche shocked again. This time with a game plan that was already in place. With speed threat Eddie Brown out of the game at wide receiver, Wyche showed off his team's frightening versatility and moved tight end Rodney Holman and running back James Brooks to wide receiver against the Rams.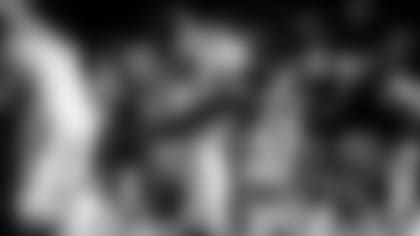 You think current Rams' mastermind Sean McVay is lighting up the southern California skies? Esiason set the team record that stands today with 490 passing yards. Not only did Brooks and Holman go for more than 100 yards, but so did wide receiver Tim McGee and it was his 29-yarder that set up Breech in OT.
"It was a typical Los Angeles day. Not windy. Beautiful" said Breech, the Bay Area native of the cloudless 68-degree day. "I was real happy it wasn't on the dirt. The dirt can be hard and you never know how the footing is going to be.
"To think of that production we had that day and didn't have one of our receivers. Just amazing."
It was wins like that the Bengals used to take the AFC Central at 9-7 and get to that play-off date with the Raiders. They picked up Thomas on the way. He was thought to be gone for the season when he tore his ACL playing basketball in May, but the legendary care he took of his body paid off in what is believed to be the quickest return from reconstructive knee surgery at that time. He played in the last month of the season and both play-off games. He was limited to special teams and playing a few snaps in nickel, although he was listed as a starter. And rusty and sore, he wasn't the 1988 Pro Bowler.
"There wasn't pressure to get back. I wanted to get back. A young competitor," Thomas said. "We were really down at corner."
On the next series after Jennings and Esiason tied it at 10, Thomas found himself in the slot covering Tim Brown as Raiders quarterback Jay Schroeder looked at a third-and-20. Thomas thought he had a pick, but Brown somehow caught the ball for a 26-yard gut punch. Two plays later the Raiders went ahead for good.
"For me to come back and play him in the slot, that was difficult for me," Thomas said. "For a slot cornerback the inside route is the toughest. My job is to make sure he has to run over the top of me so ball is thrown over me. The quarterback made a hell of a throw. Somehow he got it just over my fingertips and Tim Brown caught it with his fingertips. It's one of the best catches anybody ever had on me.
"They made a hell of a play," said Thomas, still competing nearly 28 years later. "My (knee) brace restricted me. But I was still better than most."
When Jackson went out with 77 yards on what looked to be a hip injury that he was walking off, Thomas remembers defensive coordinator Dick LeBeau warning them about Allen: "Don't let your guard down just because he's out of the game. Marcus wants to run it and is going to run it."
Truer words were never spoken in Bengaldom. Raiders boss Al Davis may have been trying to bury Allen, but the guy resurrected his career that day with 140 yards on 21 carries.
"Marcus was a better running back. He was tenacious, patient, everything Bo was not," Thomas said. "Bo was the bowling ball. He'd run right through you and be gone. If Marcus could get six yards, he'd take six yards."
Not only did Esiason have the flu, half the team was sick. Brooks had his hand in a cast because of a broken bone. Hall-of-Fame left tackle Anthony Munoz was nursing a shoulder injury.
"Our offensive line was dinged up. A lot of guys were sick. We struggled all day," Breech said. "Sam said let's keep it close until the fourth quarter and see what happens and we did."
The stars won in Hollywood. An era was closed. But only by inches.
"You know how they say it's a game of inches?" Thomas said, still feeling the ball graze past his finger. "They say it because it's true."