"For I know the plans I have for you," declares the Lord, "plans to prosper you and not to harm you, plans to give you hope and a future." - Jeremiah 29; 11. Larry Ogunjobi's favorite Biblical verse.
Ogunjobi, who just may be the best thing that came from Cleveland to Cincinnati since Paul Brown, even hears it in the locker room.
Sunday's game in Brown's stadium (1 p.m.-Cincinnati's Local 12) pitting both his 5-3 Bengals and 4-4 Browns is destined to be one of those AFC North bloodbaths that defines a season with a thick layer of storylines.
Joe Burrow versus Baker Mayfield renewing their overall No. 1 rivalry after Mayfield won two shootouts last year. NFL leading sacker Myles Garrett bringing in his two career strip sacks of Burrow. Bengals wide receiver Ja'Marr Chase continuing his Rookie of the Year journey against that seemingly bottomless well of old LSU teammates now in the NFL. Two of them, cornerback Greedy Williams and safety Grant Delpit, lurk in the Cleveland secondary.
And then there's Ogunjobi, the former Brown and Bengals' elusive and relentless three technique tackle having a career year on their revamped and revived defensive line with a storyline that should be mandatory listening for parents and kids in and out of the AFC North.
There he is, occasionally clicking his right heel like he did at Ragsdale High School to remind him of the proper way to get into a stance, when he finally could get in a stance, and wearing No. 65. The number of the pick Cleveland used to take him in the 2017 draft.
"Larry O.," said one of his teammates, loud enough for him to hear before Wednesday's practice. "Revenge game."
Not really. This Sunday is just another proving ground for that Greensboro, N.C. teenager who was so big he couldn't get into a stance the fall he was introduced to football.
"It's not about them," Ogunjobi says of a Browns team that decided not to resign him. "It's about me and this team going 3-0 in the division. I can't let people take up that mental space."
The space that really matters is the one where he lines up in the Bengals' Greensboro Gap next to nose tackle D.J. Reader, a year ahead of him cross town at Grimsley High School. Defensive tackle.
Nowadays it is called the three technique. The space where the Bengals have put him and the Browns didn't. Before the season reaches its halfway point at Sunday's halftime, Ogunjobi already has 3.5 sacks, just two shy of his career high.
"I don't know if this is the best he's played. He's in the best position to make plays," says Ragsdale head coach Johnny Boykin, the guy that eased Ogunjobi into that first three-point stance. "(The Browns) had him head up on the nose. A lot of double teams. Now he's got the opportunity to make an impact … The thing about going to Cincinnati is they accepted the fact he can play the three technique … He'll do anything you ask, but I don't think he would have gone there to play the nose."
He's here on a one-year deal for $6 million. The pundits call that a "prove-it-deal," but, the thing is, Ogunjobi has been on a one-year for years. Ever since he got The Plaque. The Ragsdale Junior Varsity's Most Improved Player for 2009-10.
"That award," says Mercy Ogunjobi, his mother, changed everything."
Mercy, a psychiatric nurse practitioner, prayed with her son over the phone back in March when Larry Jr., decided to come to Cincinnati.
"I asked him what his thoughts were about it. He said he liked it," Mercy Ogunjobi says. "We prayed and we had peace about it and I told him his steps are ordered by God."
They also prayed when Larry chose to go to a college football program that had yet to take a snap. His mother wondered if the University of Charlotte even had its stadium built yet when he signed up for the first recruiting class.
"I like it," he said and they prayed about it and he made a decision that allowed him to be the first 49er in history to be drafted.
That was just one of the crossroads for her family. At 350 pounds and on the verge of going to high school, Larry had his parents alarmed when they could hear him snoring all the way downstairs. They became downright terrified when he stopped snoring and couldn't catch his breath and they began seeking help from a trainer and schools.
"He comes from a family that believes in giving back and believing in community," Boykin says. "They brought him to us and said, "'Coach, he's yours.' They didn't care about him playing. They just wanted him to live."
Larry was presented to Boykin. Boykin gave him to the offensive line coach, who also happened to be the Ragsdale head coach.
"Kind of heavy? That's a light word," Boykin says. "He was a fat kid. He looked as round as you could get. A big kid, but he was kind of short and fat. He had big ankles. He did not pass the eye-ball test."
The head coach sent Ogunjobi back to Boykin. Now Boykin had to keep him. And it has made a lasting impact on both.
"He couldn't get in a stance. He had to play in a two-point. A smart kid. He did anything we asked. But he couldn't move. You looked at him and there's just no way," Boykin says. "It taught me a lesson so valuable in my career. You never know what's inside a kid. You can look at a kid and not know what's inside of him.
"With Larry, there's a lot more to him. You always seem to get more than you think you're going to get."
What was inside Ogunjobi was a love of the game that had to be earned. Mercy Ogunjobi can still remember her son's cries in those early days of football.
"We tried basketball and he didn't like it," Mercy Ogunjobi says. "He would say 'Mommy, why are you doing this to me? It's hard. I can' do it. I don't like it.' And I would say, 'Just keep trying. Just keep trying.' His teammates were very nice to him. They would tell him, 'Let's go. Larry. You can do it, Larry."
The next thing Boykin knew, the big kid's body began to change. They began to notice his feet and his hands and they started to think, maybe we've got something here. Come to find out, after practice Ogunjobi was going to the YMCA for additional workouts and when the big kid had slimmed to 240 pounds, the coaches put a stop to it.
"We're not looking to make you a track star," Boykin said.
Ogunjobi became a third-round pick, signed a very nice second contract and will no doubt get an even more lucrative third one. But he still displays the plaque that motivated to get him into the gym and become a recruited player during his junior and senior seasons.
"I just knew how hard I had to work to perfect my technique and do the things my coach said I needed to do in order to get stronger, faster," Ogunjobi says. "Kobe (Bryant) talked about getting in the hours when nobody else is working and people can't catch up to you."
He has brought the same mindset to the Bengals defensive line, where he's a huge hit and where he and left end Sam Hubbard have become what Hubbard describes as "very close." They go out to dinner together and Hubbard was part of the defensive line get together last month when Ogunjobi hosted a birthday dinner for his mother last month.
Remember what Boykin says about Ogunjobi doing more than the expected? Here's a guy that taught himself to play the piano and double majored in computer science and biology.
"There's a lot more to him than meets the eye," Hubbard says. "He's very intelligent. He's very knowledgeable about business. We talk about a lot of things in this locker room, not just football."
The Bengals knew what he could on the field. They couldn't block him when he was with Cleveland. In eight games against Cincinnati, Ogunjobi slid up and down the line for 30 tackles, 1.5 sacks and four quarterback hits.
"He was a good player in Cleveland. He's a great player now," said Bengals center Trey Hopkins. "He has a good balance of power and speed. He's got quickness and that makes him hard to block. Normally you're worried about the big, heavy guys leaning on you getting inside. But he not only can get off the ball, he's quick enough to get around you. He can do both."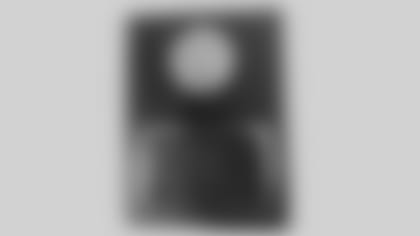 No longer the big, heavy kid, he's been a huge factor up front in controlling the run. It's not all him. There is Reader and Josh Tupou and B.J. Hill in the tackle rotation and Hubbard, Trey Hendrickson and Cam Sample have been stout on the edge.
But Ogunjobi has given them athleticism in the interior they haven't had since future Hall-of-Famer Geno Atkins. A line that in the previous three seasons has allowed the most rushing yards in the NFL is ranked seventh this season against the run.
And here come the Browns, of course, ranked number one running the ball.
"I don't think he sees it as a revenge game," Boykin says. "He's not wired that way. It's always in the back of your mind, but he's not the kind of guy that is going to get emotional about that."
Besides, he's already got his revenge.
The rest is the kid who used to be fat proving it another day as part of the plan.
Mercy Ogunjobi is going to watch Sunday and there may be a moment she'll think back to that freshman year.
"I always think back and thank God for everything," she says. "It's a miracle."