On her 29th birthday, the cord wrapped around the neck of Loyetta Collins' baby so tightly that she sensed the doctor was just as scared. When the baby turns 29 next month the day before the Bengals open training camp, she'll still be amazed by the birthday gift but not all that surprised her son is one of the biggest, shiniest new pieces on one of the NFL's best teams.
 "I looked at that cord and said, 'Son, you were born with a purpose on your mind,''' says Loyetta Collins. "The devil tried to kill you before you came out of the womb, but God took you … He didn't even turn blue."
She needed the right name and like she usually does, she went to the Bible. She is Old Testament all the way, a Louisiana lady who once drove a one-ton hauler to feed her family and wears bold hats to church and to the stores with matching masks.  She came up with La'el, Hebrew for "belonging to God," and on this Father's Day Sunday nearly 29 years later La'el Collins is still thanking her because she was both back in the neighborhood they called Cocaine City before he moved her to the other side of Baton Rouge a few Christmases ago.
"The head and the tail. She pulled both ends of the house," La'el Collins says. "She had five kids and did it all by herself. She never complained.  It never seemed to be too much for her. It was a constant grind each and every day for her."
Like the decision to move from basketball to football all those years ago just before he got to Redemptorist  High School, mother and son talked back in March.
La'el Collins, regarded as one of the best right tackles in the game during much of his seven years in Dallas, had been released by the Cowboys after two seasons marked by injury and a contested league suspension and this young, talented team in Cincinnati offered a new lease.
"I told him you need to go to God to make sure that's where he wants you and once you have that talk, if he says OK, then go with it," Loyetta Collins says. "If you feel it in your heart, I'm all for it. I want my son to be happy and fulfill his dream. My son wants a ring. He wants a Super Bowl ring. And I pray to God this is their year."
There's the purpose from that long ago July. Her son thinks the ring is here.
He's one of the newest Bengals but he is no stranger. Bengals offensive line coach, Frank Pollack is one of the most influential coaches he's ever had going all the way back to his rookie year in Dallas when he came into his own on that remarkable play he pancaked not one but two Pro Bowlers in Seattle's Bobby Wagner and Earl Thomas and Pollack swears by that chemistry-changing ferocious leadership.
Wille Anderson, the Bengals franchise right tackle, is a mentor. Paul Alexander, who coached Anderson in Cincinnati and Collins in Dallas, has immense regard for not only Collins' talent but his passionate, violent approach in both practice and games.
So meet Loyetta Collins and her Old-New Testament. "Spare the road and spoil the child."
"Zero tolerance," La'el Collins says.
It was in middle school, the days he remembers standing at a bus stop and watching a SWAT team sweep through. Once, he remembers going to his grandfather's house fearing his mother would use the rod. He advised La'el to grab the belt the next time and when he tried, her stare froze him and he ran out of the house.
"She told me, 'You have to come back,' and when I did she told my grandfather to take me for a few days because he told me to grab the belt," La'el Collins says.
Loyetta: "When he graduated eighth grade, we were standing shoulder to shoulder. I was always taught, 'Spare the rod, spoil the child.' … You're going to respect your parent. You're going to respect the position of authority that God gave me. I love you. I'll do anything in the world. But don't cross those lines. He got out of line a few times, but not too often because I didn't spare the rod."
They're not sure exactly how many jobs she worked. She did a few of them at the same time. Everything from driving Dominoes to being a prison guard and in between from working security at a casino to hauling whatever she could in the shift-stick truck
"For a while," says La'el Collins, who can still see the truck picking him up after school, "it was our only transportation."
Loyetta kept her kids busy. In second grade, La'el was in Boy Scouts learning to fish in what has become a life-long passion and she joins him sometimes on the lake at his Dallas home. In third grade a cousin convinced him to go out for football and with the weight limits he had an X on the back of his helmet so he couldn't touch the ball. Not long after that, Loyetta had him in the church choir.
"It's not where you live but how you live," Loyetta Collins says. "I prayed to God to help me raise them because the world we're living in is very cruel. There's some good out here, but you see so much bad than you do good, so with the help of God and the saints praying and with people in our lives that helped keep them on track, God made it work for us.
"You have to fight or they'll bury you … If they see your weakness, they'll wear you down. I tell them, if you're weak, you're beat. You have to go put on your big boy drawers and put on your big girl drawers and you have to press forward. Don't look back. God will bring you through."
Two years ago, God kept Loyetta, too. She went in for her annual checkup and they discovered blockages in her heart and she didn't leave until she underwent a quadruple bypass. Since then, she's had COVID twice after mystified doctors told her she'd pass if she caught the virus.
Collins kids his mother that her masks are now as much for fashion as for her underlying condition.
"I've had it twice and it's not nice," she says. "I'm wearing a mask until God releases me and he hasn't released me yet."
There's too much to do. She may not be working now, but she has ten grandchildren to visit as well as keeping up the new house and going to enough places to wear her 50 or so hats. La'el has two of those kids with Linda Brenner, five-year-old Lillie and three-year-old Luke. Loyetta loves to fish, too, and tolerates catfish and bass but prefers the brim and sac-a-lait.
There have been plenty of changes for both in the last two years. With Loyetta admonishing never to tarnish God's handiwork, La'el didn't get a tattoo until last year. He called on his roots after a nightmarish 2020 that not only included COVID and his mother's heart issues, but his hip surgery that erased his entire season.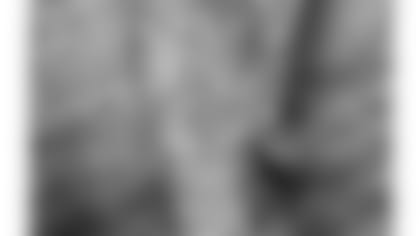 He takes you on a tattoo tour of a leg that starts with the year of that memorable birth. 1993.
"I was just kind of sitting around. I had always wanted one, but I didn't know what I wanted to get," Collins says. "It kind of made sense since football meant so much to me, I just wanted to get kind of a collage of where I started. The bottom of the leg is the year I was born. On this side is my little league team. The Rams. And this is my high school team. This is our high school logo … we were the Wolves so I put a wolf right here. Going to Dallas, there's (the Cowboys' stadium) and the star."
He pauses at the calf. The most recent addition.
A huge tiger head, the biggest item in the collection.
"I was always kind of wondering what I was going to put there," Collins says. 'I signed here. Perfect."
There's also a clue to what he hopes is next in the small letters "MLM." It stands for his record label, "Major League Music," a venture that currently has two artists and one he hopes to expand after finding a studio in Cincinnati.
"All kinds of music," Collins says. "Hip Hop. R and B. Rap. Gospel. Doesn't matter."
To him, versatility means more than speed in pass pro and power in the run game. He's invested in a recent movie starring Tyrese Gibson and Harvey Keitel, "Hard Matter," and spent a day on the set in Biloxi, Miss. And, he's running a trucking company in Dallas with his brother, Collins Brothers Line Haul.
You can see Loyetta's hand all over the stick shift.
"It's important to me to diversify," Collins says. "Seeing how my mom just straight out worked at everything and just grinding, that showed me there's more than one way to make a living. Once I got the opportunity to be in position to extend my portfolio, I want to be able to take advantage of that."
If you want to know what kind of player the Bengals are getting in Collins, just go to the mother on Father's Day.
"I asked him a question one day. I said, 'La'el, are you a dirty player?'" Loyetta recalls. "He said, 'No, mom. I'm not a dirty player. I'm just a tough player. I'm an effective player. I play hard. I grind.' "He said, 'They've got some wicked dudes out there and they'll do anything to hurt you. Cripple you to take you off the field. I don't play like that. I just play the game the way it's supposed to be played.'
"I said, 'OK, thank you.'"
She is looking forward to seeing him play for his new team. But she's unsure because of COVID and her heart just how many games she can get to.
"I got the suite for you Momma," Collins reminds her of his tickets at Paul Brown Stadium. "So you're going to be good."
On either Mother's or Father's Day.