In Week 9, the Bengals host the Cleveland Browns in the annual "Battle of Ohio" on Sunday at 1 p.m. from Paul Brown Stadium. Here is everything fans who are attending the game need to know.
GAMEDAY INFORMATION
Kickoff: 1 p.m.
Gates open at 11:30 a.m.
Jungle Zone: DJ Dream
Ruler of The Jungle: Chad Johnson
Honor Guard: Wright Patterson Air Force Base
National Anthem: Christin Foley and the Air Force Band of Flight
Theme Of The Game: Salute To Service
Game Sponsor: TriHealth
Parking: Lots 1, A, B, D, E & Hilltop open at 9 a.m.; fans can purchase a parking pass ahead of time.
Fifth Third Bank will make gameday a Fifth Third better® with early access at Gate E 30 minutes prior to regular admission when you show your Bengals Debit Card and game ticket.
RULER OF THE JUNGLE
The "Ruler of The Jungle" leads fans in the signature Who Dey chant right before kickoff to get the crowd roaring. The Ruler of The Jungle for Sunday's game will be Bengals legend Chad Johnson.
Johnson is one of the Bengals all-time greats. He was a six-time Pro Bowler and the Bengals career leader in receptions (751), receiving yards (10,783) and receiving touchdowns (66).
JUNGLE ZONE
Jungle Zone is located on the expansive lawn of Andrew J. Brady ICON Music Center. Jungle Zone opens two hours prior to kickoff and features food, drinks, music and games for all ages.
MOBILE TICKETING
The Bengals are fully mobile. Mobile tickets are easier to manage and enable contact-free entry. Fans can access their tickets by downloading the Official Bengals App, which is available for free via the App Store for iPhone users and the Google Play Store for Android users. Instructions on how to access, transfer and scan mobile tickets can be found at bengals.com/tickets/mobileticket.
CLEAR BAG POLICY
Fans are encouraged not to bring bags to Paul Brown Stadium. The only bags permitted under the NFL Clear Bag Policy are clear plastic bags (smaller than 12" x 6" x 12") and small clutch purses (smaller than 6.5" x 4.5"). Clear bags are available at the Bengals Pro Shop. For more information, visit bengals.com/stadium/bagpolicy.
CASHLESS PAYMENTS
Paul Brown Stadium is now cashless. The entire stadium is cashless, including all concession stands and retail locations. Visitors can expect to exclusively use a credit card, debit card or mobile payment for all purchases in the facility. Fans can transfer cash to a universally accepted debit card for no fee at cash-to-card kiosks located in the stadium. There are two locations: one on the north side of the stadium by Gate B (Sections 120/122) and one on the south side of the stadium by Gate E (Sections 148/149).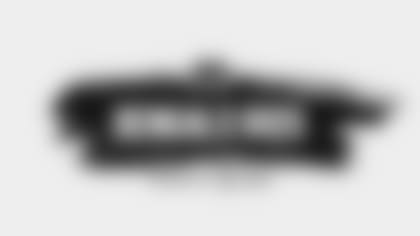 Bengals Bids
Through its integrated auction platform, Bengals Bids offers exclusive experiences, one-of-a-kind memorabilia, and VIP hospitality to Bengals fans everywhere. Start bidding today!
BENGALS BIDS
Through its integrated auction platform, Bengals Bids offers exclusive experiences, one-of-a-kind memorabilia, and VIP hospitality to Bengals fans everywhere on gameday. Bengals Bids provides fans the opportunity to purchase game-used items in real-time. Start bidding at bengals.com/bids.
BENGALS PICKS
Play Bengals Picks every week for a chance to win prizes. Predict individual and team outcomes and compete against other Bengals fans for a chance to take home the prize, and the bragging rights. Visit bengals.com/fans/free-to-play to enter for your chance to win.
SMOKING POLICY
Paul Brown Stadium is a smoke-free facility. This includes cigarettes, cigars, e-cigarettes, and any devices that emit smoke. Non-smoking areas include all concourses, bathrooms, seating areas, and stairwells. Fans will be allowed to smoke outside the major exits (gates in A, C, D, E) in a gated area. You will not be exiting the actual stadium so you will not require a ticket, stamp, or pass for re-entry. Please exit the gates into the gated area that states "Smoking Exit."