The knee-jerk reaction from the Bengals' 25-23 preseason loss to the Giants at Paul Brown Stadium Thursday night is that their most scrutinized ACL surgeries have to be pronounced a success after pass rusher Carl Lawson operated on Giants No. 1 left tackle Nate Solder and rooking running back Rodney Anderson left the Giants middle in stitches on four catches for 51 yards during their season debuts.
"I've never thought about my knee. It is what it is," said Lawson, the third year end who got hurt last season on a play that got blown dead as he blew out a knee that made him one of the NFL's top young rushers with 8.5 rookie sacks. "You don't tear your knee on getting hit by somebody. It just happens. It's one of those freak things. I've never thought about it ever."
Speaking of freak, Anderson, who may have been a first-round draft pick out of Oklahoma if not for three season-ending injuries at Norman, was just relieved to get out there a year after he went down in the second game of the season. Knee (2018). Neck (2016). Leg (2015). It didn't matter. He was just glad to be playing in his first NFL game.
"I wasn't thinking about the knee too much. I had a lot hard work. I was just trying to get back from that and not worried about that," Anderson said. "I've been through so much. It's just really special to finally get out there."
The 6-0, 224-pound Anderson, who bolts out of an NFL specifications manual for running backs, wasted no time showing why getting him in the sixth round may one day be the Tom Brady pick of the teens. On his first NFL touch, Anderson scraped Andy Dalton's pass off the turf with his fingertips and flummoxed linebacker Lorenzo Carter with a shake for 12 yards. And nothing gingerly.
"For him to get the action he got today and make the plays he did were huge," Dalton said. "It shows the potential for what we have in the running back room. We have a good group of guys."
Head coach Zac Taylor, a Norman native, was more than a curious bystander to Sooners Nation. He already had confidence in That First Cut.
"He's gotten so much work on it that he's good with all that stuff," Taylor said. "But it's his first live action in the NFL. He gets the chance to make a couple of guys miss some tackles, and break some tackles. That's got to give you confidence as a runner. He's back into the form we expect him."
Once Anderson got the ball in the flat, it was like old times.
"Right before I turned to look for the ball, I kind of saw him out my peripheral vision, so I knew there was somebody there," Anderson said. "But I didn't really know what I would do until I caught it."
Which is the beauty of Anderson. He's creative AND fast. He had just seven yards on eight carries, but no one has been able to run the ball for the Bengals this preseason. They had just 29 yards on 16 carries and Anderson had the longest run for eight.
But it was his two catches from rookie quarterback Ryan Finley on the first drive of the second half that had the fans and his mates going wild. On third-and-10 he used a burst of speed to run away from the linebackers and force strong safety Sean Chandler to stop him after 17 yards. Then three plays later on first and 10, Anderson took another dump pass and submarined linebacker Nate Stupar before coming up for air and juking cornerback Henre Toliver into the depths of the sideline on an 18-yarder.
It was so contagious the plays influenced Taylor, the play-caller, not Taylor, the head coach.
"He was getting in the groove there with some of those check-downs on that drive. He was really moving the ball. Normally, we'd kick a field goal in that situation, but he was rolling so we wanted to keep giving him some touches," Taylor said. "We were planning on converting that fourth down, and keep feeding him the rock a little bit.
"He's a tough runner who's hard to take down on first contact. So those are the things that show when he got put out in space, one on one with somebody — good luck to you, especially if you're a skill guy on defense. Those are the things he showed on his college tape, and he proved it today. It was hard for us to get a feel for it, because he hasn't had many padded practices. These are the traits we expected to see from Rodney, and he showed some of that today."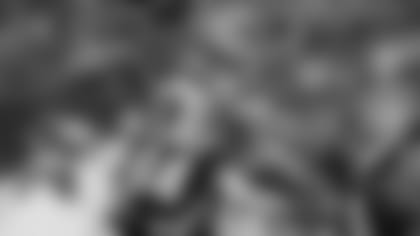 The most excited, of course, was his Sooners soulmate, No. 1 back Joe Mixon, given the night off as Taylor flashed some Sean McVay and showed some pre-season deference to his bell cow. As always, Mixon was right there when Anderson came to the sidelines.
"He's been in my ear ever since I got here," Anderson said. "He's kept me motivated, saying positive things. He'll tell me when I do something wrong. He'll say, 'This is how we need to fix it.' He's been great. Same old Joe. He's just excited for me."
Same old Carl. Giving estimable left tackle fits. How's this for a two-play sequence in the middle of the second quarter? Lawson shot past Solder straight into the back of Giants rookie quarterback Daniel Jones, sending the ball flying on a sack strip recovered by the Giants. On the next snap, third-and-16, Lawson jacked Solder back near Jones and nearly had another sack, but Jones got rid of a 27-yard bomb an instant before. Bengals radio analyst Dave Lapham thought Solder might have got away with a hold.
"That's a secret we were waiting to unleash," Taylor said. "But, yeah, he's looked really healthy. He thinks it's the best he's felt in a long time. It's really good to have him back on the field."
That's because no one has come close to blocking Lawson in training camp.
"Just being able to get out there on the first play. I think that's my favorite play of the day," Lawson said. "Finally get out there with my teammates I got a snap in. I was all smiles. I came off and I said to Glas, 'Hey, I got my snap in.' I was excited about that."
"Glas," is defensive tackle Ryan Glasgow, Lawson's partner in grueling ACL rehab who came up with three tackles himself in the first half. But it wasn't a night for numbers.
"To be out there with Glas, my guy, my rehab partner. 'Hey, we made it,'" Lawson said. "That was a good moment."
Lawson says hes' got three elite moves after working on his speed this offseason. Check out that fourth-and-four. It was a Jones incompletion and as Giants left guard Will Hernandez had to hold perennial Pro Bowl tackle Geno Atkins. On the same play, Lawson again tortured older with a bull rush that made Jones get rid of it He may have used all three on that one.
"Elite moves, I have three ... you've got to defend all three. So now, I'll just keep working," Lawson said. "I've got an inside move, a power move and now I've got a speed move.
"I want to be faster than anybody else, stronger than anybody else," said Lawson, who has been trying to tell people all camp he's stronger and faster than last year. "How can I be wow on every play?"
That's exactly how Lawson and Anderson have started their comeback seasons.