Ken Anderson, the NFL's first 70-percent passer in the Super Bowl Era while becoming the Bengals all-time leading passer, has a history of being accurate and he believes he's on the mark when it comes to LSU quarterback Joe Burrow.
"I think he's the No. 1 pick in the draft," said Anderson Tuesday, preparing for his duties as the grand marshal for Cincinnati's St. Patrick's Day parade on Saturday.
This is how good Anderson was. A good 34 years after he threw the last pass of a career that included his rare four NFL passing titles, he's still leading parades in the town he helped bring a Super Bowl berth.
But while Anderson holds the franchise record for most seasons with 16, he actually coached quarterbacks in the NFL longer than that during 17 years with the Bengals, Jaguars and Steelers.
Under his tutelage, Jeff Blake went from the waiver wire to Waikiki in the 1995 Pro Bowl, Byron Leftwich had his best season as a starter and future Hall-of-Famer Ben Roethlisberger won a Super Bowl.
And he likes the looks of Burrow even though he hasn't been taking notes.
"He had an amazing season," Anderson said. "I haven't watched every game like the coaching staff has done. My first thing is you're always skeptical of a guy that's basically done it for one year, but every game I saw he never had an off game. He was extremely accurate. He made big plays. On the run. High back-shoulder throws. You saw the guy make NFL throws."
Anderson is the best quarterback not in the Hall of Fame largely because he's the only man to win back-to-back passing titles in two different decades when he did it in 1974-75 and 1981-82. He did it with two very different teams, reminding you he wasn't a very good quarterback when they went 8-24 in 1978-79, but "a pretty good quarterback," when they had the pieces around him. The conventional wisdom is this Bengals' makeover, which begins next week in what figures to be an active free agency, starts with Burrow.
He knows how a team has to plan to help a young quarterback because he lived it: "Just taking a quarterback and nothing else gets better, nothing is going to change."
As expected, the guy who retired as the NFL's all-time completion percentage leader for a season, a post-season career and a regular-season game with more than 20 attempts, lists Burrow's 80ish percentage passing as his top trait.
"His accuracy both from the pocket and on the move," Anderson said. "It looks like he's got great composure. He doesn't get flustered. He looks like he's a pretty confident guy without being cocky, but he's confident."
Anderson reminds you he's "just looking from afar and haven't studied him one bit," but he saw few flaws.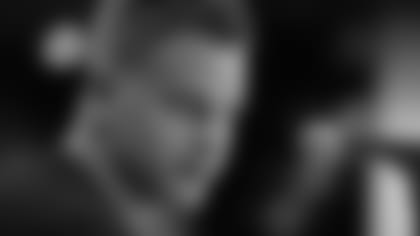 "He's accurate. From what I read and hear, he may not have the strongest arm in the world," Anderson said. "The games I saw, I never saw a throw he couldn't make."
  Anderson, 71, a third-round pick 49 years ago, came out of Batavia, Ill., and found the familiar Midwest surroundings comfortable enough to raise his family here and since he's still in parades around these parts, the feeling has been quite mutual. He thinks it would be a good fit with Burrow.
"He's an Ohio kid," Anderson said. "He seems like a good guy. He seems like he says the right things. The only negative thing he said about Cincinnati is he didn't like (the) chili. We can work on that."
As for Anderson, "I'm a big cheese coney guy. That's my go to."
He also likes the guy looming as the next franchise item.
"I think that would be a good pick for us," he said.