CANTON, Ohio _ Ken Riley II always said he'd never come here until his father was inducted into the Pro Football Hall of Fame and after he gazed at his dad's bust during Saturday's "Rattler-Fest," he turned to the crowd and thanked all the people he brought with him on a sun-swept noon crowd at Tom Benson Stadium.
He thanked the men who drafted Ken Riley in the sixth round. Paul Brown and Mike Brown, the owners of the 1969 Bengals. His teammates, many who were in the seats in the Riley section to the right of the stage. Ken Anderson, himself a Hall of Fame senior finalist. Isaac Curtis. Louis Breeden. Reggie Williams. Leapin' Lemar Parrish. His fellow Hall-of-Famers Mel Blount and James Lofton, who sat behind him with the other 100 Gold Jackets after pushing Riley's well overdue candidacy. The late Forrest Gregg, Riley's Super Bowl head coach in Cincinnati who lured him to Green Bay as his secondary coach.
And, wearing a Bengals orange tie and kerchief, Riley added, "To the fans, all of the Who-Dey Nation," said Riley and the roar told you Anthony Munoz finally had a teammate in the bust room on the 25th anniversary of his induction.
Fans like Corey Malice, one of the first fans in the building Saturday. He wore a Bengals Ring of Honor jersey with "Riley," stitched on the back above the number. 13. And he looked remarkably fresh for a guy who pulled into a parking lot at 12:30 a.m. after a seven-hour drive from Chicago and took a nap.
"Been a Bengals fan since I was nine. That just happened to be the year of the (1981) Super Bowl," Malice said. "I didn't get to see him much, but 65 interceptions. A team leader. Somebody who was drafted as a quarterback and became a cornerback. That's pretty cool. That I read off my football card as a kid. Paul Brown knew who to draft."
Bengals founder Paul Brown, the man who switched Riley from quarterback to cornerback in a Hall of Fame move by a Hall of Fame coach, died 32 years ago to the day Saturday. But his family was in the Riley section, still the spine of the Bengals, granddaughter Katie Blackburn and her husband Troy Blackburn. Grandson Paul Brown. Great Granddaughters Elizabeth and Caroline Blackburn.
They all saw the bronze Riley wearing the Fu Manchu he sported for many of his iconic 65 interceptions, the most for a cornerback for one team. By the time he had completed his 15th and final season with the Bengals, he had played a club record-207 games with such a cerebral grace, his teammates now say he taught them the game.
As former Bengals cornerback Ray Griffin sat in the Riley section waiting for Saturday's induction, made sure it was heard above the buzz.
"Kenny Riley," Griffin said. "Taught me and Louis Breeden how to play cornerback."
Griffin had to be one of at least 40 teammates that made the trip. No surprise to Curtis, the game-changing receiver and Riley's fellow Bengals Ring of Honor member. NBC-TV's Cris Collinsworth, Curtis' tag-team partner on the Bengals' first Super Bowl team, has been telling people all week up here how Riley gave him advice after every route in practice that rookie year. But Riley was doing that to Curtis a decade before.
"Hey, Rook," Curtis recalled in the Canton sunshine. "He saw I was lining up in a three-point stance with my head down. So he would tap me on the helmet. 'Head up, Rook Head up.' That's the kind of guy he was. Team guy. That's why you're going to see a lot of guys here. It's a little bittersweet. But he's looking down and he sees us."
Curtis came from California. Tight end Rodney Holman, who played with him just two years, came from Louisiana.
"Senior statesman. Very highly respected," Holman said. "He'd see a veteran riding a rookie and he'd tell them to cut it out. Everybody listened to him."
Leapin' Lemar roomed with Ken Riley for eight years and he came from Atlanta. He may be the biggest reason Riley never made a Pro Bowl. While both men dominated the Bengals corner in the '70s, Parrish, the flashy punt returner, went to six Pro Bowls. But they remained roommates, the NFL's version of "The Odd Couple."
"I was kind of flamboyant. He was laid back," Parrish said. "But we always respected each other. There was always nothing but love. We were perfect for each other."
Riley II and his family struck the perfect chord Saturday as they honored a quiet but influential man. In a video presentation, mom and widow Barbara fought back tears. After losing her husband three years ago, Saturday was both joyous and heartbreak.
"He left all his sweat and energy in every game. He put his best foot forward and now we're so proud of him. So proud of him," she said, letting the tears come. "I wish he could have been here for himself to complete his circle, but he's here now."
The son delivered the speech the father would have. Understated, but from the heart with God, family, and education at the forefront. He recalled the sacrifice of his dad playing in Cincinnati while the three children (Kim, Kenisha, and Kenny) went to school and Barbara taught school back home in Bartow, Fla. Then he remembered how the man nicknamed "The Rattler," in honor of his dominating career as a quarterback for the Florida A&M Rattlers, sacrificed again.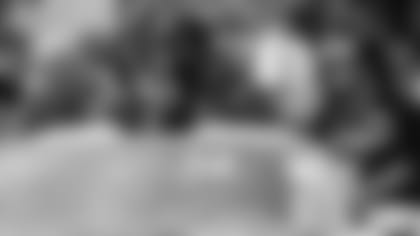 "He had a budding NFL coaching career, but took a job at his alma mater," Riley said of the move to A&M head coach. "He did that because he loved the school, but also because he thought we would be happy back in Florida instead of Green Bay … Once he was at FAMU, he got calls from SMU, Georgia Tech and others, but he didn't leave. It was important to him that we all finished our education. And thanks to his and my mother's guidance, we all graduated with college degrees. My sister Kim has a doctorate in pharmacy. And she's been a pharmacist for 20 years. My younger sister Keshia has a bachelor's in physical therapy and master's in public health. His four grandsons. I hope that we're making him proud."
He saved the best for last. And for his mother.
"My dad always said marrying Barbara Candy Moore was the best decision he ever made. And he was right," Riley said. "She's the rock of our family. Mom, I know it's hard to see the fruition you and dad worked for and him not being with you today. But all the love that everyone here is feeling for him, that's for you, too, because of the way you supported him and held him strong for 51 plus years."
The son brought a lot of people with him on the day the Hall opened the doors for his dad.
"It's been a long time coming," the son said. "But, dad, you made it."