It has been more than a good 15 years since Dave Lapham and his buddy Rob Hunt beamed down on us from the billboard on the interstate to pump the efforts of the Down Syndrome Association of Greater Cincinnati and that long-ago sign must have done its job because there they were this week at another successful golf tournament.
As usual, the gracious spokesperson, Lapham, the most popular Bengals voice of all-time, is glad-handing his way around the Maketewah Golf Course tucked behind Reading Road.
Also as usual at this event, Hunt, now 25 and no longer a Cincinnati schoolboy or the legendary Turpin basketball manager who made an unforgettable basket on Senior Night, is volunteering.
"Hey Rob, you got the day off, huh?" Lapham asks.
Hunt, wearing Bengals Super Bowl socks, looks up from the money box and nods. Asked what he does at Huntington Bank, Hunt says, "I enter data."
He's giving us plenty of it on this last day of spring to prove Cincinnati is one of those special places. For the fourth year those iconic Bengals road roommates, Lapham and Ken Anderson, have teamed up to raise money for their passions in the Dave Lapham & Ken Anderson Charitable Golf Outing.
Lapham has been DSAGC's point man for their signature event for 21 years, ever since Montgomery Inn's Tom Gregory heard the fundraiser would no longer be the Gus Bell Memorial and that the tournament would be gone without a celebrity spokesman. Gregory, who first met Lapham that rookie year of 1974, instantly thought of him.
"He's one of the finest human beings I ever met and I dearly love him," Gregory says. "He said, 'Hell yes.' It's not just name recognition. He sells it. He works it. He sells advertising."
Gregory started volunteering with Down syndrome kids when he was about Rob Hunt's age. That first day he didn't know what to expect when ten kids started coming toward him.
"I got ten hugs," says Gregory, who knew Lapham would be perfect.
"I'm not going to name names," Gregory says. "We've had a lot of people come in the restaurants, but you'd see kids and people come up to Dave and he's always great with them."
About a football field away from Rob Hunt's tent, Anderson, one of those rare NFL MVPs who doubles as an NFL Man of the Year, is nursing a beer under another tent. He can't play because he's in the last couple of weeks of recovering from back surgery. But that doesn't stop him from pushing his tireless Ken Anderson Alliance that raises money and awareness for autistic adults.
"I give Kenny a lot of credit," says Kevin Potts, the executive director of KAA. "He's been here helping us set up. He's not just a distant player. He's on calls with us every week."
It's been 35 years ago this month Anderson announced his retirement as one of the top quarterbacks of his era and yet he can still sell out both a morning and afternoon flight of charity golf. Lapham is headed into his 37th season as the Bengals radio analyst who translates razor analysis with the easy familiarity of a favorite uncle and yet the parking overwhelms Maketewah and spills into Reading Road.
"That's nice," Anderson says, "but I think it's more an appreciation of both groups and people who want to help out."
Both Lapham and Anderson take enormous pride in it being a people's tournament and not a celebrity soiree.
People like Steve Hunt, Rob's father, who has been devoted to his youngest of four sons since the day he decided early on he would raise him like his brothers. People like Rob's brothers. Tim, Bill and James. Two of them are playing today and treat him like kid brothers get treated and always making sure he's included.
Rob's mother Colleen is also playing, as is Steve's buddy who drove down from Cleveland, playing and donating for 15 years, as well as local banks that are clients of Steve's underwriting real estate business.
Family. Neighbors. Friends. Cincinnati.
People like Rob Hunt and the three guys that take tee shots with each group at the 153-yard, par 3 18th tee. On this day they are Will Abel, ten days shy of turning 18, and two guys pushing 30 in Peter Merz and Ben Toennis.
Toennis works at Just Brew, a coffee shop run by the Anderson Alliance that employs 14 intellectually disabled adults. Merz, a diehard University of Cincinnati fan who works at Clifton's Mick and Mack's sandwich shop, shows you the bronze medal he won at USA Tennis last week in Orlando.
The golfers get their pictures with those three celebs.
"When Dave Lapham and his group were playing the hole next to us, he looked up when he saw the kids hitting," says Bob Merz, Pete's dad. "And he had this big smile on his face. To me, that's what it's about."
Jim Hudson, the executive director of DSAGC, brainstormed the golf merger with the Anderson Alliance and he figures in the last four years the tourney has raised a remarkable $800,000, making it one of the top golf fundraisers in the city.
Money that Bob Merz says is priceless when he looks back at how Pete became a pioneer of sorts at Oak Hills High School.
"(DSAGC) had people that helped us prepare for those meetings to get him mainstreamed," Bob Merz says. "When he took tests, the teacher said he can't pass all the tests. We said all he has to do is learn 10 things per test. Just give us ten things and he studied those ten things, whether it was history or whatever, and he passed and the teacher was on board. 'This does work.'
"He's high functioning, but we could build on what he knew and make him higher functioning. The fundraising they do, it's so huge because it provides those kinds of resources."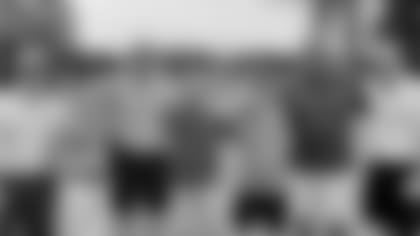 Celebrities like Bob Merz. Some of them couldn't make it. Like Drew Cummins, the 31-year-old autistic godson and nephew of Anderson's wife Cristy and the driving force behind KAA. The Andersons' goal is building an independent living facility for developmentally disabled adults and Kevin Potts has lived the problem.
Potts' Uncle Tommy, who had Down syndrome, helped raise him, and he recently died at 62, outliving his caregivers. With life spans expanding, it's a problem the Andersons and the Hunts and the Merzes are all confronting head on.
"The thing is," Kenny Anderson says, "we all get choices of where we would like to live. And we think these adults with disabilities should have options as well … just giving them a choice where they want to live … some place where he can get out and walk to a community center where he can do some things and have friends that are around."
On one of those days that makes Cincinnati so special, Anderson is thinking about other Bengals teammates who are giving back. There is the monstrous footprint of teammate Anthony Munoz' s foundation. David Fulcher has a tournament in a few weeks. Isaac Curtis and Louis Breeden haven't had their classic in years, but it was so successful they are still giving money to local groups.
"And the present day players do a great job," Anderson says. "I was just at one with Sam Hubbard and the stuff Joe Burrow is doing."
One celebrity did make the event.
The head coach of the AFC champions. Zac Taylor's sister Kathryn, born 22 months after him in 1985 with Down syndrome, is the winner of countless Special Olympic swimming medals and dance titles back in Norman, Okla. Not only does he play today (he partners up with Lapham and Hudson and Potts, the two directors), but last week he spoke at the sponsors dinner and the night before that he dropped into Just Brew. Kathryn Taylor also works at a coffee shop these days.
"Ben works over at Just Brew," Taylor is told on the 18th tee as everyone says hello.
"Oh yeah? I was over there the other day," Taylor tells Ben. "When was there, I met Max and Rachel. Do you know them?"
Meanwhile, Lapham is eyeing Pete Merz's UC gear.
"They had a great year. Do you like the Bengals, Pete?" and Merz says he does. Lapham tells him. "That's the coach of the Bengals. Meet Zac Taylor."
"The way he made an effort to get out to these things," Anderson says. "It really says a lot about Zac."
It certainly says plenty about the old roomies. There has to be a story. Lapham knew which one Anderson would tell.
"We get into Pontiac for the Super Bowl," says Anderson of 1982. "I've just won the MVP. I say, 'Lap,' we're going to get one of the best rooms.' We get in the room and there's nothing. I say, 'Lap, we've got a suite."
Lapham is asked about a roommate story and he says, "It has to be the Super Bowl story. We get in the room and there's just a pull-out bed."
"We opened the doors in the room and they were locked," Anderson says. "This double bed comes out of the wall. I tell him, 'Lap, I like you, but we're not sleeping in that bed."
"We went back downstairs," Lapham says, "and I think we ended up with a pretty good room."
Same room. Same page. Same heart.
"Hey Rob," Lapham says. "Those socks are sharp."