T.J. Houshmandzadeh, who played smart and gritty like Tyler Boyd and had big numbers over the long haul like Cris Collinsworth, had a Hall-of-Fame mentality.
So when he took maybe the fastest Bengals receiver of them all under his wing this past spring and summer out in their native California in mega seven-on-sevens, he would always tell John Ross, "You're the prettiest girl in the club, Ross. You have great talent. You need to believe you have the great talent. He needs to believe he's the prettiest girl in the club. Because your mentality sometimes means more than your talent.
"If I had Ross' talent," Houshmandzadeh says, "I would have been the best receiver ever."
So on Sunday afternoon when Ross returned to the Paul Brown Stadium practice fields after a week hiatus in California, Houshmandzadeh is glad to hear Ross sound like he has been looking in the mirror.
"Mentally, I feel like it's the most confident I've ever been," Ross told the media Zoomer Sunday. "I think that was kind of the biggest thing with me. When I was thinking about all the things that really didn't have anything to do with what I should be doing for four quarters. I think that's the biggest thing for me is just having my confidence back and understanding how talented I actually am and believing in myself."
Ross is coming off an exhausting week. He had been called home in the middle of what was turning into his best Bengals training camp with one of those phone calls that makes your mouth go dry. His three-year-old son and the baby's mother had tested positive for Covid.
It's the kind of call that makes you drop everything and just leave. He almost did without telling the coaches when he thought, "Not professional," but he would go no matter what and everyone was all in, anyway.
""I love my son and I would do anything for my son, no matter what the case may be," Ross said.
It was the latest twist in the star-crossed career of the man who has run the fastest 40-yard dash in the history of the NFL scouting combine but has been unable to get a footing in the league because of injuries. During his three seasons he has played barely 1,000 snaps.
"That all goes out the window when it comes to my son, my family, anything that's important to me," Ross said. "Don't get me wrong, my job is very important to me, but I feel like my job is always going to be here. The most important thing for me was to make sure my family was right and then I was going to come back and be that same guy on how I left off. It's all in my head. It's all in how hard I work and how well I prepare myself. Right now I'm ready to get back to where I am. I ran routes today. I felt like I looked good. I felt good. I think I'm going to progress really well. We got a lot of time still."
For what Houshmandzadeh has been able to see, Ross is committed to both his family and his job. He saw Ross do it all last week. There was a day or two, Houshmandzadeh said, where Ross made sure things were OK at home and he was on the field with him at 8 a.m., taking throws from a big-time California schoolboy quarterback and then back home to check on the family.
"John Ross didn't come out here and sit on his butt," Houshmandzadeh said.
Indeed, he was burning the classic candle at both ends.
"Once they started feeling a little bit better, I started to sneak out and I had to run at two in the morning," Ross said. "I know that sounds kind of like a lie, like a fairy tale story, but I had to do that just to stay in shape. And that's what I was going to do. There were times, like two nights, where I had to get up and wait until he goes to sleep and get up at 10:30 at night and two in the morning just to go run, just to keep myself in a little bit of shape and things like that."
Houshmandzadeh has been working with Ross ever since he came into the league and for years he has been counseling just the opposite. Sleep, rest, hydration. Because of the pandemic, this past offseason was the most they worked together. Houshmandzadeh figures about four to five times a week pretty consistently and he thinks a lot of the advice he gave Ross for his body has finally hit home.
Houshmandzadeh has been telling anyone that will listen that he believes Ross can be the AFC North version of the Chiefs' Tyreek Hill. Not only does Ross have Hill's straight line speed, but Houshmandzadeh thinks Ross' lateral quickness is hard to match around the league.
Yet, he's been on the 5-11 Ross to drop about eight pounds or so to 192 pounds. Houshmandzadeh remembers when head coach Marvin Lewis arrived at PBS in 2003 and all the 6-2 Houshmandzadeh had to show for two seasons in the NFL was about 60 catches and two hamstring pulls, Lewis looked at his 214 pounds and said he needed to lose it. That it was all about how you moved.
"I never played at more than 205 pounds after that," Houshmandzadeh said.
He not only saw Ross go from 200 to 192 (his weight on the roster is 194) during the long, cold spring, he saw him improve his overall game in the seven-on-sevens Houshmandzadeh coordinated with a patchwork collection of Pac-12 DBs, a couple of NFL quarterbacks and legions of college and NFL receivers and tight ends.
"He only had time on his hands and he worked hard," Houshmandzadeh said. "He started doing the things I recommended for him. You have to change the way you do things. If you keep getting hurt, you can't keep doing the same things. The key is to just stay healthy. If he stays healthy, he can do what nobody else on that team can do."
For instance, when Houshmandzadeh got Ross this past spring, he told him to have more purpose in the weight room. A plan. Yeah, do the yoga and squats and Pilates, Houshmandzadeh told him, but don't do them just to check a box. Find people to show you how to use them for your own body and style, he told him, and it sounds like Ross did.
"The more I take care of my body, the better I feel and I notice that," Ross said. "It's OK to take two hours out of your day to do some self-improvement. I met a lot of good people this offseason and I learned a lot of things about my body just being with a chiropractor, being with some PT guys back in California and my city in Long Beach. Now I do some of those things and they help me going forward and I feel a lot better through the days when I'm working out then I used to feel. And I'm a lot smarter. I will say that."
Houshmandzadeh and Ross know what this season means. The Bengals didn't pick up his fifth-year option available to first-rounders. Simple as that.
Houshmandzadeh, one of those rare NFL receivers to sign a third contract a decade ago, can tell him.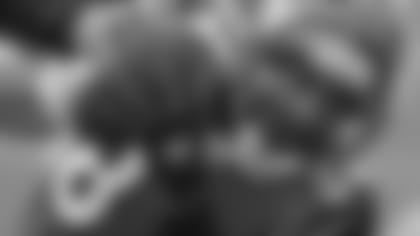 "Tyler Boyd is underrated and the way receiver salaries are going, he's got a friendly contract. He's going nowhere," Houshmandzadeh says. "They just drafted Tee Higgins high. So either A.J. or Ross aren't going to be there next year and you know they want A.J. to be there with his pedigree if he can stay healthy. But if Ross is healthy this year, he's going to give the Bengals a nice problem."
Ross is no dummy. He has moved past the option thing. He says, it wouldn't have mattered. He still has to put together a solid 2020. He flashed some of Houshmandzadeh's famous candor.
"For one, I need to play all 16 games. I need to stay healthy and I need to make plays in every single game," Ross said. "It's on me to do that. The thing about it, I wouldn't have picked up my option, either. It guarantees injury if you get hurt. I've been injured every single year. That's not a bad decision by them. And now it's on me to show them why I should be here longer. That's how I look at it."
That's how Houshmandzadeh is looking at it. In fact, he was trying to get Ross back into it as quickly as possible, but he was sticking with the family. "Maybe I was a little insensitive about it," Houshmandzadeh says. "But he came back, he supported his family, he really is genuinely a really good person."
Houshmandzadeh has seen Ross after the workouts. The high school kids come out. Ross takes a picture with them. He mentors them. He follows them on Instagram.
"You go ask any NFL player if they follow kids on social media that they just met," Houshmandzadeh says. "But Ross doesn't look at himself as better than anyone. He's a real good dude. You've been around this league forever. He's not one of these jerks that treats people badly."
One of the good guys just wants to be one of the healthy guys.
"I always think about that," said the prettiest girl in the club, "but I also think it's 100 percent on me."