KANSAS CITY, Mo. _ This is why these Bengals did what no other team did before them in franchise history with those 10 straight wins, back-to-back division titles and Sunday.
Playing in a second straight classic conference championship game.
This is why Bengals quarterback Joe Burrow, playoff warrior, one of the Mount Rushmore faces of the NFL and already franchise icon after just 49 starts, thinks Paycor Stadium is a place to be in The Jungle's Roaring '20s
"Even last year, the expectation was to always be in this game and to win it. I think we have the guys in that room, going forward, that will put us in that position, along with the front office and the coaching staff," said Burrow, after coming within a minute of becoming the first quarterback to ever win back-to-back road conference title games.
"I feel very good about the direction that were headed in. We've been in this game for two straight years. We have won one and lost one. Obviously, this one hurts but we will come back stronger."
This is why they think they can keep the magic of the last two seasons intact.
"We're building a legacy," said wide receiver Ja'Marr Chase.
Take a tour of Sunday's dejected locker room.
While Arrowhead Stadium shivered in Sunday night's 18-degre weather outside while saluting the new AFC champions, inside the old ones were still a bit stunned how it had been taken away from them.
As long and as thrilling as this season was, that's as quickly and bewildering as Sunday's game turned.
With 56 seconds left in a taut 20-20 tractor-pull, they were rolling with Burrow seemingly on the way to his third postseason game winning drive after converting one of his improbable third-and-16s on a 23-yarder to wide open tight end Hayden Hurst at the Bengals 33.
You could almost smell the cigars.
But suddenly with 30 seconds left, there were the Chiefs returning their longest punt of the season, rookie Skyy Moore's 29-yard gash. Then with eight seconds left, there was Chiefs quarterback Patrick Mahomes somehow willing a third-and-four scramble on that gimpy ankle that was giving him a limp as the game wore on.
Then on the same play there was the killing roughing-the-passer penalty on second-year edge
Joseph Ossai. With three seconds left it was suddenly gone on Harrison Butker's 45-yard field goal that would have been from at least 54 if not for the penalty.
"Put that on me, not Joseph," said defensive end Sam Hubbard of the killing the roughing-the-passer penalty. "I should have kept contain. He's an amazing player an amazing person. Nobody in this locker room blames Joseph."
"We picked a bad time to have a lack of execution," said special teams captain Michael Thomas. "I'll take the blame for that one. Situational football. Can't happen."
Even though Thomas didn't punt it or, as the personal protector he wasn't in the first wave of tacklers.
It's that kind of room. Where guys are saying things like nose tackle DJ Reader is saying.
"It means a lot to me. This is a special team," Reader said. "We've got a lot guys that are going to be great. And they understand that. We're so young. So many young guys are on this team. They're destined for great things. I just can't wait to see it."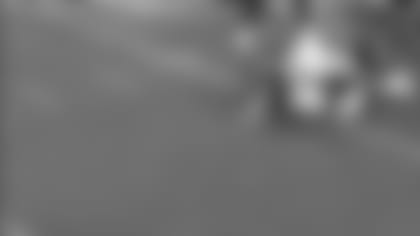 That didn't take away from the pain. Center Ted Karras and his offensive line tried to fend off the monstrous Chris Jones' big two-sack game that also included three other hits of Burrow. One of them forced an intentional grounding penalty that Karras says is the kind of play he'll think about all offseason.
One moment it was 20-20. The next it was over.
"That's the reality and we'll have to live with that," Karras said. "For the rest of our lives.
"It's a numb feeling when it's over, when you're so close to a championship. You start to think about your regrets of the game, what you could've done better. I'll think about that play at the end and I just needed to have made a faster decision."
This is why this locker room is so good.
Safety Vonn Bell, choking back tears and taking deep breaths, spoke softly about a brutal playoff loss he experienced in the New Orleans secondary all those years ago. The so-called Minneapolis Miracle. And how he hoped Ossai would grow from what happened Sunday.
"You've got to remember the feeling and attack it," Bell said. "He's playing all-out, balls-to-the-wall. You want that pursuit out of your big man. It just happened … You get a lot of experience. It's something to build on."
Bell is one of four defensive starters (safety Jessie Bates III, cornerback Eli Apple, linebacker Germaine Pratt) who go into the offseason unsigned. He doesn't know what's going to happen, but he knows the foundation has been set.
"There's a good nucleus. The players believe in one another. The coaches believe in one another. The coaches believe in the players. Everybody's on the same page," Bell said. "They're here for one reason and one reason only. It hurts. It hurts very bad. … Hats off to this group. It's special. I've never been a part of something like this."
Chase looked like he could go right out there and play again. He finished his college career in the national title game. He finished his rookie year in the NFL in the Super Bowl and now his second year in the conference title game.
"Don't ask me how I feel about losing," Chase said.
With slot receiver Tyler Boyd (thigh) shelved early on, the Chiefs doubled Chase and Tee Higgins and still, both had nice games. Each had six catches with Higgins going for 83 and Chase for 75, including a huge fourth-and-six conversion for the longest play of the night on 35 yards. But the Chiefs kept them from taking over with their relentless pressure of Burrow. And when they needed points, they came up empty on the last two drives. That devastating rushing efficiency of the AFC Divisional a week ago turned to just 13 carries from the backs and Burrow was their leading rusher with 30 yards.
It's like Reader said, "You know it's going to be a slugfest. It's what we prepared for. We threw punches. They threw punches. And they won today. They ha0d the better punch."
It was certainly not a clean game on many fronts, worthy of playoff football in the cold. But you know the refs had it rough when a pool report was needed on two plays
One for referee Ron Torbert, yes the ref in the Super Bowl, another 23-20 loss at the end, explained the intentional grounding on Burrow. It looked like running back Samaje Perinie was in the area:
"The quarterback was under duress, in danger of being sacked, and threw the ball into the ground. There was no eligible receiver in the area, and he had not gotten out of the pocket and thrown it beyond the line of scrimmage. So, that was a foul for intentional grounding."
And then the phantom third-and-nine early in the fourth quarter. The Bengals stopped Mahomes to force a punt and it was called a no-play:
"On the previous play, there was an incomplete pass. We spotted the ball, but the line judge came in and re-spotted the ball because the spot was off. We reset the play clock and the game clock started running. It should not have started running because there was an incomplete pass on the previous play.
"The field judge noticed that the game clock was running. He was coming in to shut the play down so that we could get the clock fixed but nobody heard him, and the play was run. After the play was over, he came in and we discussed that he was trying to shut the play down before the ball had been snapped. So, we reset the game clock back to where it was before that snap and replayed third down."
The Bengals weren't happy. But Burrow already has them thinking about the future. Already calculating how two fewer weeks and one less game is going to help.
"You learn from every loss just like every win," Burrow said. "We will go watch the film, make our corrections, get better and head into the offseason with an extended offseason as opposed to last year. I think we can take advantage of that and get a head start on getting our bodies the way we need to going into next year."
That's why this Bengals locker room did what none before them did.