FLORENCE, Ky. _ The Bengals start training camp a week from Thursday and the Super Team and This Team stretch into the 30-year celebration season Wednesday night during a charity softball slugfest the footballers drop to a band of Cincinnati celebrities.
The final is 19-17 and the only three points all-time leading scorer Jim Breech can give them is on the shirt on his back. The Celebrity Softball Classic is as old as that 1988 AFC title, but with a portion of the proceeds going to another Cincinnati institution, The Dragonfly Foundation that helps young cancer and bone marrow transplant patients, it is as robust as that 52-year-old ambassador of Bengaldom known as Elbert "Ickey," Woods.
Woods, the NFL's answer to Chubby Checker, remains the eternal symbol of that one-hit wonder rookie season of 1,066 yards he introduced the "Ickey Shuffle," dance craze to celebrate his 15 touchdowns. Like he says, "Everybody knows me," and he proves it at UC Medical Center Stadium greeting everyone from sick six-year-olds ("Hello sweetheart") to University of Cincinnati basketball guru Terry Nelson ("TNel!") with a sweet shrill of varying decibels.
If two-time Super Bowl linebacker Reggie Williams is the mayor of Bengaldom with that city council appointment that also turns 30 this year, then Woods has just been nominated for ambassador of Who-Dey summitry. As he sits down in the dugout he glimpses his No. 30 worn by rookie safety Jessie Bates and tenders a letter of introduction: "Hey Bates, you have to represent with that."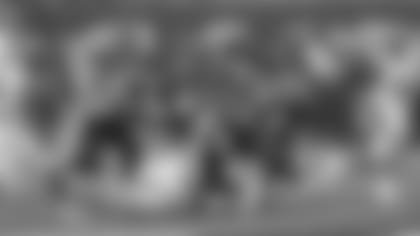 Woods and Joe Mixon need no summit. They met last season during Mixon's rookie year when he arrived in the second round just like Woods, a big and athletic back with the sky the limit. "Good kid," Woods says. "What I like about him is he runs hard … He's a punishing runner. I like that."
But Mixon isn't as big as he was. He shows up with a glove Wednesday but not the 230 pounds from last season.
Try 218. A svelte 218. It looks like he left half of his appendages in the Bay.
"I was working in that heat," says Mixon, who got it both barrels in his hometown of Oakland and his adopted home of Norman, Okla. "I feel like that's where I play my best. I was trying to get low last year but I wasn't able to make it. I feel real good. My body feels real good. I feel like I'm in really good shape."
Mixon's dad, John, a former City College safety who hurt his knee but had a tryout with the 49ers, is still in good enough shape to work out with his son daily. "He looks just like me," his kid says. They're both younger than Woods, a man that lived what the younger Mixon seeks. No Bengal has rushed in the range of 1,300-1,400 yards since Rudi Johnson averaged 1,407 yards from 2004-06.
"He can definitely be a bell cow. A 1,000-yard back. A 1,300-1,400 yard back if he has the right offensive line in front of him," Woods says. "He can average 80, 90 yards a game and be right there."
Woods knows the map. He simply followed one of the finest offensive lines ever, a group anchored by Pro Bowlers at left tackle (Anthony Munoz) and right guard (Max Montoya) and coached by a savant in Jim McNally. Woods fumed while watching Mixon struggle as a rookie behind a group in transition during what turned out to be the worst rushing season in franchise history.
With Frank Pollack replacing long-time offensive line coach Paul Alexander over the winter, Woods has been taking notes and he's not looking for them to go back to the future. He just wants them to return to 2014 and 2015, a stretch under offensive coordinator Hue Jackson that includes their last 1,000-yard rushing season in the person of rookie Jeremy Hill. It's been three straight seasons without a 1,000 bill, their longest drought since the four seasons before Corey Dillon arrived in 1997.
"People fail to realize that without an offensive line … I don't care how good of a running back he is. Without an offensive line, it's hard," Woods says. "When we had our (guy) Hue Jackson here, Hill ran the ball real well because the offensive line fired out. After Hue left, Alexander went back to that zone blocking crap and we got our butts kicked. Hopefully this new O-line coach can light a fire under those guys and open some holes out there. Jim McNally was a run-first coach. He loved to run the ball. We had our guys, Anthony Munoz, Max and Joe (Walter), guys firing out at people and not catching them."
At 6-2, 231 pounds when he did the first Shuffle, Woods is a different breed of Bengal than the 6-1 and now 218-pound Mixon. When former Cincinnati Christian College head coach David Fulcher, a natural manager, filled out his line-up card Wednesday night, James Brooks is just as natural as his lead-off hitter. He hits Woods second and Mixon third, a nice look at the diversity that has blessed Bengals backfields down through the years. Brooks went to four Pro Bowls as a 21st century matchup nightmare.
Woods catches a glimpse of Brooks in Mixon.
"He has the ability to do what James Brooks did. Run the ball well and be in there on passing downs," Woods says. "He doesn't mind putting his head down and running over somebody or running a (pass) route as well."
Like he says, everybody knows him. Especially a guy like Mixon. Even though he was born five years after Woods' last carry.
"I appreciate that coming from Ickey," Mixon says. "The Ickey Shuffle."
The kids know Super. It is Bates' turn to arrive in the second round this year coming out of Fort Wayne and Wake Forest and he has already heard bits and pieces of Fulcher's career before the three-time Pro Bowl safety bats him something like 17th on Wednesday. When the two meet, Bates is told Fulcher has 31 interceptions on him.
"And what? About 40 pounds?" Fulcher asks. "I played at about 240."
After the Bengals' center-fielder of the future shakes hands with the first nickel backer in NFL history who just happens to have the third most picks in team history, the 6-2, 200-pound Bates shakes his head.
But it's not that different of a game. Not for Woods and Mixon.
"He's going to have a much better offensive line," says the ambassador who sees good will in the trenches of the running game. "I think with a good offensive line there's no stopping the kid. I love how hard he runs the ball and I'm looking forward to seeing him play this year … He runs hard. That's what I like most about him."