It was as if he never left.
It could have been 2004. Here was Hue Jackson walking through the Bengals locker room on his way to throw some lunch into a Styrofoam tray to take back to his office when he overheard a reporter talking to left end Carlos Dunlap about the perils of defending Ravens rookie quarterback Lamar Jackson if he plays Sunday (1 p.m.-Cincinnati's Channel 12) in Baltimore.
"Leave that man alone,' which is how Jackson always used to kid the reporter when he saw him, interviewing players. Then Jackson turned his attention to Dunlap. It always comes back to the players.
"He's going to do to him what he did to RGIII. Remember that back in Washington? I haven't forgotten."
Dunlap smiled a wide one.
And that's the answer when Jackson was asked all day Wednesday just exactly what was he doing here. It kept coming back to one answer.
"Whatever Marvin needs me to do," Jackson said.
He can because he has. During that 2012 game in Washington the Bengals fended off quarterback Robert Griffin III just in time with five sacks in a 38-31 victory, Jackson was assisting the Bengals secondary and watched coordinator Mike Zimmer make the necessary adjustments during the game to quash the zone read.
The AFC North is all in-bred and that's why Hue Jackson is a chip with four division games left. There's buzz the Ravens may start Griffin or may rotate him with Lamar Jackson. Some think that's insane for a 4-5 team since Griffin hasn't taken a snap since he stared the last four games of 2016 for Cleveland. Naturally, his head coach there and offensive coordinator was Hue Jackson.
You know he's still got the notes. (Not only that, after scouting Joe Flacco in '08, he coached him for the first two seasons of his career as the Ravens quarterbacks coach.)
Head coach Marvin Lewis made it clear Jackson isn't going to be working with the offense. If there was going to be any awkwardness offensive coordinator Bill Lazor nipped it in the bid when he stopped into Jackson's office and welcomed him.
"I thought that was awesome of him," Jackson said. "As I said to him, 'Anything I can do to assist let me know.' But Bill's doing a good job. He'll get these guys going."
No one has been closer to quarterback Andy Dalton than Jackson was as his offensive coordinator in 2014 and 2015.
""Hue's been in this division for a long time," Dalton said. "He's been in this building at different times and for a while (throughout his career). It's an asset having him here. He's seen a lot and been through a ton."
That's about the only thing we know about Sunday. Dalton is going to start for the Bengals. Head coach Marvin Lewis is going to call the defense and Jackson knows he's going to be on the sidelines helping. But with what, no one seems to quite know yet.
Although safeties coach Robert Livingston, who is in the press box on Sundays, says Lewis at the helm isn't exactly Halloween.
"He's been in all the defensive meetings since I've been here," Livingston said. "He's had an input in all the calls. He's had input in everything since I've been here. Has he pressed the communicator and told the players what the play is? No. But drive in and drive out, he's been a part of it."
Jackson started helping when he arrived off a red-eye Tuesday morning. Most just fired coaches would have been going the other way on a red-eye, but Jackson loves Lewis and he loves coaching and so that's how he ended up watching film on Wednesday morning at 5:30 in the Paul Brown Stadium defensive coordinator office. Baltimore. Cleveland. Cleveland is the next game after Baltimore.
"Catching up," he said later. "Hadn't watched any film for two weeks."
Then he went to the defensive staff meeting and if there was something to be said, he said it. He was at Lewis' install meeting and when the position coaches met with the players he stayed with Lewis as he worked on the game plan. During the pre-practice walk-through he watched the position coaches work through the formations and then he spent the first part of practice visiting each defensive position.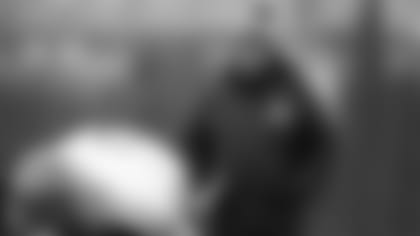 Then it was back to defensive meetings before he could grab a real plate of food at 6:45 p.m.
"He knows so much about offense, so to pick a brain like that in the meeting room is what we'll use during the rest of the year," middle linebacker Preston Brown said.  "Seeing it through his eyes you kind of learn how they're exactly going to attack us that week. He's been game planning against us for a couple of years now."
There's that and then there's walking through the locker room on the way to lunch, giving off that force field that attracts players to coaches.
"That's one thing he will bring," Dalton said. "He will bring his energy like he always did when he was here before. It will be a good thing for us."
And he's not going to plug his personality. He'll stay low-profile, but he'll be Hue Jackson, too.  
"I'm not here to (take) nobody's job. I'm here to help and assist. I'm still going to be me, and I think everybody respects that," Jackson said. "I'm going to bring energy and have fun and have a good time out at practice and do everything I can. But at the same time, I'm very mindful that I'm a helper here. That's what I am."
Livingston, who was a scout here when Jackson worked on the defensive side with Zimmer, saw it from both ends.
"Hue's biggest quality as a person, not as a football coach, but as a person, is that he's a mover of men," Livingston said. "People will follow Hue. It will be great for him. Our room will be better with Hue … Hue gets you going. That part will be fun."
Just like Dunlap was having fun with the reporter and Jackson and the challenge at hand.
"There's your answer," Dunlap said.