Quinton Spain, "Q," as he's now known at Paul Brown Stadium, figures when Sunday's game began he knew more guys on the other sideline than his own because it was the Titans that signed him undrafted all those years ago.
But certainly by the time the Bengals were celebrating that breezy 31-20 victory, the man who calls himself "Mr. Undrafted," had pretty much made everyone's acquaintance.
"Every time I came to the sideline," recalled Spain of one of the more remarkable debuts in Bengals history, "a lot of players came up to me saying, 'Good job. Happy you're here.' All that. It felt like home."
Spain helped get them home Sunday by playing every series but the first one. That meant he ran 62 snaps without seeing the playbook until Friday.
No one. Not the guy who signed him, Bengals director of pro scouting Steve Radicevic. Not the guy who liked the look in his eyes at Sunday morning's impromptu walk through, offensive coordinator Brian Callahan. Not the man who called Spain's brand spanking new No. 67 on running back Giovani Bernard's 12-yard touchdown run at the end of the half that gave them that 10-point pad that seemed like 20 for his young team, head coach Zac Taylor. Not one of them could ever remember a player showing up on a Friday and playing on a Sunday.
Defensive coordinator Lou Anarumo once started a cornerback in Miami who showed up in the middle of a Wednesday practice. But that was defense and it wasn't a Friday.
Spain got on the field this Friday (but not the flip card) after waiting in the hotel through six days of Covid testing, but he wasn't going to play Sunday. With center Trey Hopkins out with a concussion, Spain was going to suit up and along with another practice squad player, Shaq Calhoun, be a backup and that would be it.
Yet Sunday morning there was offensive line coach Jim Turner calling Taylor as both drove to Paul Brown Stadium. They had both just got the text that although left guard Michael Jordan didn't have Covid, he was too sick to play and was on his way home.
That made four different offensive line starters from the week before. Three injuries. An illness. Another welcome to the league moment for rookie quarterback Joe Burrow, taking snaps from Billy Price in his first start at center since his own rookie year two years ago. 
(And you wonder why Turner turns some training camp practices into a revolving door of positions.)
Since Calhoun, a second-year player, had been on the practice squad from the first week of the season after they claimed him from the Dolphins, Turner felt good about starting him. But he also leered at Spain's 330-pound frame, his 66 NFL starts, his rep as a good pass blocker as well as a pro's pro's brainy demeanor and believed a rotation of both guys would serve them well. The coaches figured they'd react to the game when it came to parceling out the snaps.
"We were planning rotating them at least the first two or three series, just to see where they were at and who was going to give us the best chance," Callahan said. "When Quinton went in there, he kind of settled in and we felt like, going forward for the rest of the game, he gave us the best chance to be successful. And it wasn't anything that Calhoun did. We planned on rotating them.
"Everything just kind of felt right, so we just kind of rolled with it. That's really ultimately how it ended up and he played 60-something plays in that game after getting in the building on Friday. Pretty impressive effort on his part."
During the walk-through in Turner's office, Spain checked in with Calhoun and another back-up interior player, Keaton Sutherland. Taylor, Callahan, Turner and offensive line assistant Ben Martin threw in their two cents. 
"I just felt like if I knew the snap count and which way to go, I'd be able to perform with just one practice," Spain said. "It was like second nature. I've been in the league six years. I know the game of football."
The first time Spain talked to his head coach beyond an introductory handshake was now as Taylor ran through the high points of the game plan with him and Taylor walked out of there knowing they'd be just fine with Spain because of how fluently talked the pro game.
The things that worried Taylor were things Spain couldn't control. Middle of the game stuff. A new cadence that hadn't been discussed. Or maybe one of their tempo code words that hadn't been reviewed. Things he couldn't possibly know in just 48 hours.
"I think Burrow, Billy, Jimmy and Ben did a great job managing that over the course of the game with him," Taylor said.
Nothing to worry about, Coach. No false starts. No sacks. Five trips into the red zone, four touchdowns. Just another day at the office for Q.
Burrow came up to Spain in the locker room and briefly talked to him about cadence.
"Then he said, 'Let's go, I know you've been in the league awhile. I know you're going to do what you do,'" Spain said. "I told him, 'You lead, I follow.' That's what I told him."
Spain sounds like he's not quite sure what the hub-bub is all about. He sounded like your doctor telling you he had simply moved to another hospital or a dentist changing to the suite next door. Certainly, he said, Price, was a huge help. But there were also those six seasons, 66 starts and 71 games during other AFC stops in Tennessee and Buffalo.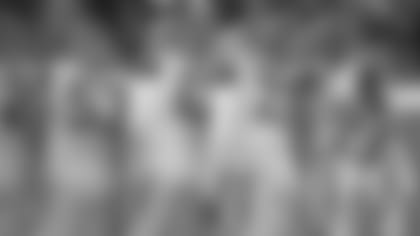 "He helped me a lot. He made sure I was going in the right direction and as the game was going on I knew exactly what I had to do once I heard the plays," Spain said. "Most NFL teams run zone gap. It's all the same. If you know how to do that, it's just different words. That's all it is."
That's pretty much what was called for on Bernard's touchdown run, a clearing out of Jeffery Simmons, the Titans' best down lineman.
"Basic play. Double team block. And we just knocked him off the ball and Gio ran 12 yards for the touchdown," Spain said. "It's the same thing against a certain front. If you know what the front is and you've played, you know who to block. It's simple."
Spain liked the looks of the guy whom made that block with him, rookie left tackle Hakeem Adeniji, and he knew it was a big day for him.
"I like his toughness. Very smart out there," Spain said. "I think he was playing first game."
Indeed, it was Adenji's first NFL start at left tackle. On the other side it was Fred Johnson's first NFL start at right tackle, which could be his natural spot but he's played everywhere else. There was Price, a backup guard, back in the starting lineup and back at center, trying to show why he was a first-round pick.
And there was Spain doing the Friday-Sunday thing. If he didn't know their stories before, he could figure them out during the game.
"You can tell the guys who played the game had a chip on their shoulder like they had something they had to prove and you can see how the game went," Spain said.
Count him in there, too. Spain is all business and he has gone through the downside of the business. A few months ago he signed a $15 million extension in Buffalo. A few weeks ago he was on the street. Cut.
"I absolutely had something to prove," Spain said. "That I can still play in the NFL."
Spain didn't want to get into what happened with the Bills.
"I'm going to leave it at that. It's going to come out soon," Spain said. "I'm happy to be moved on. I'm happy to be here. Buffalo is Buffalo."
Bengals defensive tackle Mike Daniels is on his third team since signing a big money extension in Green Bay five years ago. He recognized the signs when he saw Spain go to work Sunday.
"You're left by the team you were with and you're playing just off pure anger and rage," Daniels said, "and those are the things he showed (Sunday) and that was definitely welcomed and needed."
Spain knew all about the business before he got in the business. When he went into his last year at West Virginia, he says he was projected as a first-rounder. But he got hurt, kept playing and went undrafted. Hence the name of Mr. Undrafted he puts on his Twitter account.
"I've always had to battle. I've never had anything handed to me," said Spain, a native of Petersburg, Va. "That's a great name for me. I know a lot of people go undrafted, but I took that name for me. It motivates me every time I say that."
Spain likes his new home. He was on the field when Burrow bugged out everybody's eyes with two how-did-he-get-away scrambles.
"He's special. He's going to be great," Spain said. "I feel like he thinks he can make a guy miss. He can extend the play. That's a plus for an offensive lineman."
He took note of the post-game celebration, too.
"I like the energy. I like how they're there for each other," Spain said. "It's like a family in the locker room."
But now after Wednesday's practice he'll be back in the hotel until they return from the bye Monday. He can't go back to Virginia to see the family, per protocol. So he knows exactly what he'll do with the time.
"Learn the playbook," said "Q," who is a few chapters ahead.