Bengals cornerback Jordan Brown, who teamed with fellow rookie Ryan Finley to rewrite the Paradise Valley High School record book in Phoenix, Ariz., when Finley was the quarterback and Brown was his wide receiver, has never seen his friend rattled. Not even in the Arizona state championship basketball game Paradise won in a defensive duel in which Brown recalls Finley scoring "18 or 19," as a shooting guard with whom he shared a wing.
But there were his brains, too, because "that's what separated him in high school," Brown says. "He had something like a 4.5 (grade point average). It felt like he never tried. He was just naturally so smart. Everybody was so jealous."
Even ping-pong. Finley arrived in the Bengals locker room this spring when head coach Zac Taylor installed the table and cornerback KeiVarae Russell says the best player in a room teeming with five-star athletes is the kid who has been one of the hottest quarterbacks in the NFL preseason and gets the start in Thursday night's pre-season finale (7-Cincinnati's Local 12) at Paul Brown Stadium against the Colts befitting the unquestioned No. 2 to Andy Dalton.
The best at ping-pong? No. 1?
"And it's not even close," Russell says. "He says he was playing since he was five."
But it hasn't always been game point for Finley in Bengaldom. Not everything has been bestowed on the gifted 6-4, 207-pounder. For one thing, he needs to beef up. For another, he had to grind and learn and rep his way through a very trying spring practice in which he looked nothing like the sweet-throwing, highly intelligent North Carolina State quarterback that enticed the Bengals to trade up in a round for just the fifth time in their history when they went up in the fourth to grab him.
And the first time for a quarterback.
Finley and Bengals quarterbacks coach Alex Van Pelt wouldn't exactly say the light switch suddenly went on. His rise between the spring workouts and summer camp into a preseason he has been the league's most accurate passer with at least 40 balls (47 of 64 for a 73.4 completion percentage) has been more like getting a foot in the door. Or getting a kick start. Or a leg up. Whatever it has been, it is connected to the footwork Finley is beginning to master working with Van Pelt, the Bengals master mechanic of quarterback fundamentals.
"The footwork is a lot different than I was used to," Finley said. "I was used to doing my own thing. I think it's healthy just to have some organization with my feet. I feel like I have good feet, but having a set of rules has helped me be a little more comfortable and have my feet underneath me for throws."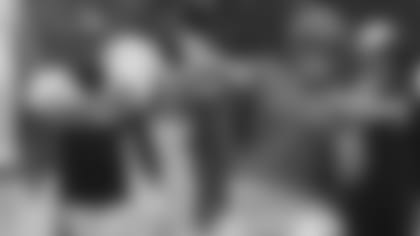 Van Pelt, who broke Dan Marino's all-time passing record at the University of Pittsburgh and backed up Jim Kelly for years with the Bills, has a deep bag of Hall-of-Fame pedigree and he dug into it this season to help Finley with that footwork. They've been watching Aaron Rodgers tape because, for one thing, there is reams of it. During his stint as Packers quarterbacks coach, Van Pelt become the A-Rod whisperer, helping him to the 2014 NFL MVP and two years later helping him match Tom Brady as the only quarterbacks in history to throw more than 600 passes with seven or fewer interceptions.
When Van Pelt left Green Bay to come to Cincinnati before last season as one of Marvin Lewis' best hires, Rodgers and PackersNation were none too happy as the state of Wisconsin lurched into Breaking News mode. Van Pelt arrived with his best foot forward. Which turned out to be the left foot.
Left foot forward. That's where Rodgers has his foot in the shot-gun stance behind center. Van Pelt has done it all three ways. With the feet even. With the right foot in front. Now after working with Rodgers, he's a left foot forward guy. He converted Andy Dalton last year and it's one of the reasons Finley needed time to adjust when Van Pelt got him started this year.
"I did it with Aaron in Green Bay. I really took it from him. Tom Brady has taken it from him," Van Pelt said. "Obviously I believe in it now. I've seen it live and I've coached it, too. I see the benefits in it. For a young guy it's hard to first get that. (Finley) was right foot forward. Complete change. It takes some time. He's gotten ten times better."
Van Pelt says it's like learning to throw with the other hand, which may explain some of Finley's spring passes. Dalton agrees. There's no question the left foot is the way to go.
"It gives you more rhythm in the pass game. Especially the quick game," Van Pelt said. "Less mechanical. More rhythmic. It's more like a little dance step as opposed to just a big heavy step. The rhythm is very important in the passing game. That's his game. The more he can play in rhythm with his feet, then he'll be more accurate."
Finley is a lot like Dalton in that he's a feel guy that anticipates throws rather than gutting through them. He got huge marks for football I.Q. from a quarterback-centric grading system manned by Van Pelt, former Nebraska quarterback and Big 12 Offensive Player of the Year (not to mention Bengals head coach) Zac Taylor and offensive coordinator Brian Callahan, a former UCLA quarterback who was Peyton Manning's position coach in a Super Bowl ring season.
Time to look at those guys. The Bengals head into the pre-season finale with the league's second most prolific passing game with 273 yards per game. They've done it with the sixth best completion percentage (67.9) and ninth best passer rating (91.9).
"Alex is a real asset to this coaching staff. I'm glad he's here," Callahan said. "He has a really good relationship with those guys. He's been part of that room for so long as a player and his unique experiences and success as coach is invaluable."
Finley, who also took pre-draft visits in Detroit and Washington, felt at home in the room with all those QBs in the PBS offices about ten days before that fourth round. Taylor, with the Rams' high-scoring conference championship playbook, chatted him up easily for 25 minutes, Finley recalls. Van Pelt put up the progressions on the grease board he wanted Finley to regurgitate in a half hour. Before Callahan came in with the quiz, Van Pelt had him watch his N.C. State film, asking to name the play calls and what alignment they called the defense.
"Just to get him to talk football," said Van Pelt, who figures he put eight or ten prospects through a similar regimen either at PBS or on their campus before the draft. "Very impressive."
How impressive? Finley is the guy they traded up for. But he needed some help when he hit the field.
"Everything is different. The timing of the drops and how it correlates to the routes and your progressions and letting your feet kind of tell you when to move on," Finley said. "(Van Pelt) has been a big help with my feet."
That's why he's the master mechanic. There have been other factors besides the footwork. Reps. Comfort with the system. Familiarity with the receivers. But what is it that Bengals radio analyst Dave Lapham always says? Any athletic endeavor begins with the feet and ends with the hands. And so Van Pelt and Finley are trying to channel Rodgers as they grind the tape.
"We've watched a bunch of Rodgers," Finley said. "Aaron is just a different breed. It's fun to watch him. It's entertaining. His actual mechanics of how he uses his legs and hips to throw the ball is something I'll probably strive for my whole career. Just to get that much behind the ball, that much rotational power, what he does is phenomenal. Any chance you can just watch somebody with the left foot up and see how they do things, it's helpful."
It certainly has helped Finley put his best foot forward. But it's not as easy it looks.