MIAMI - T.J. Houshmandzadeh, who has the most catches in a Bengals season, caught on to LSU quarterback Joe Burrow early. Like back on Sept. 7. And promptly anointed him the best quarterback in the country. Now Houshmandzadeh is helping to train Burrow for his first NFL pass, when another Bengals receiver is the likely target this September.
Houshmandzadeh, down here to work for Fox Sports Radio early in Super Bowl week, checked in by phone to say he'll be in on Burrow's workouts under the direction of former Bengals back-up quarterback Jordan Palmer when they begin next week in Orange County, Calif.
Houshmandzadeh, who has worked with Bengals wide receiver John Ross in the past, is going to direct the receivers. But, like he says, anything he can do.
"If I can drop him a nugget, help show him what an NFL receiver sees, every little bit helps," said Houshmandzadeh, who became a believer after he watched Burrow sift Texas for 491 yards on 31 of 39 passing. "It showed his pocket presence and his ability to scramble and pass and run was impressive early on and that pretty much held true the rest of the season.
"Love the tape. To me, anticipation is what makes a quarterback accurate. Accuracy comes from throwing it before he's open and you're throwing him open. And that's accuracy. That completion percentage he had in college, he does that very well. I think Joe is going to be really good."
Burrow is headed to California to prep for the NFL scouting combine in Indianapolis later this month and continue his work there through April 23, the day the Bengals are expected to make him the first pick in the draft.
"A lot of it is the mental aspect. How to handle it," Houshmandzadeh said. "How to study a playbook, how do you learn a playbook, learn concepts, things that change protections, what does each guy do in certain coverage."
Houshmandzadeh is wearing a couple of different hats. There's the coaching hat and then there's the analyst hat.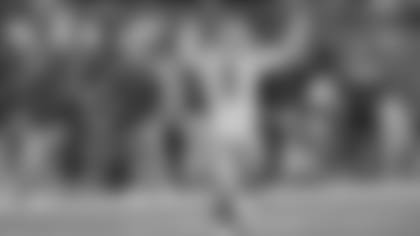 "Do I want to draft him if I'm the Bengals? Yeah," he said. "But if the Dolphins are going to offer me three first-rounders, or if some team is going to offer me two first-rounders this year and a first-rounder next year, I have to strongly consider it for the good of the team."
Houshmandzadeh has heard the rumblings from concerned Bengals fans about Jordan Palmer working with Burrow in the wake of Carson Palmer's criticism of the team, but he assures there won't be any back-biting.
"We've talked about it. We're not going to say anything negative to Joe about the Bengals. Why would we?" Houshmandzadeh asked. "Teams are bad because their players aren't good enough. If they get that player that's good enough, guess what happens? Your team isn't so bad anymore. I'm sure that's what they're thinking. I'm sure that's what Joe thinks. Negative? Not at all."
Houshmandzadeh knows those 503 career catches (only Chad Johnson, A.J. Green and Carl Pickens have more in stripes) will always identify him with the Bengals.
"I'm friends with the Browns," Houshmandzadeh said of ownership. "Mike, Troy and Katie and Paul. People still connect me with the Bengals. I would like to see them do well. That's why I say, if you can get picks, you have to consider it. If not, you draft Joe and you hope it works out."
All indications are the Bengals are on the Burrow Express, even after head coach Zac Taylor's staff coached Oregon's Justin Herbert to an MVP performance in last month's Senior Bowl. Houshmandzadeh said he also expects to see Herbert working with his own people on the same Orange County field, but not as often as they'll be with Burrow.
"We're going to be working with Joe almost every day," Houshmandzadeh said.