Long time, first time. What are the possibilities of this years D breaking the team sack record? Dunlap, Atkins, Reader, Hubbard, and company have the potential to wreak havoc on opposing O-lines. Andrew Smith, Charlotte, NC
ANDREW: Thank you for checking in and keep those cards and letters coming. The number you're looking at is 51 sacks racked up by the 2012 team and there's no question they've got 52 sacks of talent out there. Especially since two of those guys who were in on the record assault are still here.
Tackle Geno Atkins went to the second of his eight Pro Bowls that season with a career-high 12.5 sacks and edge Carlos Dunlap added six. Both were in their third seasons and now they've got all that experience that combines for 157 career sacks. Heading into the draft, Dunlap and Atkins were tied for the NFL lead for career teammate sacks with Denver's Von Miller and Jurrell Casey.
So you figure Dunlap and the other edge guy, Sam Hubbard, coming off an 8.5-sack season, can make a run at the 17.5 sacks that Dunlap and Michael Johnson forged together in '12. People forget the 6.5 sacks (and leadership) Wallace Gilberry logged when he came off the couch and the edge that September, but people may also be forgetting about Carl Lawson this September. Lawson tore his ACL as a sophomore, but in his two healthy seasons, last year and his rookie year, he's got an eye-opening 13.5 sacks in 28 games. So if he can play 14, 15, or 16 games …
Atkins hasn't had 11 sacks since 2015 and just one double-digit sack season in the last four. But he's also never had a Pro Bowl-type talent like D.J. Reader next to him, either. Look for Atkins to have a big year without all those incessant double teams. It may not be a dozen sacks, but it won't be the 4.5 of last season, either. Reader had 2.5 sacks last season, matching what the non-Geno tackles had in '12.
But the front is going to need help. Remember how tightly those '12 Bengals cornerbacks played? Three of them Adam Jones, Leon Hall and Terence Newman were ranked in the top 41 by profootballfocus.com and Hall was ranked as the No. 6 slot corner.
Certainly the free-agent additions of starting corners Trae Waynes and Mackensie Alexander have been huge additions. In '12, Newman was also a big off-season add, but he was 34. Waynes and William Jackson III on the outside and Alexander in the slot are solid guys in their primes. Waynes is heading into his sixth year, Jackson and Alexander their fifth.
And, like Bengals defensive line coach Nick Eason tells his guys, you have to earn the right to rush the passer. That means they have to stop the run before they do anything else and they simply haven't been able to do it the last three seasons, a stretch they've been the worst in the league. In '12, the Bengals were a solid all-around defense ranked No. 7 that allowed 4.1 yards per rush. That's a number they haven't reached since 2013.
It is a big number, 51 sacks. Only four teams had that many or more last season.  But, this is the best talent they've had on defense since those days back in '12-'15 when they were in the top ten or near it. This is, at the very least, a No. 16-17-type defense right away that has top ten, 50ish sacks potential.
 I'v read or heard of several NFL quarterbacks working out with their team's receivers. Do the Bengals have restrictions on doing this because on not having the players signed? Isn't it critical that they get together now? Jerry Graham, Chesterfield, Va.
JERRY: Unsigned contracts don't strike me as an obstacle. Even though A.J. Green has yet to sign his franchise free-agent tender, he has signaled to Joe Burrow that he's ready to get together. And I suspect Burrow's acclaimed leadership finds a way to get acquainted with his receivers. 
The biggest challenge may simply be the logistics of a very weird time. You've got a quarterback in Ohio. Receivers currently in (among other places) Atlanta (Green), Pittsburgh (Tyler Boyd), California (John Ross), Tennessee (Tee Higgins) and Wisconsin (Alex Erickson). How comfortable is everyone with flying? Where will they let you practice? Ohio has had more restrictions than Florida, so solutions are harder here.
There's time. But I suspect they find a way. And remember, Andy Dalton didn't throw to his top receivers or have an offensive meeting until the first day of training camp and became the first rookie ever to win nine games while throwing 20 touchdown passes in 2011.
The ON-SIDE KICK: Is the NFL next considering to rename the sport Pass Ball? The on-side kick has been around as long as I have, and I'm almost 79! Don't take the FOOT out of FOOTBALL! Mr. Lynn S. Marshall, Cincinnati, OH
LYNN: I'm with you. Just look at this past season. And never mind the onside kick (thank you Stanley Morgan, Jr.), but how about just the good-old fashioned kickoff? (Take a bow, Brandon Wilson). And isn't Stanford Jennings' Super Bowl kick return the most euphoric moment in Bengaldom? Who can forget Peter Warrick's punt return in 2003 during Marvin Lewis's first signature win again the undefeated Chiefs? 
The Bengals appear to agree with you, along with what sounds like half of the teams in the league. The concept behind the proposed rule change (using a fourth-and-15 play as an alternative to an onside kick) was to keep the end of games exciting. But last year, the special teams statistics showed that coaches were finding a way to bring the onside kick back into the game with successful tries were up over 13 percent.
So give the coaches a chance. And let's keep kicking.
Geoff, thinking about the Cowboys plan to sell half the seats seemed like a good idea at first. But what happens with tailgating, concessions and restrooms? Or just 30+k fans in one place? Can't see how that works? NFL with no fans in 2020? Robert Greenwood, Oak Ridge, TN
ROBERT: All good questions.
What can you do to create a safe environment? Maybe a better question, what can you do to make people FEEL safe? And do any of the safety measures really help? Every day different medical experts offer new opinions. Every day the American public copes with what  they can accept as risks of living in a complex society as a new normal evolves. So give it another month or so as decisions must be made with the start of training camp looming in late July. I know just from the team side there has been a staggering amount of work on all floors of Paul Brown Stadium as everyone synthesizes as much information from as many resources as they can.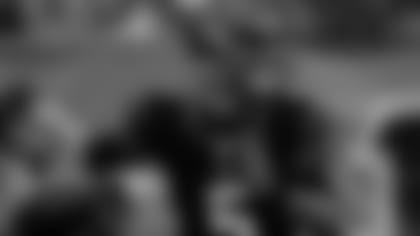 Hey Geoff, I enjoy your take, in the answers you provide to readers questions, and have one of my own. With our QB room having no NFL experience, what if we brought in Alex Smith. Don't think he'll ever play again, but let him coach Joe B Mike Bogan, Mineral, VA
MIKE: Thank you for reading. I'm so old, I remember Jon Kitna and Ryan Fitzpatrick, not just Bruce Gradkowski and AJ McCarron, so I'm a big fan of veteran backups because all of those guys ended up playing big roles either in the locker room or on the field or both. But it doesn't look like Bengals head coach Zac Taylor is as big of a fan.
Here's a guy that played quarterback. Who has scouted NFL quarterbacks for much of this decade. So he knows his QBs and in the two seasons he's been here he seems more intent on adding young talent. Plus, a veteran, say an Alex Smith, is going to cost some money that I don't think they have when it comes to an offseason they'd like to ink A.J. Green and Joe Mixon long-term.
With the return of Williams I am curious if it's possible they will put Price in at Right Tackle. I just checked his physical dimensions appear similar to Williams. I think that would make a SERIOUS line. Johnny Smith, Ellensburg, WA
JOHNNY:The only real question about Jonah Williams coming out last year is what some draftnicks labelled as his "raw dimension." His frame is only average in size (6-4 ½). But the Bengals answered with a resounding yes and took him with the 11th pick, making him the first offensive lineman taken in the 2019 draft. While his frame is average, his football brains, quickness and athleticism are why he was a standout SEC performer at Alabama. And from what I hear, Jonah has recovered well and is doing great in the virtual offseason. Arrow up.
Billy Price is an interior guy all the way and has played only center/guard in college and the pros. Plus, the Bengals have worked to develop more depth at tackle. With sophomore Fred Johnson and sixth-rounder Hakeem Adeniji, they don't need to make a guard-center into a tackle, and if it's not the linebackers, the offensive line is going to be my group to watch during training camp. 
Which Bengal would be best able to compete in a golf match with Peyton Manning and Tom Brady? John Lamping, Cincinnati, OH
JOHN: Great question. With the departure of tight end Tyler Eifert, we have to do some scouting on that when they get back here. They may be lacking some depth there, but my guess is that punter Kevin Huber could compete a bit. But you could certainly tell which guy was retired and which guy wasn't. I don't know if many current players could duel with Peyton. He was really good last Sunday. For pure entertainment value, I might still suggest … the Ocho. Or the man formerly known as Pac. But that's just the kid in me. If it involves anything athletic, Adam Jones can do it. And he did to me in a round a few years ago on his home course here in Cincy.
I often wonder how some players talents can be utilized at a different position. It would be fun to see Sample as a FB or Bernard as a return man! Do you think any players could line up at a surprising spot this year? Ray Nicodemus, Dayton, OH
RAY: I always liked nose tackle Domata Peko and later right end Sam Hubbard at fullback, but this offense doesn't seem to need a fullback, so that's out. The Bengals are pretty well stocked with returners, but I could see running back Giovani Bernard returning kicks rather than punts if pressed into service.
Keep an eye on veteran safety Shawn Williams and see if they turn him into a little linebacker in certain packages. Williams has been a starter for the last several years, but the signing of veteran safety Vonn Bell may give more flexibility with Shawn moving around the lineup. They love his toughness and what he means to the locker room and he's always been a big help to special teams coordinator Darrin Simmons. He could be quite valuable as a versatile footballer in a division that likes to pound the ball on the ground in Baltimore and Cleveland.   
Geoff, re Position Groups, Latham says it all. Glen Groh, Cincinnati, OH
GLEN: He always does. That's why Dave Lapham is one of the best analysts in the game. And has been heading into his fifth decade of covering the sport he played for a decade.
From Paul Brown and Ken Anderson to Donald Trump and Doug Flutie to Sam Wyche and Boomer Esiason to Marvin Lewis and Andy Dalton (and Carson Palmer) all the way to Zac Taylor and Joe Burrow. No one combines insight, enthusiasm and context like Lap.