I believe Ken Riley should be in the HOF along with the other Kenny. Who else from the team deserves that honor and who from the current team do you think has a great chance? I certainly think Geno and AJ both have a shot. John Dahlgren, Clinton, MI
JOHN: As the Cincinnati selector on the panel of Pro Football Hall of Fame voters, I consistently support and vote for many Bengals whenever they're on the ballot.
Don't forget another senior candidate besides the Kennys that should be in, wide receiver Isaac Curtis. He changed the game so much as the prototypical 21st century wide receiver that they changed the rules. The next time you see a DB called for illegal contact, thank Paul Brown because he knew Sir Isaac could defy gravity if given the space.
Did you know that Ike had more catches and TDs than Lynn Swann and more career yards per catch than John Stallworth, two Steelers wide receivers from his era that are in the Hall?
And please don't forget another senior that should at least be in the discussion. Max Montoya, the Bengals' all-time right guard, went to three Pro Bowls as a Bengal, one as a Raider and made pro football reference's first-team all-decade team for the 1980s.
As the best right tackle of his era, Willie Anderson must be in as the Bengals' best Modern Era candidate, those players who have been retired fewer than 25 years. Simple. If Walter Jones, Orlando Pace, Jonathan Ogden and Willie Roaf are in there as the best left tackles of that same era, Willie has to be in, too. And before Tony Boselli.
Running back Corey Dillon should be in, too. He has two of the top 16 rushing games of all time. Only Hall-of-Famer O.J. Simpson is on that list twice. He broke the single-game rookie rushing record, which stood for 40 years before he broke it in 1997, and the single-game record, which stood for nearly 23 years before he broke it in 2000. He is one team's all-time rusher (the Bengals) and another's single-season leader (the Patriots) and has a Super Bowl ring. A better resume, I think, than the Colts' Edgerrin James, inducted this year with a career rushing total of 12,246 yards. And James belongs.
I always used to tell Dillon, rush for 12,000 yards and you're in. That seems to be the magic number for backs. Every retired running back who rushed for at least 12,000 is in and I'll vote for Frank Gore and Adrian Peterson as well as Dillon. C.D. ended up with 11,241.
And you can make an argument for Chad Johnson, although he only played 11 seasons and just doesn't have the career numbers. But for five years in the middle of the oughts, nobody was better. He's the only receiver in this century that led his conference four straight years in yards. The only receiver to do that ever is Jerry Rice, the greatest of all-time, they say.
No question Green and Atkins. Geno is headed to a first- ballot election. The man has made eight Pro Bowls and his 75.5 sacks are in the top ten on the list of pure interior players. And he's closing in on guys like La'Roi Glover (83.5) and Howie Long (84).
Green has many Canton credentials. He's the only receiver in the 50 years of the merger to be named to the Pro Bowl in his first seven seasons. And in that same period, only four receivers had more yards in their first 110 games than Green did in his first 110. The problem is, that was in 2018 and he's played just one game since.
Green may be 32, but few doubt he won't be at least be a very good player for four or so more years. Will those career numbers be good enough? With the way they chuck the ball in this era, I think he's got to get at least 13,500 yards to stop any kind of a debate. He should get in, but, you know, bam, with this number just put him in with no questions asked. That 13,500 puts him ahead of Steve Largent and Andre Reed and within fewer than 500 yards of Cris Carter and James Lofton, Hall-of-Famers all.
Green comes into 2020 with 8,907 yards. In his healthy seasons (2011-13, 2015, 2017) he's averaged 1,242 yards. So, four years at an average of 1,150 gets him to 13,507 and, in my opinion, a gold jacket. But I think 14,000 is a lock and he's always told me his goal is more than 15,000.
Great player who should get in despite numbers, but you know how that goes.
July is approaching...…….any word on AJ Green and a new contract?? Any word on Joe Mixon getting a new contract??? Any chance they get these both done and do more in Free Agency?? Thanks, I always enjoy reading,. Brian Lakes, Cincinnati, OH
Hey Hobs, Have to ask the question which I'm sure is on everyone's mind. When are we going to sign our draft picks to contracts? Season is fast approaching and I haven't heard of any signings. Tom Glaze, Toledo, OH
What are the chances we see #18 and #28 on the field for the first day of Training Camp? #WhoDey Jake Reiber, Cincinnati, OH
BRIAN, TOM, JAKE: The rookie deals are going to get done before camp. Simple as that. The rookie wage scale, now in its 10th season, is designed to get them on the field right away. Negotiations for the No. 1 pick are always interesting since the deal is at the top of the scale, but even more interesting for both sides is making Joe Burrow's first NFL practice snap the Bengals' first practice snap of 2020 after this Snapless Spring.
The fact none of the rookies have signed yet is nothing to get excited about. We are, after all, in the middle of a pandemic, and many things are on hold. Only 30 percent of rookies have signed league-wide, which shows that everything is slow this year and teams really still can't even do physicals. No one even knows when camp starts. So when people ask why the rookies are running behind schedule, what schedule?
As for A.J. Green and Joe Mixon, you're basically asking if they're going to hold out because Green has been tendered a one-year deal for $18 million and Mixon is going into the last year of his rookie deal. Traditionally the Bengals reach their big-time extensions during training camp or on the eve of the regular season. So it's usually quiet on that front now. They usually don't ramp up talks until August and I don't sense anything out of the ordinary now.
The big difference is that the Bengals can't talk or reach a long-term deal with Green after July 15 because he's franchised and it seems to me there are just too many unknowns on both sides for a deal to get done before then. If there wasn't a once-in-a-century pandemic, the whole thing is different.
Green didn't play a game last year, he's basically missed the last season-and-a-half with ankle and toe injuries and they haven't put hands on him since the end of this last season. I think they'd love to sign him long-term. I also think they'd like to see him run a go route before they hand over the guarantee, but the timetables don't look to be matched up.
Here's another of the many unknowns that simply make your head explode. Ever seen brain matter on a laptop? Can anyone tell me what the salary cap is for next season? What if there's a sharp drop in revenue because of the pandemic? There's a distinct possibility the Bengals reach an extension with Green in the wee hours of July 15 and then then find themselves in Cap Hell next March. Do they have to cut him or somebody else or what? I'd love to see a deal before July 15, but in the world nowadays, I can't tell you what happens tonight. Nobody can.
(I think I've said this before, but I should say it again. Sure, the Bengals spent a record in free agency back in March. But they've done that before. It was a decade ago, but they've done it. What made it so significant is that they did it despite the most uncertain economic outlook in the lifetime of Bengals president Mike Brown, a guy born in the middle of the Great Depression. That's commitment to the club, in my mind.)
As for Mixon, well, you're kind of talking about the same thing when it comes to next year's mystery cap but I see it getting done before the Sept. 13 opener.
Because he's working on his rookie deal, Mixon isn't exposed to the same kind of steep fines as veterans that were put into the new collective bargaining agreement for holdouts.
But I've got a hard time not seeing Green and Mixon together on the field right away. Really, both terrific team guys no matter what. And, it's been not only such an odd life for everyone since March, but it is also about the same time the Bengals virtually re-made their team and it seems to me like everyone is ready to get back as soon as possible. Like I say, this is far from your typical offseason and training camp.
I haven't been able to reach Mixon, but when I talked to Green early last month, he sounded fired up for camp and was excited about hooking up with Burrow. If either guy sits, I don't see it being for long. Mark me down for a Mixon extension to be announced on Labor Day.
No more free agents after that. Just Green and Mixon and let's see what that 2021 cap looks like.
With the new additions in the secondary for the Bengals, is this a long term solution or short term fix? Also do the Bengals have any legit pass rushing besides Geno? Nick Hiott, Chicago
NICK: In the NFL, three years is long term and they just signed two secondary starters on three-year deals, cornerback Trae Waynes and safety Vonn Bell. Throw in safety Jessie Bates III in the third year of his rookie deal and, yes, they see this as a long-term fix when you're talking about NFL years.
Besides Geno Atkins, the Bengals have three guys on the roster who have had least one season of 8.5 sacks: Carlos Dunlap, Carl Lawson and Sam Hubbard. Dunlap has hit double-digits. Take a look at the Steelers. They led the NFL last season with 54 sacks with three players that had at least nine. The Bengals have the talent to do that. They have done it.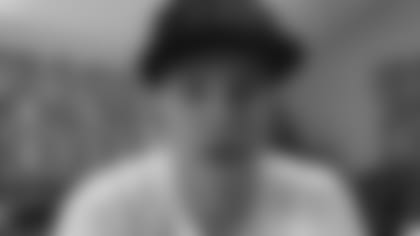 Do you think Joe Burrow wins rookie of the year? What kind of season do you expect from him? Andrew Herzog, Cincinnati, OH
ANDREW: I think he does. The odds are with him. The higher you're drafted, the more voters the love you. Especially if you're a quarterback. Since 2010, five QBs have been NFL Rookie of the Year and three of them went No. 1 overall, like Kyler Murray last season. Only two rookies of the year in the last ten seasons weren't picked in the first round: fourth-rounder Dak Prescott and third-rounder Alvin Kamara.
I think Burrow has a record-breaking season. I think he'll break Andy Dalton's Bengals rookie records of 20 TDs, 3,398 yards and a 58.1 completion percentage set in 2011. He'll also break Greg Cook's 51-year-old club rookie passer rating record of 88.3.
I think Burrow is better than Baker Mayfield, especially when it comes to the intangibles. Mayfield's attitude and the way he carries himself really grate on my nerves. But he's a good player and had a really good rookie year in 2018 with 27 TDs, 7.7 yards per throw, a 63.8 completion percentage and a 93.7 passer rating. I think Joe can match that.
Why haven't we heard from Zac Taylor for over six weeks????? Glenn Groh, Cincinnati, OH
GLENN: Why?????? To quote one of my great Cincinnati Post colleagues, Enos Pennington, What's he going to say?
Winston Churchill famously said of Russian foreign policy: "A riddle wrapped in a mystery inside an enigma." Well, isn't that the current world we live in?
There hasn't been a practice this year. Only meetings. What can he say about Burrow that hasn't been said? What can he say about the wide receiver derby? (Yeah, John Ross looks really quick signing into Zoom.) This is the offseason of no answers, just questions.
NFL protocols for coronavirus haven't been set. The NFL and the NFL Players Association are talking about when training camps can start. The state of Ohio is still restricting sporting events. So what can he say, other than add to the confusion? 
The one thing that has been going on is the social justice discussion, and I respect how he's handled that. Internally, he has given the players time and space and the forum to deal with it. And, any reaction, thoughts and emotions shared publicly have been by the players. Not him. I think that's the way it should be. It is their team.
Look, I want access as much as any reporter and fan. But while I may not have much, I also have some common sense. There is no news, but when we need him, we'll get him.
(Burrow /& Mixon) and defense revisions, but please tell us that Gio has not been overlooked and hie ability to help put pass rushers on their butts. Stay safe. Thanks - Lynn S. Marshall, Cincinnati, OH
LYNN: Thank you and safety to you as well. Running back Giovani Bernard remains a franchise favorite, and my sense is that he remains a valued part of the offense.
He is a good runner; a good catcher; a great blitz protector; and a guy that just makes the team better. He can do so many other things in the offense, and I personally hope that the coaches use him more this year. Maybe we will even see more two-back sets to get more good players on the field and to make defenses account for more personnel packages. Who knows, but the people inside Paul Brown Stadium love his Pro Bowl character and leadership. No. 25 is No. 1 in so many ways.
Hey Hobs! Since Dr. Fauci thinks football might not be played this year, would we get the #1 draft pick again? Phil Tackett, Summerville, S.C.
PHIL: Put that in the file with the other million questions. It's happened before. The Bengals had the back-to-back No. 1s in 1994 and 1995, but the second came via trade.
Just a guess, but maybe there would be some kind of lottery based on records over the last five years. I know this. If the draft order stays the same, the Bengals won't keep No. 1 and they'll hold up the Panthers at No. 7 for Clemson quarterback Trevor Lawrence.
But here's my question for you. If there's no NFL season, how can there be a college season? And if there's no college season, can there be a draft? Who is eligible? Pardon me as my head explodes. Check back later. Just, please. LET THERE BE FOOTBALL! That's my summer mantra. Safe and Sound and FOOTBALL.