Hello Mr. Hobson, wanted to get your opinion on why Chris Westerman is not starting at RG. The right side of our offensive line has struggled during the preseason. Westerman has looked good when given an opportunity to play and has been graded highly by profootballfocus. Just very surprised he has not been given a chance to compete at RG during preseason. Jonathan Ivey, Charlotte, N.C.
JONATHAN: A lot of questions were answered Tuesday when head coach Marvin Lewis wheeled out his Opening Day depth chart and Alex Redmond was his starting right guard. After the pre-season opener, offensive line coach Frank Pollack made it pretty clear he doesn't have the same grades as profootballfocus.com, so PFF is not a good place to start this discussion.
Pollack had a formidable challenge in front of him. He not only had to find a right side of the line, he had to get it ready for this Sunday in Indy and that meant he couldn't rotate everyone everywhere. And, remember what Lewis said about it all. Basically, if you can play one guard, you can play the other.
No question they think Westerman is a good player. But it's also pretty clear how talented they think Redmond is on that side of the line. We all know the Redmond debate. The guy is a physical demon on 50 snaps and on the other four he's committing a penalty. False start. Holding. Take your pick. But the guy is obviously a talent. Part of what makes him good is that intensity and passion that sometimes bites him. Once he smooths out his game, they've got a hell of a player.
But the question is, what is the price of him learning on the job? No one has that answer. Still, I think it's a gutsy, aggressive call by a head coach that doesn't like to gamble on personnel in openers (what head coach does?), but one that can pay pretty high dividends.
Hello, I have 2 questions regarding the roster and practice squad. Why are we keeping 7 wide receivers and only 5 db's. Surely Russell or anor should be called up at the expense of either Core or Tate as the secondary looks a bit scary after the first 3 corners and starting safeties. The second relates to Brian Hill who I thought looked as good as any back in preseason and was overlooked. He had done quite well during limited action at the end of last season as well, so the fact he isn't even on the p.s. is surprising. I think he should have made the 53 at the expense of Carson. Thanks Graeme Watson, Linlithgow, Scotland
GRAEME: Thank you for dropping a line from the birthplace of golf. The call to keep rookie wide receiver Auden Tate looks to be the classic example of the seventh-receiver-is-better-than-any-of-the-final-slots-at-another-position. I think you can also put wide receiver Cody Core's special teams abilities in that category, too. Plus, they can have their cake and eat it, too, by protecting Tate from waivers and putting two corners that cleared waivers on the practice squad because they know KeiVarae Russell and C.J. Goodwin can be signed and play right away.
I'm pretty sure the Bengals wanted running back Brian Hill on the practice squad. But he can count, so I'm pretty sure he felt like he had to go elsewhere to get a shot. I can't fault the Bengals for keeping Tra Carson, instead. Both had excellent preseasons, Carson is a little thicker and a little more polished in the pass game (he had third-down catches to keep each of Thursday's two TD drives going) as well as an excellent special teamer. He probably would have made it as a rookie last year if he didn't get hurt.
Hi Geoff! Thank you for your year-round stream of Bengals news. I really like the starting rosters for this season with perhaps the only caveat being RG and RT on the O-line. However, it does seem to me that we are really inexperienced and potentially vulnerable at CB, WR, LB, and OL if any of the starters go down. How do you feel about our roster depth? Do we have guys you feel can step up and keep the team at playoff level if starters go down with injury or, in case of Burfict, get suspended?
Finally, do you think Bill Lasor will be able to get Mixon running decisively and sticking to the play diagram? Seems to me he has inherited Jeremy Hill syndrome. With our offensive line there will not be a lot of well formed tunnels of daylight to run into. Our RB's must explode into the assigned spot and create a 3 or 4 yard gain by sheer force and determination. Mixon now has habit of stepping back and sideways waiting for an easier path and it's not going to be there. Thoughts? Jim Spann
JIM: Thank you for reading the onslaught. Interesting question. I was telling somebody today we've been spoiled around here for about 10 years or so. Unlike the rest of the league, the Bengals always seemed to have plenty of tackles and corners. Now that they're looking to fill it's really pretty glaring.
But I think depth is a problem all around the NFL. It's like Bengals secondary coach Daronte Jones said on Monday. Most teams are still looking for a third corner. The Bengals feel pretty fortunate they're only looking for a fourth. And while Cedric Ogbuehi and Jake Fisher may have had their struggles, how many teams have a first- and second-rounder as back-up tackles?
Yeah, they're thinner than they usually are at wide receiver. Behind A.J. Green and Tyler Boyd you've got six catches combined from John Ross and Josh Malone. I think Alex Erickson has and could give them quality slot snaps. And they're fine at backer, where Vincent Rey has made a career out of replacing Vontaze Burfict and speedy Jordan Evans can produce. They're no different than most NFL teams. There are some positions you just can't replace.
If Joe Mixon didn't get that message earlier in training camp, he has by now. Don't swing for the fences every time. Hit a lot of doubles. Take the runs of four, five and six yards. At least that's the way it sounded after they got back from Buffalo. But the thing to keep in mind is that both Mixon and the offensive line are learning a new running scheme together. No one thought it was going to look pretty and they were right. My sense is both Mixon and the line are going to get better as they go. Let's hope it's not like last year when the offense never showed up until Sept. 24.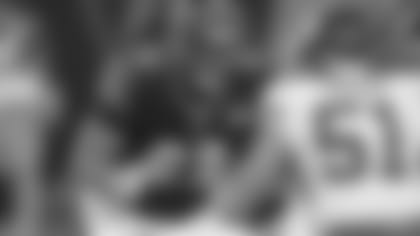 Hey Mr Hobson! In your opinion what would make 2018 a successful season for the Bengals!!! Who Dey!!!!!! Devin Chappell, Kennesaw, GA
DEVIN: Mike Brown hoisting the Vince Lombardi Trophy and then giving it to Marvin Lewis and Super Bowl MVP A.J. Green.
Can the Bills have Cordy Glenn back...asking for a friend Todd Quinn, Great Valley, NY
TODD: The Bengals love Glenn and if the Bills faithful is wondering why its club let him go, Cincy is saying thank you very much. He's as solid as they come and is exactly what they needed.
First time question, Bengal Fan from the beginning. In the recent climb to consecutive playoff years , Bengals had an aggressive attitude and played the games like they knew they would win. With the unfortunate playoff loses, the Bengals seemed to get more conservative and played games not to lose. With the new coaching changes and the influx of young players, the attitude of the Bengals seem to be moving back towards a more aggressive style. I think this will get us back to the playoffs. What is your take? Douglas Bailey, Reading, PA
DOUGLAS: That's an interesting take. When Jay Gruden and Hue Jackson were the OCs, they want after it and went to playoffs. But Mike Zimmer famously let offenses beat themselves instead of blitzing gambling and his defenses were a major reason they went to five straight postseasons. I do agree with you that the offense has to get back to a mentality of dictating to the defense instead of playing like it was afraid of what the defense would take away and Lazor looks like he's done that.
Hello Mr.Hopson,My question is why don't the Bengals give Jeff Driskel a shot with the first string? They have seen for eight years, what Dalton could do,it is time to move on.They seem to be in a youth movement,why not start there. He seems to have poise in the pocket,athletic, and a stronger arm..We would never have known,who Tom Brady or Tony Romo were if they were not given an opportunity. Thanks! Paul Howzrd, Amelia, OH
PAUL: You're not going to get much empathy from me on this. I don't know why a club would unseat a QB that's won 58 percent of his games, averages nine wins a year, is terrific at the line of scrimmage and can turn around and spit out a new offense in an offseason. It is not time to move on from him. It's time to help him. Driskel is a nice player. But you're going to hand the job a sixth-round pick who has yet to take an NFL snap? That wouldn't be a youth movement. That would be a death spiral and unfair to everyone. Especially Driskel.
Hi Geoff....Do you expect Nick Vigil to have a break out season for the Bengals. I hear Coaches and players [ Vinny Rey] speak highly of him. Thank you as always, Scotty Lambert, Orlando, FL
SCOTTY: Yes sir. Put him in the same category as Mixon, Boyd, Ross, Redmond and Billings as break-out guys. If he hadn't gone down with an ankle injury in game eleven, Vigil would have had his break-out year last season. He virtually played every snap with 759 while leading the team in tackles. A solid three-down player.
I don't get it; would you try to explain... With just about the worst rushing record in the NFL, they let Ryan Hewitt go after using him less and less. If someone had it in for him I guess I could understand but...? Do they think they can simply pass every down? Even on the one yard line? He could catch the ball too. Is Shreck going to take his place or are they just going to forget about the FB? I think that releasing Hewitt is a big mistake, but it's their business. I think he'll land on his feet and knock somebody on his butt. I hope the Steelers don't pick him up. Good luck Ryan Hewitt. Thanks and good luck for the season. Lynn Marshall, Cincinnati, OH
LYNN: Count me in the questioning because I'm a Hewitt guy. He may be the only guy in NFL history to get an extension and get rewarded by playing less before slipping into oblivion this camp. Now, I do think they're making a concerted effort to be more athletic and explosive on offense, which is great. I get it. But Hewitt gives you a physical presence that comes in handy vs. Pittsburgh and Baltimore. Ultimately, I do think you have to give offensive coordinator Bill Lazor the benefit of a doubt. He's got a new scheme and knows what fits and what doesn't. I don't think it's the end of the running game as we know it. They'll just do it differently. But, yeah, I remember 2014 when Jeremy Hill went for 1,000 yards and a lot of them were behind Hewitt.