Question is about contract talks between Bengals and Carlos Dunlap and Geno Atkins. We all know extensions have been happening during training camp, but what if neither player is signed by week 1? Also have the Bengals and Darqueze Dennard had any conversations yet about an extension? #WhoDeyNation #WhoDey4Life #WhoDey #SeasonTicketMember Josh Mason, New Richmond, OH
JOSH: The usual stance on both sides is if there's no deal before the regular season, they won't negotiate during the season. There are exceptions, of course, with quarterback Carson Palmer probably the biggest when they announced his extension the week before the 2005 season finale. But, you are correct. Most of the biggest deals in club history (Atkins, Dunlap, A.J. Green, Andy Dalton) have come down in July, August or early September.
That can be seen as a pseudo deadline because it's generally believed to be harder to sign guys after the season with free agency starting at everybody. But they've also got a history of signing their own guys on the brink of free agency or in the early days of it, such as Reggie Nelson, George Iloka, Clint Boling and Dre Kirkpatrick. 
So, as they say, anything can happen. And it usually does.
They really want to get Atkins and Dunlap done and that's where the emphasis is, but they'd also like to get something done with other key guys heading into their contract seasons, such as cornerback Darqueze Dennard and tight end Tyler Kroft. If they're not talking now, they will.
What do you think about cutting LaFell and signing T.O. to a one year deal since it seems we are in a win now mode Don Juan Ochocinco, Louisville, KY
DON: You know what? I thought Terrell Owens was terrific when he was here for a year in 2010, his last in the NFL. He was clearly the best receiver on the team even though he was 36 and he had borderline Hall-of-Fame candidate Chad Johnson by four years. Clearly a Hall-of-Famer. Owens went deep, still had some run after catch, and he was tough. Extremely tough. Remember, he played some games with a broken hand.
I also heard this great story. Deep in that season, I think it was November, one of the veteran leaders on offense was walking out of the stadium door after practice and Owens yelled after him, "Hey kid, where you from?"
Eight years ago was a reality show. Now with a 44-year-old Hall-of-Famer with a flair for Netflix making a comeback after eight rusty years, it would be a circus. If they even think about cutting Brandon LaFell, the whole idea is because he gets beat out by a guy young enough to be T.O.'s kid.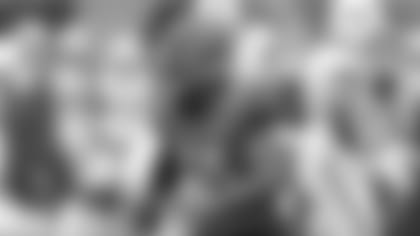 Geoff hope you're keeping cool and hydrated as the summer bears down on us. My question is it feels like this offense is missing that element of "swagger" and the defense is lacking a tone setter other than Vontaze Burfict. I recall T.J Houshmanzedah saying a few years back "we used to score 30 points for the fun of it" this offense needs to have that mentality that it can move the ball at will vs any defense. but vs playoff teams like the Steelers it sputters.
Defensively when Burfict isn't on the field the whole body language of the defense looks deflated.
We need some swagger and attitude to help get this team over than mental obstacle of not being able to finish. Wayne Milliken, Streetsboro, OH
WAYNE: Thank you and I hope the populace of Portage County is surviving the heat of another LeBron summer exit.
Couldn't agree with you more about the offense. It seems like it has spent the last two seasons reacting to the defense instead of the other way around and I think that's at the heart of offensive coordinator Bill Lazor's new playbook. By giving quarterback Andy Dalton quick throws and quicker decisions at the line of scrimmage, the idea is to attack.
But the mindset of any good offense has to come from its line. Just look at the division champions in the Marvin Era. Just look at 30 years ago with their best teams of the '80s and it was the same thing. Physical. Run the ball when you have to. (See: Pittsburgh.) New line coach Frank Pollack's philosophy of seeking defenders rather than catching them fits into that attack mode. The line has to lead the way on that.
No question the defense takes its lead from WILL linebacker Vontaze Burfict and they are so much better with him. But, unfortunately, they've learned to play without him. In the last four seasons, they're 16-12 in the 28 games he's missed, 19-15-2 with him.
So I think you've got swagger without him in the Pro Bowl person of guys like Geno Atkins and Carlos Dunlap and Pro Bowl potentials to be in cornerback Will Jackson and pass rusher Carl Lawson. Plus, they picked up the NFL-leading tackler in middle linebacker Preston Brown in free agency. So there's some swag there. Granted, not Tez Swag. But swag. Then again, I'll never blame what happened the last two years on the defense. For the most part, it kept up its end of the bargain while the offense struggled mightily.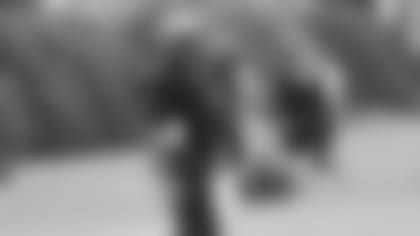 Like the new website and won't pick on the OL today. We have to be able to beat the Steelers to win the North. The Bengals were one of the worst team vs stopping inside zone rushing last year. The Oct. game the Steelers had 420 yards of offense to our 179. Bell had 192 (134 rushing) yards by his self. The Dec. game we had the lead at halftime 17-3 and lost with Bell 182 (76 rushing) total yards. When Peko left his PFF rating had been around 40 the last few years but he goes to Denver and his rating goes to 80. What's the problem coaching or player personal? I know you are a fan of Terry Austin but the last few years the Bengals have had a better defense then Detroit did. Brad Schlueter, Florence, KY
BRAD: Thanks for checking out the new site. Nose tackle Domata Peko seems to be the subject of some revisionist history. The only people that liked him and swore by him when he was here were his teammates and coaches.
(Remember this one from Mike Zimmer? "Peko is a great player. A fantastic player. I love Peko. His character, his toughness, his leadership. All he cares about is winning … He doesn't care about himself. He asks me every single week, 'Coach, how should l play this guy?' Every single week. People don't know it. He's one of the best leaders in the room. Guys go to his house. He had a great year. He was always good for me.") And that was a year after PFF ranked him ahead of only Nick Hayden among the league's 80 defensive tackles. Really, there's that much of a disconnect? Yep.
So the only thing that seemed to change there is the profootballfocus.com graders.
The Bengals couldn't pay Peko what the Broncos did (not if you want them to re-sign Atkins and Dunlap) and, besides, they thought they could replace him last year with a combination of vet Pat Sims and injured red-shirt rookie Andrew Billings. They couldn't, although they hope Billings is more like the 2016 rookie that hurt his knee. That's the one thing they could have used but didn't get in the draft. A load in the middle on run downs, although they did get an interesting pass-rushing tackle in the fifth round in Andrew Brown and he may prove to be better than they think against the run.
They need to get something out of Billings, no question, but the signing of recycled vet Chris Baker is an upgrade over Sims and the signing of Preston Brown is the biggest upgrade they probably could have made against the run. You've got the guy that led the NFL in tackles last year at a spot they haven't got much of anything in a few years.
Austin has a lot more talent here than in Detroit. I give you Bengals running back Giovani Bernard's 168 total yards against a Lions team last season that needed to win that next-to-last game of the year to go to the playoffs and gave up 26 points and 364 yards to a Cincy offense that scored 14 points and had 395 yards in the previous two games combined. Austin had one big-time player in his front seven, end Ziggy Ansah, and that's about it. Not so here.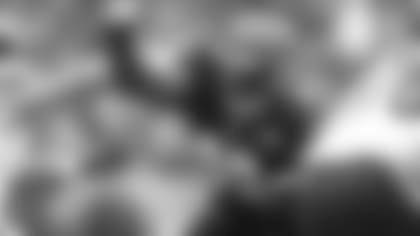 GREATLY enjoy "Hobson's Choice" because I am a season ticket holder from Bozeman, Montana and you keep me up to date until the season starts and traveling. I am REALLY optimistic about the coming season. Marvin & Mr. Brown have filled a lot of needs. I was predicting 12 wins until you pointed out the difficult schedule.
My question is about Andrew Billings. He came out of college with high expectation until his injury. Last year was a so so year. As we have seen with injuries to our players in the past, the second year shows a complete recover with respect to performance. What are yours and the teams expectation for Andrew? Thanks again for keeping me and Bengals Nation up to date!!!! Mike Whitney, Bozeman, MT
MIKE: Thanks for the note and all the miles. You've got it right. Billings had an extremely impressive rookie camp in 2016 before suffering a season-ending knee injury in one of the practices against the Vikings. He came back heavy and rusty last season, when PFF rated him 75 out of 79 nose and defensive tackles. But the Bengals are banking on some big guys needing a little bit longer to come back from knee injuries and the age-old diagnosis that players are traditionally better the second year after a knee injury. They just have to look at their own perennial Pro Bowl D-tackle in Geno Atkins.
After he tore his ACL in the infamous Halloween OT Fright of '13 in Miami, Atkins was ranked an uncharacteristic 22 by PFF in 2014. But in the last three years he's been 2, 5 and is this year's defending champ. The hope is that now Billings has been able to have an entire healthy offseason to get ready, he'll be nearer to that rookie form.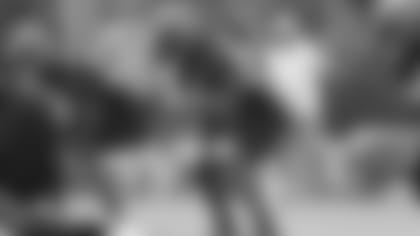 Hey Geoff! Nice to talk to u again sir! And I always enjoy reading your columns and your updates for my beloved Bengals! Normally I'm all about our Offense..but I haven't heard much noise about Malik Jefferson..i was excited about this pick and I really think he can contribute! How did he look In minicamp ..and do u think he will see significant playing time this year? Who Dey!? Danny McCullah, West Carrollton, OH
DANNY: Thanks for weighing in on The Choice. Loved the training camp practice up at the high school a few years back. What a facility for the kids.
I agree with you. I like the Jefferson pick, too. Good value at that spot. I think he had a camp like all the young guys. They were feeling their way around the playbook, the speed, the coaching and their teammates and they'll be faster and better in training camp. But Jefferson did flash his Grade A athleticism, smooth speed and why they took him in the third round at No. 78 ahead of two tackles (Martinas Rankin at No. 80 and Orlando Brown at No. 83) and a defensive tackle (Justin Jones at No. 84).
But I think with vets like Vincent Rey, Nick Vigil, and Jordan Evans ahead of him, it's going to be tough for Jefferson to see a lot of scrimmage snaps. Yet there's no question he'll be a key four-phase player on special teams and you'll hear his name quite a bit in the kicking game.
Mr. Hobson: Following up on the recent Q and A about uniforms (well, it is the dead of summer after all), count me as another fan who believes it's time for a change. Our design is dated. Even the helmets could stand a fresh look. Nothing about our current uni sets connotes a winning tradition. In my opinion, it's just the opposite. I sure would like to see us switch the black and orange jerseys as primary and alternates. But we need a fresh look. I think the leaping Bengal tiger head logo would look great on the helmet. Anything but the striped B. But I'm not surprised to hear nothing is in the works. Thanks for your input! Scott Andrews, Huntington, WV
SCOTT: Thanks for checking in. You've got a better grip on the uni thing than I do. I've got enough trouble trying to find two of the same shoes each day, never mind comment on an ensemble of color, flair and tradition.
But I am a traditionalist. Love the helmet. Not only is it the most distinctive in the NFL, the striped headgear is a great bridge between Bengals founder Paul Brown, the man that saw the project through, and the current team. Future Hall-of-Famers Geno Atkins and A.J. Green are wearing the same helmet as their Canton forefather, Anthony Munoz. To me, that unique helmet is exactly what speaks of a winning tradition. The first year they wore it they went to their first Super Bowl and gave birth to the modern Bengaldom of The Jungle, painted faces, and Who Dey. The helmet keeps that connection to a special time.
I'm not sure the leaping tiger is what you're seeking. That was the logo from 1997-03, a stretch they never had a winning record. Like I say, I'm more Oscar Madison than Oscar de la Renta, but I don't think this is a wardrobe that cries losing. Since 2004, when they adopted the block B logo along with this style of uniform, they've won four division titles and been to the postseason seven times. Right, no Super Bowl berths or post-season wins. But not rags, either. I can see some tweaks for aesthetics, but not because they've been the Buccaneers of the '70s because they haven't.
I leave it to those with a better sense of fashion. Thanks for taking the time to write and for adding to the debate and hope you write in again.
How come the Bengals have not had a game with throw back uniforms. I would love to see them play a game with the old uni's and orange helmets with the block lettering of BENGALS on them. It also seems odd that a team who just had its 50th Anniversary would not have done the throw backs last year as part of their as long celebration for just one game. Is it just the frugalness of the organization? $$$$$ We may be the oldest team in the league to not have had a throw back uniform game ? To me, this was a major oversight. Dave Harshbarger, Burlington, KY
DAVE: I'll go to the uniform experts, in this case Jim Owczarski of The Cincinnati Enquirer, writing last Aug. 1 why the Bengals haven't thrown it back. It seems like it wasn't an oversight, but just a sight when it came to logistics.
Per Jimmy O., a two-year advance notice to the NFL and the manufacturer is required for a uniform change. The old jersey would be considered an alternate, so the popular orange would be out. Once that change is made, it has to remain for the next five years and is the only change that can be made. The exception is Thursday night's color rush ensemble. And, also according to The Enquirer, the NFL and the NFL Players Association cite safety for prohibiting alternate helmets. Teams change helmet logos if they use stickers, but the Bengals paint black stripes on the orange helmet.
All of which to me sounds like confirming a Supreme Court justice is a heck of a lot easier. I'm with you. I'd love to see Throwbacks for a game or two and I could certainly see rolling out the Throwbacks for one game in the 50th. But for the next four years after that? Bureaucracy won this one, not frugality.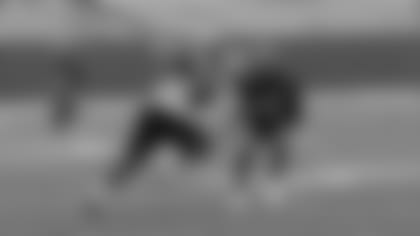 WHO DEY! Mr. Hobson a lifelong Bengals fan in Plano, TX. I have been watching from afar as things seem to be progressing well during this time if eternal optimism. With Billy Price being given a clean bill of health, Cordy Glenn looking as advertised and Coach Pollack's new techniques and mindset does the o-line have the potential for the needed improvement to allow the runners to flourish, Andy to see down field and the defense to be better rested late in games? Lack of performance from this most key unit has been felt throughout the rest of the team for the last two years. And does Auden Tate merit the buzz he's been getting so far? Possible Eif alternative? Steve Logan, Plano, TX
STEVE: Good to hear from the land of B. Rex (Rex Burkhead) and couldn't agree with you more about the offensive line. The line is where bad seasons go to do die and where the good ones roam. You make a great point about Dalton's pocket.
The last couple of years he looked downright pint-sized back there with the interior line dropping right back into his lap. I think Lazor is doing what Hue Jackson did a few years ago and emphasizing a stouter stand up the middle so Dalton can see a lot better than he has lately. It has to be something more than personnel. They had the same left guard and same center they had in '15 as they had in '17 but the results were so much different when it came to inside the pocket.
Worth the buzz? Worthy enough that Voice of the Bengals Dan Hoard took a look at seventh-round pick Auden Tate recently on Bengals.com and detailed the impressive spring camp he had. Let's see how he plays in the preseason. Maybe Tate's got a shot, but he'll have a tough time knocking Alex Erickson off the wide receivers' depth chart because of Erickson's return ability. But maybe he keeps doing what he's doing and catches everything within a Paul Brown Stadium block and goes nuts on special teams and makes every other tackle and they have to keep him. At any rate, he looks to be a steal in the seventh.
I assume you're wondering if he can play tight end and I'm hearing they've got no plans for that at the moment. They've already got a raft of experienced guys behind Tyler Eifert, such as Kroft, C.J. Uzomah and Ryan Hewitt. Maybe as an H-Back down the road, but first he's got to get settled at wide receiver.
The new site design LOOKS great, but it seems to me to be more difficult to navigate. Anyway, back to a football question: What are your thoughts on the schedule this year? I love the placement of the bye week, but yet again the NFL has found a way to stick it to us. 3 of 4 on the road to open and close the season. There are a few other teams that have that distribution at one end of their schedule; NO other team has it at both ends like we do. Thoughts? Thanks! Scott Andrews, Huntington, WV
SCOTT: Thanks for checking out the site. The sked is curious. Love the Nov. 4 bye. Love that all but two of the games are at 1 p.m. Love that there are only two road games outside the Cincy time zone and only one if you don't count Kansas City's one-hour difference.
What I don't love is a seventh road opener in the eight seasons of the Green-Dalton Era (frankly, ridiculous) and it turns out to be Andrew Luck's Homecoming in Indy. I also don't like playing the last two games in September against Cam Newton in Charlotte and Matt Ryan in Atlanta. I also don't like the bye after the first eight games following four games against 2017 play-off games, three of them on the road.
And back-to-back division road games (in Cleveland Dec. 23 and in Pittsburgh Dec. 30) is a chilly finish for a team that has to open with three of its first four on the road. They've had a break there until now. In the Green-Dalton Era, an AFC North team has finished with two division road games just twice, the Steelers in 2015 in Baltimore and Cleveland and the Ravens in 2016 in Pittsburgh and Cincinnati. The Steelers split, but the 8-6 Ravens got swept and finished out of it. And this could be the best Browns team in the Green-Dalton Era.
I guess what goes around comes around. Green and Dalton have had that final game at Paul Brown Stadium five out of seven times. The last time the Bengals finished back-to-back on the road? Adriel Jeremiah Green was all of 11 years old and in one of them back in 1999 Ravens defensive coordinator Marvin Lewis pitched a shutout in Baltimore.